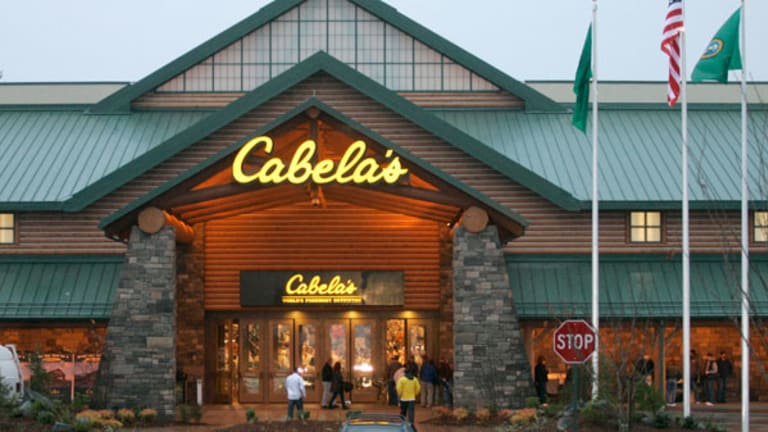 Under Threat From Elliott, Cabela's Sells to Bass Pro for $5.5 Billion
The announcement of a combination comes after the activist investor launched a campaign last year urging the hunting and camping outfitter to consider a sale or other strategic options.
Cabela's (CAB) shares shot up 15% in pre-market trading after Bass Pro Shops on Monday agreed to buy the U.S. outdoor equipment company in a $5.5 billion cash deal that emerged after activist investor Elliott Management's Paul Singer put pressure on the company last year to consider a sale or other strategic options. 
Bass Pro Shops will pay $65.50 a share in cash as part of a deal that also includes a multi-year partnership with Capital One Financial (COF) - Get Report , which will originate and service the Cabela's co-branded credit card.
Bass Pro Shops also secured $1.8 billion in preferred equity financing from Goldman Sachs's merchant banking unit and $600 million from Pamplona Capital as part of the deal.
The transaction provides Nebraska-based Cabela's shareholders with a 19.2% premium on Cabela's closing price on Sept. 30, the day prior to the announcement of the transaction. It also is a 40% premium to the closing price on Dec. 1, 2015, the day prior to the company announcing it was exploring strategic alternatives.
The deal comes after Elliott Management in October 2015 reported it has acquired an 11.1% stake made up of common shares and derivatives and said that it wanted the retailer to explore strategic options, including a possible sale of the company. The fund argued in the filing that there were "multiple pathways" to unlock shareholder value at Cabela's because there was a "robust environment" for private equity investment in retail companies and "potential strategic interest" for the hunting and camping supplies retailer.
Bass Pro Shops employed JPMorgan Chase's Anu Aiyengar, Jack Lagere and Nick Johnston as its financial adviser and Latham & Watkins partner Michael Pucker and Scott Hairston as its legal counsel, with assistance from O'Melveny & Myers. Goldman, Sachs served as adviser to Bass Pro Shops on the bank transaction, and Morrison & Foerster served as legal counsel.
BofA Merrill Lynch, Wells Fargo Securities LLC, Citigroup Global Markets, RBC Capital Markets, UBS Securities, and Goldman Sachs are providing debt financing to support the transaction.
Cabela's retained Guggenheim Securities as its financial advisers and Sidley Austin's Brian Fahrney and Scott Williams and Koley Jessen P.C.'s Mike Hupp and Jeff Schaffart as its legal counsel.
The fund accumulated its original stake between Oct. 15, 2015 and Oct. 27, 2015 at prices ranging from $33.39 a share to $48.05 a share. The activist investment came after Cabela's in October 2015 reported depressing third-quarter earnings, which dropped its share price. The prices are significantly below the $62.99 a share Cabela's was trading at in pre-market activity Monday morning.
By December, Cabela's announced it had retained Guggenheim Securities  as a financial adviser to lead a strategic review, while Sidley Austin and Koley Jessen provided legal counsel on the process.
It is also very possible that the threat of a proxy contest helped prod Cabela's to auction itself to Bass Pro Shops. Elliott didn't publicly mention a proxy contest at Cabela's but its track record suggests that a failure by the hunting and fishing goods retailer to launch an auction process would have driven the activist fund into seeking to nominate dissident director candidates. The New York activist fund has launched more than 96 campaigns at 92 companies since 1994, according to FactSet. It has also undertaken 13 proxy fights and threatened director-election contests at four companies in efforts to drive M&A and other moves.
Elliott declined to comment on the deal.
According to a person familiar with the transaction, Elliott was satisfied with the price, which was a good outcome for the activist fund. In addition, he noted that the deal demonstrates that the activist fund can instigate big transactions in the retail space, beyond its U.S. specialization in tech companies.
Shareholder nominations at Cabela's were due roughly four months prior to the anniversary of the company's June 3, 2015 annual meeting, or early February, 2016 for the 2016 annual meeting. However, as a result of the strategic review, no 2016 annual meeting has taken place.
Founded in 1961, Cabela's retail merchandise business includes about 85 retail stores in the U.S. and Canada. Meanwhile, the company also has a financial services business, which consists of the Cabela's CLUB Visa credit card, its primary customer loyalty reward program. 
In addition, the merger will bring together two of the largest U.S. outdoor equipment companies and as a result it is expected to face some antitrust analysis, most likely by the Federal Trade Commission. 
David Marcus contributed to this story.