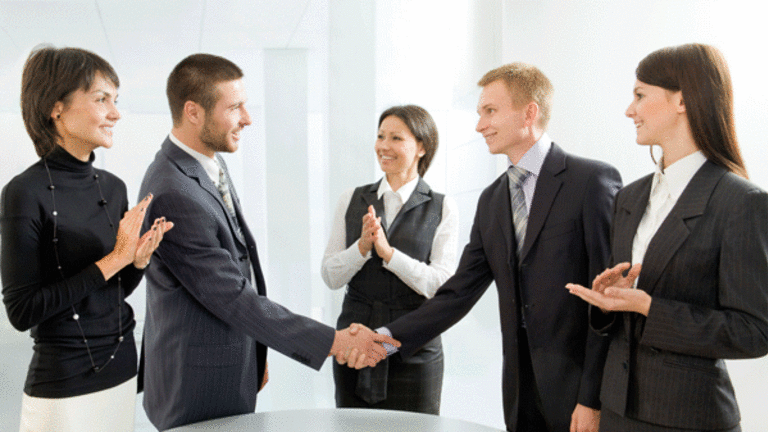 U.K Begins to Recognize Bank Bailout Pain
The British government said Thursday it is selling Northern Rock at a near 50% loss to taxpayers.
The British government said Thursday it is selling Northern Rock at a near 50% loss to taxpayers.
NEW YORK (
) -- The British government said Thursday it is selling
Northern Rock
to Sir Richard Branson's
Virgin Money
at a near 50% loss to taxpayers.
Northern Rock, which was nationalized in February 2008 after it faced the first large-scale bank run of the financial crisis, was sold to Virgin Money for $1.2 billion, just over half of the $2.2 billion that the British government put into the failed lender during its more than three-year nationalization. As part of Virgin Money's bid,
WL Ross & Co.
will provide nearly $160 million in financing for a 21% stake in the company.
For the Britain, the deal is the first big exit from the nationalizations it made during the financial crisis. To stem a run on its financial system, Britain also took multi-billion dollar stakes in
Royal Bank of Scotland
(RBS) - Get Report
and
Lloyds Banking Group
(LYG) - Get Report
. The government is yet to sell those crisis-time investments that, like the sale of Northern Rock, may come at a loss to taxpayers.
According to
Bloomberg
reports, the government injected a total of $103 billion into RBS and Lloyds and took share stakes in the two banks that now have a more than $61 billion paper loss.
Northern Rock, a large mortgage lender and bank with a legacy tracing back to the 1850s, relied on short term funding to support its assets and fell into crisis when credit markets seized up in 2007 and 2008. In September 2007, Northern Rock needed liquidity support from the
Bank of England
as overnight funding dried and it faced a run on deposits. That fall, lines of fearful depositors outside of Northern Rock bank branches created the first visceral images of the crisis that was to come in Britain and globally. It also created one of the first blips in overnight funding markets like the
London Interbank Offered Rate
that were a crucial, but little understood element to the crisis.
After two unsuccessful private sale attempts failed - one by Branson's Virgin Group -- the government took control of Northern Rock in February of 2008, making it one of the earliest bank nationalizations in the crisis. Larger financial institutions like
AIG
(AIG) - Get Report
, France's
Dexia
, Ireland's
Anglo Irish Bank
and Germany's
Commerzbank
would follow.
About Thursday's sale, George Osborne chancellor of the Exchequer said, "The sale of Northern Rock to Virgin Money is an important first step in getting the British taxpayer out of the business of owning banks."
Britain's strategy differed slightly from the
Troubled Asset Relief Program
in the U.S. because it seized ownership of some banks, while the U.S. Treasury took $250 billion in non-voting preferred share stakes in its troubled banks. After TARP, U.S. banks still were publicly owned companies with little government involvement in day-to-day operations -- and most shares have since been retrieved from the Treasury at a taxpayer profit.
As part of the sale, Virgin Money will get the bank's millions of customers, $22 billion in mortgages and $25 billion in deposits. With the deal, Virgin Money will commit to stipulations such as exclusions from layoffs, a commitment to maintain and grow bank branches, support of Northern Rock's charitable foundation and a combined headquarter of operations in Newcastle, England. Virgin Money also is set to pay the government additional cash and notes in 2012, as well as up to $125 million if Northern Rock is IPO'ed in the next five years.
Britain will keep Northern Rock's asset management business, which holds roughly a $74 billion book of mortgages, on top of nearly $42.4 billion in capital injections that government made into the lender.
In a statement announcing the deal, Virgin chief executive Sir Richard Branson said, "Banking in the U.K. needs some fresh ideas and an injection of new competition." Virgin Money expects to re-brand Northern Rock branches and significantly bolster its lending over the next five years.
Branson is buying a lender with a still uncertain business. Northern Rock's loss narrowed to $107 million in the first six months of 2011 from a loss of $224 million in that period a year earlier. However, in 2012, Northern Rock expects to see a profit.
For Wilbur Ross led WL Ross & Co., its piece in the deal represents a further push into European bank investments. In July, the investment vehicle took a near 10% investment in
Bank or Ireland
(IRE)
for over $400 million as part of an investor consortium that gave the struggling Irish bank over $1.6 billion in capital.
The Northern Rock sale is expected to close in 2012 and is subject to approval by the British
Financial Services Authority
and the
European Commission
.
--
Written by Antoine Gara in New York
.