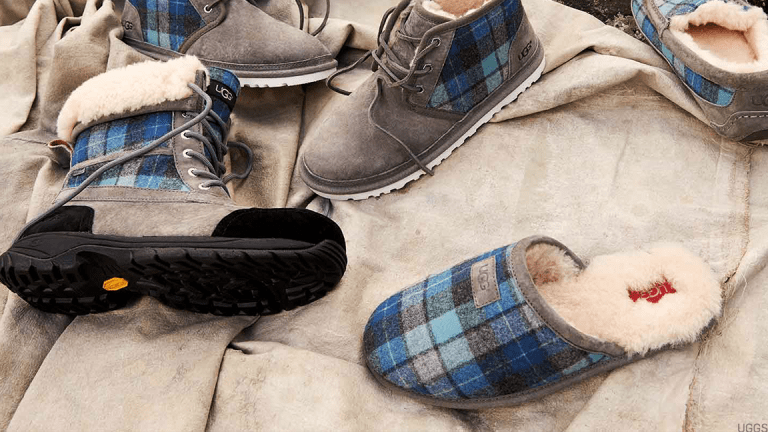 UGG Maker Deckers Urges Support for Directors
As activist investor Marcato Capital Management seeks to replace the entire board, Deckers issues a letter to shareholders, urging them to support its slate of directors.
As activist investor Marcato Capital Management seeks to replace the entire board, Deckers issues a letter to shareholders, urging them to support its slate of directors.
Deckers Outdoor Corp. (DECK) - Get Report , the makers of Ugg shoes, is urging shareholders to vote for all of its director candidates as activist investor Marcato Capital Management pushes to replace the entire board ahead of the company's Dec. 14 shareholder meeting.
Deckers' transformation plans are working, and Marcato's effort to install nine dissident directors puts the strategy at risk, the Goleta, Calif.-based company said in a letter to shareholders on Friday.
"Electing any of Marcato's nominees now -- just as the transformation of Deckers is showing real results -- would be highly damaging and value destructive," John Gibbons, the chairman of the board, wrote in the letter. "Thanks to the current board, Deckers is a stronger, more focused company that is better able to capitalize on a changing retail environment."
Multiple attempts to reach Marcato's media representatives at Gasthalter & Co. went unanswered by the time of publication.
Deckers said the activist's nominees are weak and unqualified.
"Most have never served on the board of a public company and many have no C-level executive experience," wrote Gibbons, 68, the former chief executive officer of TMC Communications Inc. and fitness club operator Sports Club Co. Inc. "Nearly all of Marcato's nominees lack retail experience, and certain nominees with retail experience did not work in operating or strategic roles."
"We believe that the election of any of Marcato's nominees has the potential to result in a serious setback to the demonstrated progress that Deckers has made in its transformation plan," Gibbons wrote.
Marcato has put forward nine candidates to replace the current Deckers board. The firm nominated Deborah Derby, a director at Vitamin Shoppe Inc. (VSI) - Get Report ; Kirsten Feldman, a faculty member of the University of Waterloo and the former head of global retail group at Morgan Stanley's (MS) - Get Report investment banking division; Steve Fuller, the former chief marketing officer at LL Bean Inc.; Matthew Hepler, a partner at Marcato; Robert Huth, the former chief executive officer at David's Bridal; Jan Rogers Kniffen, CEO of retail consulting firm J Rodger Kniffen World Wide Enterprises; Mitchell Kosh, the former executive vice president and chief administrative officer at Ralph Lauren Corp. (RL) - Get Report ; Nathaniel Lipman, a director at Exela Technologies Inc. (XELA) - Get Report and former Chairman and CEO of customer engagement firm Affinion Group Holdings Inc.; and, Anne Waterman, who spent 15 years at Michael Kors (KORS) .
In early November, Marcato managing partner Mick McGuire said that "Deckers' board has failed its stockholders repeatedly, over a multi-year period, and should not be trusted to deliver on its goals."
According to influential proxy advisor Glass Lewis and Co. LLC's 2016 report on Deckers, the San Francisco-based firm recommended that shareholders for all but one of the current directors. Glass Lewis urged shareholders last year to withhold votes for James Quinn, the chair of the corporate governance committee, after amending the company's bylaws without shareholder approval. The bylaw amendment required that for any derivative lawsuits to be brought in the state of Delaware, which "may discourage the pursuit of derivative claims by increasing their difficulty and costs," Glass Lewis said.
"Because the board has elected to restrict shareholder rights without seeking shareholder input on this amendment, we recommend voting against the chairman of the corporate governance committee, Mr. Quinn, on this basis," wrote Glass Lewis.
"We do not believe there are substantial issues for shareholder concern as to any other nominee," the firm added.
Glass Lewis has yet to issue its report on Deckers for this year. Fellow proxy advisory firm Institutional Shareholder Services is expected to release its report at the end of November.
Deckers also disputed Marcato's other proposals, such as selling non-core brands, implementing costs cuts and closing storefronts, saying that these measures would obstruct the pathway to growth.
The San Francisco-based Marcato owns about 8.4% of Deckers, its second-biggest single holding, according to financial research solutions company FactSet. Marcato manages about $1 billion of assets, according to an article in Business Insider in June, which cited a person familiar with the numbers.
Shares of Deckers rose to $71.10 at around 2 p.m. EST during the trading session on Friday.
For more coverage like this sign up for the Activist Daily
Join us in New York City on Nov. 30 for The Deal Economy Conference, where leading industry experts and other influential members of the deal community will gather to discuss key issues that will confront dealmakers in 2018.