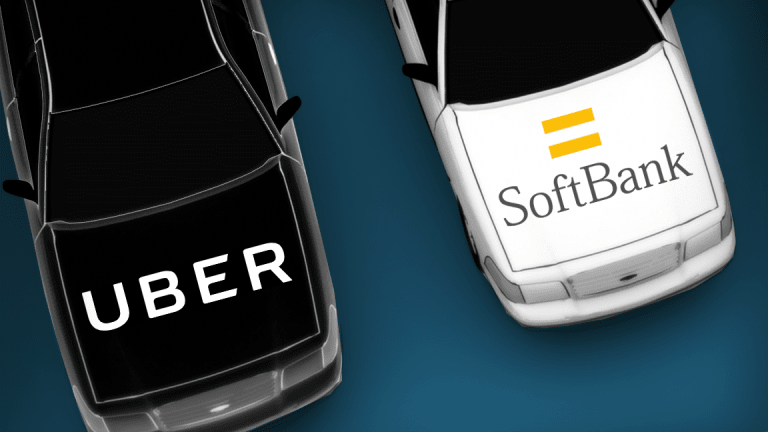 Publish date:
Uber's Rough Year Ends With Big SoftBank Investment
SoftBank is investing $7.7 billion in Uber for a roughly 15% stake, ending months of speculation.
SoftBank is investing $7.7 billion in Uber for a roughly 15% stake, ending months of speculation.
Uber Technologies Inc. has finally come to terms with SoftBank Group Corp (SFTBY) . The Japanese tech and telecom power has agreed to invest $7.7 billion for a roughly 15% stake. While SoftBank bought stakes from existing investors, the deal includes $1.25 billion in fresh capital for Uber. 
The valuation of $48 billion, roughly equal to the total market value of cryptocurrency Ripple, is a 30% discount to Uber's prior valuation of $68 billion, according to the Wall Street Journal and Recode. The new capital that SoftBank is investing directly into Uber may be at a higher price per share, the Journal reported, to comfort existing investors concerned that SoftBank was getting the stake on the cheap.
Uber seemed to be on the cusp of announcing a deal with SoftBank in mid-November. Since then, rivals have found new funding and Uber has suffered high-profile setbacks.  
A double-whammy hit Uber on Dec. 21. For starters, the European Court of Justice ruled that Uber is a transportation company and not an information service. The ruling means that Uber will have to comply with transportation laws.  
On the same day, Didi Chuxing passed Uber as the world's best-funded unicorn, according to CB Insights. The Chinese ride-sharing company announced a $4 billion fundraising on Dec. 21, which CB Insights said included SoftBank.
The round pushed Didi's funding to $18 billion, at a $56 billion valuation. Including companies that Didi has acquired, its total funding is $21 billion. Before the latest round, Uber had raised $15.1 billion. Didi Chuxing would also surpass Uber as the highest-valued unicorn. 
On Nov. 22, Axios unearthed a Delaware court filing showing that Lyft Inc. lined up another $500 million to help it gain ground on Uber.
A day earlier, Uber disclosed that a breach had exposed the private information of 57 million customers. Uber failed to disclose the attack for a year, magnifying criticism. 
The announcement was reminiscent of Yahoo! Inc.'s troubling hack disclosures during its sale of its operations to Verizon Communications Inc. (VZ) - Get Report . Of course, Yahoo! shaved $350 million off its price tag and ultimately sold its online businesses to Verizon for $4.48 billion in June.
Uber and SoftBank did not disclose the effect of the hack on deal terms. The parties are fortunate that the disclosure did not come next year, when the European Union's General Data Protection Regulation kicks in. The new data rules carry hefty penalties on companies that do business in Europe.
"If the Uber breach happened in 2018 as opposed to now they would be subject to a fine of €20 million or 4% of global revenue," said Fox Rothschild LLP lawyer Scott Vernick. "The stakes you're playing for, particularly when you're talking about a global transaction or companies that have a global footprint, are getting pretty high."
It was already a rough year for Uber. Over the summer, founder Travis Kalanick stepped down as CEO after scandals over a sexist corporate culture and pressure from investors. Alphabet Inc. (GOOGL) - Get Report sued Uber for allegedly stealing self-driving car technology in February.
The SoftBank deal finally gives Uber some positive news. 
The only real surprise about Masayoshi Son's investment is that it took so long to materialize. For months, SoftBank's chairman has spoken publicly about considering an investment. "I know that now they are struggling due to some management issue(s), but still I believe that Uber is a good company," Son explained during a Nov. 6 earnings call. "On the other hand, because of pricing and terms and conditions, whether we make an investment in Uber or not is not decided yet."
Uber appeared to have resolved issues surrounding the deal mid-November. "We believe this agreement is a strong vote of confidence in Uber's long-term potential," an Uber spokesman said on Nov. 13. "Upon closing, it will help fuel our investments in technology and our continued expansion at home and abroad, while strengthening our corporate governance."
SoftBank Investment Advisors CEO Rajeev Misra had a more cautious tone. While SoftBank had an interest, Misra explained in a written statement, the tender price and the amount of stock for sale would influence the decision. "After a long and arduous process of several months it looks like Uber and its shareholders have agreed to commence with a tender process and engage with SoftBank," Misra said on Nov. 13. "By no means is our investment decided."
At last, Uber and SoftBank are on the same page.
Editor's note: This article was originally published by The Deal, a sister publication of TheStreet that offers sophisticated insight and analysis on all types of deals, from inception to integration. Click here for a free trial.
Jim Cramer and the AAP team hold a position in Alphabet for their Action Alerts PLUS Charitable Trust Portfolio. Want to be alerted before Cramer buys or sells GOOGL? Learn more now.
—David Marcus contributed to this report.
More of What's Trending on TheStreet: