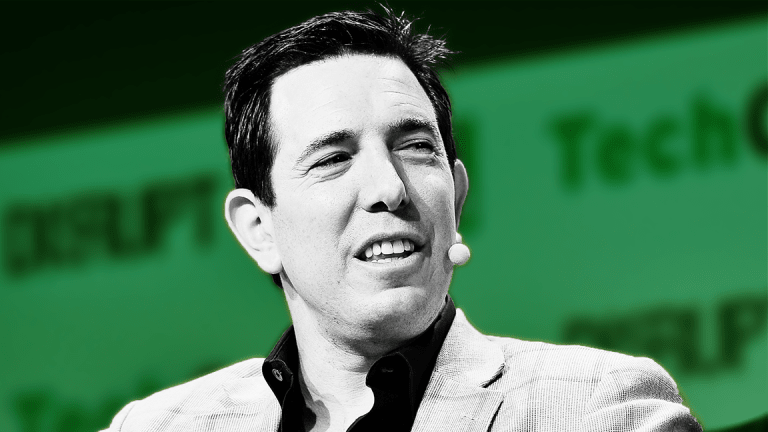 Uber Investor Details Why He Intends to Sell His Stake in the Ride-Hailing Firm
Bradley Tusk, an early Uber investor who served as the company's first political adviser, said he will sell his stake to a SoftBank-led consortium.
SoftBank Corp. has found at least one investor willing to sell their stake in Uber Technologies Inc. 
Bradley Tusk, founder of political strategy and venture capital firm Tusk Ventures, said he plans to sell his stake in Uber to the SoftBank-led coalition, as part of a tender offer that values the ride-hailing company at a 30% discount to its $69 billion valuation. Dragoneer Investment Group LLC, Tencent Holdings Ltd., TPG Capital LP and Sequoia Capital LLP are also a part of the consortium. 
With its offer of $32.96 per share, Tusk said SoftBank may be able to earn a 1.5x return on its investment in Uber. Tusk, who invested in Uber in 2011, said he's happy with the return he's earned on his Uber holdings and felt now was the right time to sell. 
"There's a lot of ways to make 1.5x, but do you really want it all tied up in that company?," Tusk said in a phone interview. "I wanted to have more liquidity and be more diversified." 
Major Uber investors Benchmark Capital Ltd. and Menlo Ventures have also indicated a willingness to sell their shares, a SoftBank spokesperson said. 
Being able to invest in Uber at such an early stage was "kind of dumb luck," Tusk said. He hasn't been in close contact with Uber executives for several years, though, and has yet to meet Uber's new CEO Dara Khosrowshahi, who joined the startup after serving as CEO of Expedia Inc. (EXPE) . 
Khosrowshahi replaced former CEO Travis Kalanick after the ride-hailing firm survived more than a yearlong PR nightmare, riddled with sexual harassment allegations, well-publicized lawsuits, a broken corporate culture and, most recently, the discovery of a 2016 data breach that the company had concealed. In a blog post, Khosrowshahi said he didn't learn of the data breach, which affected an estimated 57 million passengers and drivers worldwide, until shortly after he joined the company. 
SoftBank's discounted investment is probably a result, in part, of Uber's "rough year," Tusk said. Still, he said SoftBank's current offer is low and that he wouldn't be surprised if it was raised to about $52 a share. 
"There's always some game theory involved," Tusk said. "It's always better to come in low and then go higher. I'd rather it land at $52, but I think SoftBank deliberately gave itself some room." 
When Tusk first invested in Uber, the company was only valued at roughly $30 million. He was in a meeting with Walmart Stores Inc. (WMT) (Tusk helped Walmart in its unsuccessful efforts to set up shop in New York City) when he received a call from Kalanick to serve as Uber's first political strategist. 
In that role, he helped Uber navigate the complex regulatory channels on both city and state levels, which also meant dealing with the taxi industry. Then-CEO Kalanick couldn't afford Tusk's monthly fees (which averaged about $25,000), so he offered him an equity stake in exchange. Tusk wouldn't specify the value of his current stake in Uber beyond saying it's at least nine figures.
"Ultimately our job was just to make sure that Uber could exist in every single market and they did," he explained.
Before he entered the venture capital world, Tusk had a 20-year career in politics, which included helping former New York City Mayor Michael Bloomberg win a third mayoral term. Now Tusk is using his talents in political strategy to help other startups navigate regulatory hurdles. Tusk Ventures has invested in digital currency exchange Coinbase, insurance tech startup Lemonade, fantasy-sports site FanDuel Inc. and healthcare technology company Care/of, among others. 
In terms of what may be ahead for Uber, Tusk said he believes the company is on track for an IPO in 2019.
"The underlying business itself keeps growing rapidly," Tusk explained. "Dara is doing a good job so far and once they get past all [the controversy] and figure something out in Southeast Asia, then they're in a position to go public."
More of What's Trending on TheStreet: