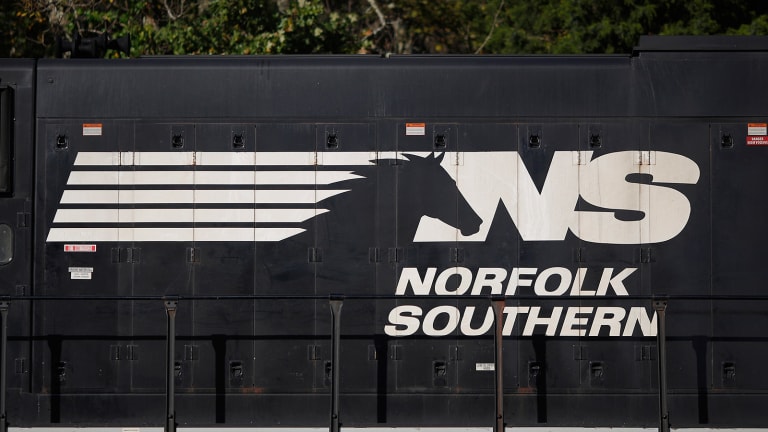 U.S. House Transport Chief Opposes Canadian Pacific-Norfolk Southern Hookup
The top lawmaker on a key congressional committee said a combination of the two railroad companies is not "in the best interests" of the U.S. freight transport industry.
The chief lawmaker on the House Transportation Committee on Tuesday said Canadian Pacific Railway Ltd.'s (CP) - Get Canadian Pacific Railway Limited Report unsolicited $27 billion proposed merger with Norfolk Southern Corp. (NSC) - Get Norfolk Southern Corporation Report is not "in the best interests" of the U.S. freight transportation industry, a move that puts public pressure on CP to withdraw its hostile bid.
"I have closely followed Canadian Pacific's attempts to merge with another railroad over the past several years, and after looking at the merits of the current proposal to merge with Norfolk Southern, I do not believe it is in the best interests of the U.S. freight transportation system, railroad employees, rail shippers, and the short line railroads," said Transportation and Infrastructure Committee Chairman Bill Shuster, R-Penn., in a statement. "There continues to be no clear path forward for such an arrangement."
The effort comes after several Democratic lawmakers have also taken issue with the potential combination. Canadian Pacific has had a cash and stock takeover proposal outstanding at Norfolk Southern since November. In addition, CP has asked Norfolk Southern shareholders to weigh in on its unsolicited offer by submitting a proposal for a shareholder vote asking the Virginia railroad's board to engage in talks over a deal.
The proposal is part of CP's effort to drive Norfolk into deal negotiations. Norfolk Southern shareholders will vote on measure at the railroad's May 12 annual meeting.
Canadian Pacific filed on March 2 with the Surface Transportation Board, the chief regulator for a combination of the rail companies seeking an expedited declaratory order regarding the use of a voting trust in connection with a potential merger. Canadian Pacific has suggested a trust as a means to get regulators on board with the deal.
Shuster's comments come after Bill Baer, head of the Antitrust Division at the Justice Department, raised concerns last month about pre-merger coordination between the two companies. "The concern we have as antitrust enforcers is a situation where parties propose to merge and then accomplish much of merger prior to the antitrust review," Baer said in response to a question from Minnesota Sen. Amy Klobuchar, the subcommittee's top Democrat.
Bill Ackman, chief of embattled activist fund Pershing Square Capital Management, is a CP director. Ackman has called Norfolk "an ideal activist situation." Pershing Square owns a 9% stake in CP, according to a March 1 securities filing.