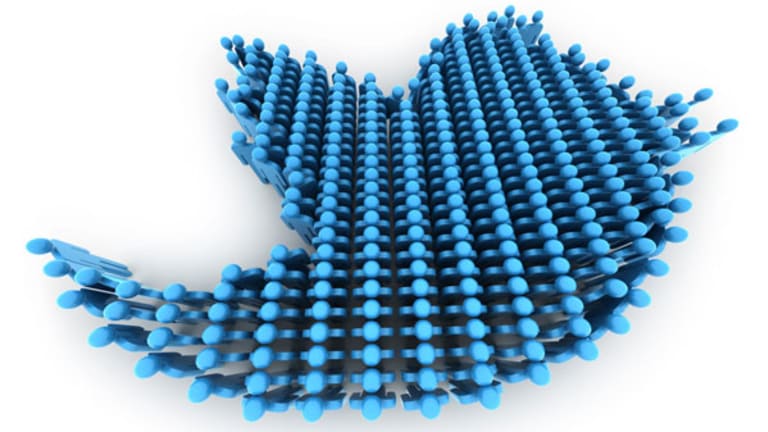 Twitter IPO Isn't Just Sexy, It's Also a Value Play
A flurry of analysts say Twitter's initial public offering offers investors untapped value.
NEW YORK (TheStreet) - Analysts valuing the shares of Twitter say the popular micro-blogging site may be a bargain ahead of its upcoming initial public offering, which according to a recent filing, will list 70 million shares at a range of between $17 and $20 a share.
Twitter will sell up to $1.4 billion in stock in a share offering that would value the fast-growing media site at $10.9 billion using the high end of the firm's price range and a total of 544.7 million outstanding shares.
Recent analyst valuations on Twitter, however, peg the firm's shares closer to $30 apiece.
Sterne Agee analyst Arvind Bhatia said in a Monday client note that Twitter could be worth between $25 and $32 a share in the next 12 to 24 months, respectively.
In a bullish scenario where the firm's advertising and data licensing platform impresses its partners, Bhatia said Twitter could be worth as much as $48 a share. Were Twitter's execution to disappoint investors, as Facebook (FB) did in the wake of its blockbuster $16 billion May 2012 offering, Bhatia pegs the company's value as low as $13 a share.
"As such, if the IPO is priced in the $17 to $20 range, shares would appear attractive from a risk-reward standpoint," Bhatia wrote.
The analyst highlights Twitter's scale among its 232 million existing monthly active users and its value proposition to prospective advertisers and partners in the publishing and media industries as a driver of the firm's worth. Bhatia also notes that Twitter's usage is tilted heavily towards mobile devices with 76% of its users accessing the network via mobile.
Twitter is also in the early stages of its international revenue growth. Currently, international users account for 77% of Twitter's overall user base but just a quarter of the firm's overall revenue.
Bhatia, in valuing Twitter at between $25 to $32 a share, assumes the firm's advertising revenue growth will be 64% and 45% in 2014 and 2015 respectively, while its data licensing revenue growth come in at 25%. He also expects Twitter will exercise an over-allotment that will bump its IPO to 80.5 million shares, or an offering worth in excess of $1.6 billion.
The analyst also notes that his forecasts for Twitter's expected revenue and share prices value the firm at 12 times its 2014 sales, in line with fast-growing internet properties such as Facebook, LinkedIn (LNKD) , and YELP (YELP) . Whether or not Twitter can record strong revenue growth in coming years will govern the company's share price, according to Bhatia's forecasts.
Pivotal Global Research analyst Brian Weiser rated Twitter a 'Buy' with a $29 a share price target in a Monday note to clients. The analyst highlighted Twitter's 35%-to-40% adjusted EBITDA margins, a non-GAAP accounting metric, as one reason for optimism.
On Monday, TheStreet contributor Douglass Kass of Seabreeze Partnerssaid he would be willing to pay $32.50 a share for Twitter's stock, citing the company's strong market position, its user base and a modestly-sized share offering. Kass also highlighted Twitter's "reasonable valuation vs. peers" such as Facebook, LinkedIn and Zillow (Z) , which trade at higher multiples of sales and average revenue per user.
There nevertheless are issues investors will need to become comfortable with as they analyze Twitter's shares. At TheStreet noted when Twitter's first IPO documents were made public, the firm currently lack's diversification in its revenue and is vulnerable to changes in internet ad spending. Because the firm has also only recently begun to try to monetize its business, Twitter investors also face the risk that advertisers are underwhelmed by the results of their current campaigns.
Other disclosures such as slowing user growth and warnings about fake user accounts stand out as risks that will likely occupy investor minds in coming quarters. 
Some following Twitter's IPO process say the firm may avoid the pandemonium that undermined Facebook's listing, which suffered from technical glitches and problems a rich pricing and supply of the company's stock. 
In that listing, Facebook and its bankers continually increased the price and supply of the company's stock to meet institutional and retail investor demand. In the end, Facebook sold a record amount of stock for a tech firm, in an offering that valued the social network at $100 billion.
It is to be seen is whether Twitter's overall offering size or its price range changes, as the San Francisco-based company travels the U.S. on a road show for investors.
Scott Sweet, a managing director at IPO Boutique, said in a Friday telephone interview he was relieved by Twitter's offering size and pricing. That may allow a better experience for retail investors seeking to get ahold of Twitter shares, after many ordinary investors were saddled with losses from Facebook's offering until a recent upswing in the firm's share price.
"I think retail will participate in Twitter's offering and demand will be extreme," Sweet said in reaction to initial pricing terms disclosed on Thursday. "There won't be the pandemonium that there was for the Facebook offering," Sweet said.
Twitter will list its shares on the New York Stock Exchange, a subsidiary of NYSE Euronext NYX.
Goldman Sachs (GS)  will lead Twitter's IPO, while Morgan Stanley (MS) , JPMorgan (JPM) , Bank of America (BAC) , Deutsche Bank, Allen & Company and CODE Advisors will also participate in the offering. The company will trade under ticker symbol 'TWTR.'
-- Written by Antoine Gara in New York.
Twitter, Initial Public Offering, IPO, Social Media