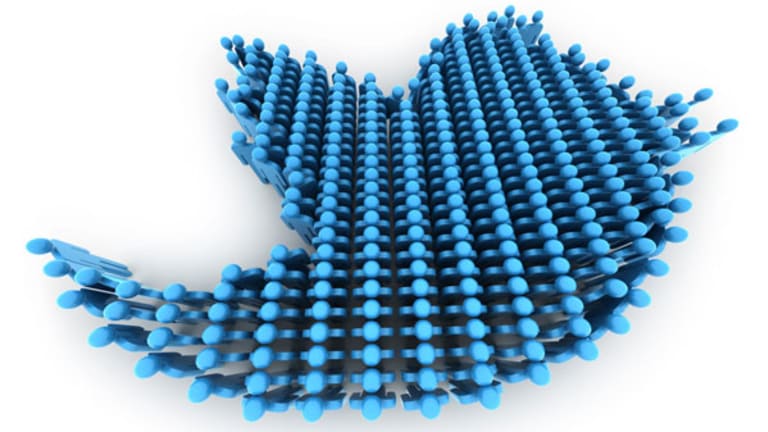 Twitter Files Confidential IPO with SEC, Publicizes on Twitter
Twitter took to its own airwaves to announce a pending share listing.
This story has been updated with additional information on Twitter's business.
NEW YORK (
) --
Twitter
, the popular micro-blogging site, is filing for an initial public offering of its stock on Thursday. The company took to its own network to make the announcement, after months of speculation by media, Wall Street and investors.
"We've confidentially submitted an S-1 to the SEC for a planned IPO. This Tweet does not constitute an offer of any securities for sale," Twitter said at about 5 p.m. EST on Thursday.
In a follow-up tweet, Twitter then said, "Now, back to work," and linked to
a photo of the company's offices
.
Unlike a traditional filing disclosed to public investors, companies like Twitter with revenue less than $1 billion in their most recent fiscal year can submit S-1 IPO filings confidentially with the
Securities and Exchange Commission
under the Jumpstart Our Business Startups, or JOBS Act.
Twitter may have filed confidentially with the SEC as a means to gain feedback on its financial reporting without having to make a series of public amendments, Beth Saunders, Americas chairman of FTI Consulting's Strategic Communications practice, said in a telephone interview. The confidential filing and subsequent announcement on Twitter also proved to be a good marketing opportunity. "I think there is a good marketing pop and they got it," Saunders said.
While details remain unclear, Twitter's pending IPO will likely be the most watched listing since
Facebook's
(FB) - Get Facebook, Inc. Class A Report
blockbuster May 2012 share sale.
eMarketer
in March that Twitter will earn $582.8 million in global ad revenue in 2013 before nearing $1 billion next year, with the majority of the company's growth coming from mobile users.
TheDeal's
Jon Marino
in August that a shareholder pegged Twitter's market capitalization at about $12 billion. That source suggested Twitter's valuation would rise, but not past $15 billion, by the time it listed on public markets.
"Twitter's not going to try and take every last dime off the table in
IPO pricing," a source said.
Twitter has ramped up its revenue and is expected to exceed $1 billion in advertising revenue, a source also told Marino. Twitter's true potential may lie in yet-undeveloped verticals, that source said.
In September, Twitter said it would buy online mobile-ad exchange
MoPub
for $350 million, according to media reports.
CNBC
reported on Thursday that
Goldman Sachs
(GS) - Get Goldman Sachs Group, Inc. (GS) Report
will lead the offering. Other investment banks are likely to be added to Twitter's IPO book as the company moves towards a listing. Earlier in 2013, Twitter hired
Morgan Stanley's
(MS) - Get Morgan Stanley (MS) Report
Cynthia Gaylor to head up its corporate development.
Stock sales in Twitter by early stage VC's
Spark Capital
and
Union Square Ventures
have sold at a substantial discount to a $12 billion valuation used in some recent private transactions. Other private stock sales have been in the $10.5 billion to $11.5 billion range.
Shares in
GSV Capital
(GSVC)
, an investment fund listed on
Nasdaq
that owns a stake in Twitter worth $36.7 million, as of June 30, jumped over 15% in after-hours trading on the company's IPO announcement.
Firsthand Technology Value Fund
(SVVC) - Get Firsthand Technology Value Fund Inc Report
, a closed-end fund with about 10% of its assets in Twitter stock also rose sharply. Both companies could prove to be an interesting proxy on investor interest in Twitter's IPO.
Twitter calls itself a "real-time information network" that connects to stories, ideas, opinions and news about what users find interesting. Each Tweet is 140 characters long, but allows users to include photos, videos and hyperlinks. The company also recently developed
Vine
, a micro video blogging service.
The company is increasingly becoming a power player in the media, advertising and political arenas.
Communication on Twitter has been at the heart of social protest such as the Occupy Wall Street movement in the U.S. and uprisings in countries such as Egypt, Libya and Turkey. The social network has become entrenched in the U.S. electoral process and it has even been at the center of political blow-ups such as the downfall of former New York Congressman Anthony Weiner.
For many, Twitter has turned into an essential piece of the news gathering networks, akin to an interactive newswire. When tragedy strikes, such as at the most recent Boston Marathon, Twitter has even been used by emergency professionals and local authorities as a means of ensuring public safety.
The company has also increased its focus on advertising in recent launches such as so-called 'promoted' tweets. As the company moves towards an IPO, there's great anticipation about Twitter's value as an advertising platform, especially as media consumers increasingly receive content on mobile devices.
Jim Prosser, a Twitter spokesperson, declined to provide comment for this article.
The Deal: Twitter Sets Up Revenue Streams Prior to IPO #ftw
-- Written by Antoine Gara and Jon Marino in New York.