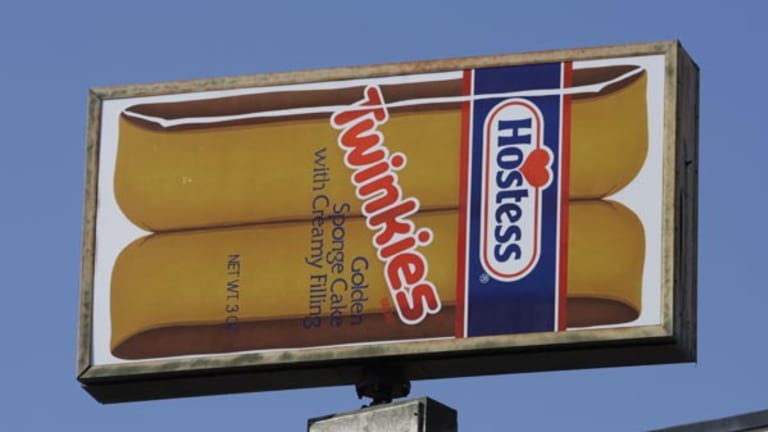 Updated to reflect bankruptcy court mediation agreement.
NEW YORK (
) -- The
of
Hostess Brands
-- the maker of consumer fattening favorites such as Ho Hos and Twinkies - also means that Americans may soon gorge themselves on the company's massive pension liabilities.
Hostess' liquidation -- just like the recent bankruptcies of well known companies like
Friendly Ice Cream
and
Eddie Bauer
-- raises the prospect that sophisticated private equity and distressed debt hedge fund investors are using courts to cast off unwanted pension obligations on U.S. taxpayers and put a losing investment back on the track.
Consider that also on Friday, the
Pension Benefit Guaranty Corporation
disclosed that its U.S. pension plan insurance deficit grew to a record $34 billion this year, the biggest shortfall in the federal agency's history. PBGC guarantees employee pension plans after a company goes belly up, securing the retirement of roughly 43 million U.S. workers.
While PBGC doesn't take government money directly - it's funded by way of insurance premiums and portfolio returns - the agency's head said on Friday that a growing deficit raises the prospect of taxpayer support.
>>> On Tuesday, November 20 at 6pm ET, TheStreet will host a webinar with Todd Lynady, Senior Underwriter for Zurich in North America and Mike DeLuca, Senior Partner of One Source.Register now.
In a statement released with the agency's bleak outlook, PBGC Director Joshua Gotbaum attributed the plan's shortfall on an inability to set premiums for member companies and noted that the agency's deficit may put taxpayers at risk for the first time in its 38-year history.
"PBGC may face for the first time the need for taxpayer funds," Gotbaum said on Friday.
So what is the tie-in between Hostess Brands liquidation and PBGC's dire financial outlook?
Were a bankruptcy judge to approve Hostess's plans, it's likely that most of the near 18,500 Hostess workers will lose their job and pensions with the company.
As part of Hostess Brands Friday liquidation filing, the company said it would terminate its pension, with roughly 2,300 employees in the company's single-employer plan falling under PBGC's guaranty, according to an agency statement. The company's larger multi-employer plan may also get some PBGC support, while potentially not needing a full guarantee because losses could be mutualized.
On Monday, an agreement between Hostess and the Bakery, Confectionery, Tobacco Workers and Grain Millers International Union forestalls a liquidation until at least Wednesday, as both parties return to the negotiation table on a pay and benefit deal that could keep the company in business.
The size of Hostess Brands employees claim to PBCG could also illustrate how big money investors are using the bankruptcy process to shirk financial obligations on a federal agency as a means to salvage or profit on an investment.
For instance, in Hostess Brands Jan. 2012
, the company's biggest unsecured creditor was The Confectionery Union & Industry International Pension Fund, a unionized employee plan with a near $944 million pension claim.
Further down the list of financial losers in Hostess Brands bankruptcy and potential dissolution are the company's hedge fund investors, which include
Monarch Alternative Capital
,
Ripplewood Holdings
and
Silver Point Capital
.
The size of the near $1 billion union pension claim is likely, in part, because Hostess's hedge fund owners stopped contributing to the company's pension plan in August 2011, as a result of bitter labor negotiations and deteriorating finances.
A look through the PBCG's claims list highlights
like Friendly's Ice Cream,
Eddie Bauer
and parts supplier
Delphi Automotive
(DPG) - Get Duff & Phelps Global Utility Income Fund Inc Report
, which remain large investments of hedge funds and private equity firms after the agency absorbed pension obligations.
A Monday
from
Fortune Magazine
indicates private equity firm
Sun Capital
might bid on Hostess Brands as a going concern. However, the report doesn't specify how pension obligations would be dealt with following the Friday termination of employee plans.
Sun Capital's interest may very well underscore how private equity firms use PBGC guarantees to pave the way for profitable investments. In January, the Center for Economic Policy Research
detailed
how Sun Capital used
Friendly's Ice Cream's
2011 bankruptcy to wipe 6,000 employee pensions from the company's books. In that deal, the PBGC accused the buyout firm of fraud.
Law firms such as
McDermott Will & Emery
see a different Sun Capital deal involving milling company
Scott Brass
and a legal suit with a Teamsters pension as a potential
for how to shirk pension liability in buyout investments.
On Monday,
Flowers Foods
(FLO) - Get Flowers Foods, Inc. Report
increased its line of credit, in a move analysts speculated might pave the way for a bid on some Hostess assets. Pabst Blue Ribbon owner C. Dean Metropoulos & Co. is also rumored as an interested party, among scores of prospective bidders for Hostess or its individual brands.
Regardless of how or whether Hostess Brands will be liquidated, the dance between investors and the renegotiation of employee compensation is in line with trends that already put taxpayers at risk of assuming PBGC claims.
Hedge funds like
Elliott Management
,
Silver Point Capital
and
Paulson & Co.
emerged from Delphi's 2009 bankruptcy exit as the company's largest investors. For is part, Delphi emerged as PBGC's second largest claim, with a $6.38 billion pension liability.
Sun Capital
remains a top Friendly's investor, after the company's late 2011 bankruptcy put pension claims onto PBGC's books and the buyout firm re-acquired the company in a bankruptcy court. At Eddie Bauer, the story is similar.
Some investors like Wilbur Ross of WL Ross & Co. even appear to have made a career of buying up companies that have saddled PBGC with billions in claims.
In the steel industry, Ross took control of the likes of
LTV Steel
and
Bethlehem Steel
during their bankruptcies in the early 2000's amid a U.S. industry downturn, and was able to score investment returns after both companies let billions in pension claims run onto PBGC's balance sheet.
A 2005
New York Magazine
illustrates how Ross structured the bargain basement steel industry buyouts to see a financial reward, while both companies remain among the five biggest PBGC claimants.
During an election year appraisal of
Bain Capital
buyout investments under Mitt Romney,
Bloomberg
how the buyout firm wrenched out gains by socializing pension claims of companies like
GS Industries
, another failed steel company.
PBGC also stepped up to sweeten investments during the financial crisis. Failed Californian lender
IndyMac Bank
, bought by a consortium of private equity firms including
Dune Capital Management
and
J.C. Flowers & Co.
, is a large PBGC claimant and its owners are poised to reap big gains in their FDIC-assisted investment
Meanwhile, in the auto bailout, Chrysler's hedge fund owner
Cerberus Capital Management
retained some equity in the company's businesses, which nearly
most of total losses in the failed investment. Much of Chrysler and
General Motors
(GM) - Get General Motors Company (GM) Report
post-bankruptcy ascendance can be attributed to the evisceration of billions in pension liability brokered by the government.
Media reports indicate Hostess brands may also
from the likes of
ConAgra Foods
(CAG) - Get Conagra Brands, Inc. Report
or Mexican conglomerate
Grupo Bimbo
, among scores of potential bidders, and the company's CEO is confident of individual asset sales.
Amid a potential feeding frenzy for the snacks brands of Hostess, taxpayers may be the only ones fed losses by way of prospective PBGC claims.
Follow @agara2004
-- Written by Antoine Gara in New York