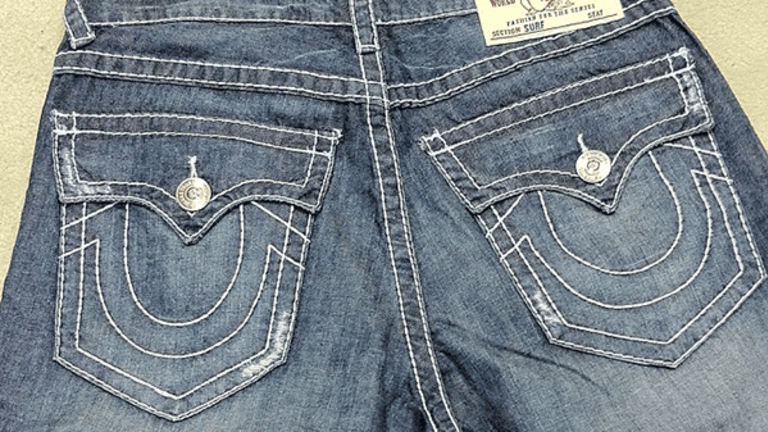 True Religion Gives Off Warning Signs Reminiscent of Sports Authority, American Apparel
The denim company, which was taken private in 2013, faces a high risk of default.
Denim maker True Religion Apparel is going out of style fast.
The Manhattan Beach, Calif., company may have to close stores or find a financial partner to avoid defaulting on its roughly $485 million debt load. But those measures may not be enough to save the TowerBrook Capital Partners-backed company, which is showing some signs that resemble the warnings given off by now-bankrupt retailers Sports Authority and American Apparel.
"What we anticipate is there will be benefit, but the promotional retail environment, the weak traffic and challenges of the brand will largely negate the benefit from these actions," senior Moody's Investors Service Inc. analyst Raya Sokolyanska said.
Even if True Religion attempts to reduce costs through additional store closures -- it closed 18 in 2016 much like other retailers including Macy's (M) - Get Free Report and Sears Holdings Corp. (SHLD)  -- and other initiatives, these may not necessarily translate to earnings growth.
Sokolyanska's comments come after the analyst recently downgraded True Religion's $485 million debt load, segmented into two tranches. The credit ratings agency on Jan. 13 downgraded True Religion's corporate family rating to Ca from Caa2 and probability of default rating to Caa3-PD from Caa2-PD. Moody's also lowered the company's first-lien term loan rating to Ca from Caa2 and the second-lien term loan rating to Ca from Caa3, noting the rating outlook is negative.
Editors' note: This article was originally published by The Deal, a sister publication of TheStreet that offers sophisticated insight and analysis on all types of deals, from inception to integration. Click here for a free trial.
The company's debt includes a $400 million first-lien term loan due July 30, 2019, priced at Libor plus 487.5 basis points and an $85 million second-lien term loan due Jan. 31, 2020, priced at Libor plus 1000 basis points.
The downgrades reflect the increased probability of default for True Religion, which TowerBrook took private for $824 million in July 2013, as well as a lower-than-average estimated recovery rate on the debt, a measure of the principal and accrued interest recovered through foreclosure or bankruptcy procedures in case of a default.
Moody's estimated a 35% family recovery rate for True Religion, below the 50% average.
Sokolyanska noted that Sports Authority and American Apparel had "fairly low" recoveries as well over the past year. Both companies filed for bankruptcy protection in 2016.
To turn more positive on True Religion, Moody's would need the company's adjusted debt-to-Ebitda ratio to improve from around 16 times to 6 times. Based on its debt load and a current 16 times debt-to-Ebitda multiple, True Religion likely has cash flow of about $30 million annually.
Moody's estimated the company had revenue of $377 million for the 12 months ended in October 2016.
"Getting from 16 to 6 is pretty tough," Sokolyanska said.
Standard & Poor's similarly downgraded True Religion in December to CCC from B- due to an apparently unsustainable capital structure.
True Religion's Ebitda fell 62.5% for the 12 months ended in October and is less than a third of what it was in 2012, according to Moody's. Promotional deals and inventory clearance led to revenue and gross profit declines across all channels, Moody's said.
The denim market has become overly saturated during the past three years, creating challenges for midpriced and high-priced brands, said Marshal Cohen, chief retail analyst at market research firm NPD Group Inc. Low-cost competitors are offering jeans with similar attributes at more attractive price points. True Religion's jeans retail between $159 and $339.
Denim sales have been hurt by the rise of athleisure, or athletic-style clothing worn outside the gym, as evidenced by Lululemon Athletica (LULU) - Get Free Report  recent success.
Compounding its existing troubles, True Religion now will have a harder time staffing stores, marketing product and remaining competitive due to a lack of funds, making it more difficult to energize the brand at a crucial moment, Cohen said.
"They certainly have the right heritage to be able to weather the storm but ... their next moves are going to be critical," Cohen said of True Religion. "No one really knows other than themselves how deep into the hole they are and what it'll take to climb out."
True Religion and Towerbrook did not respond to requests seeking comment.