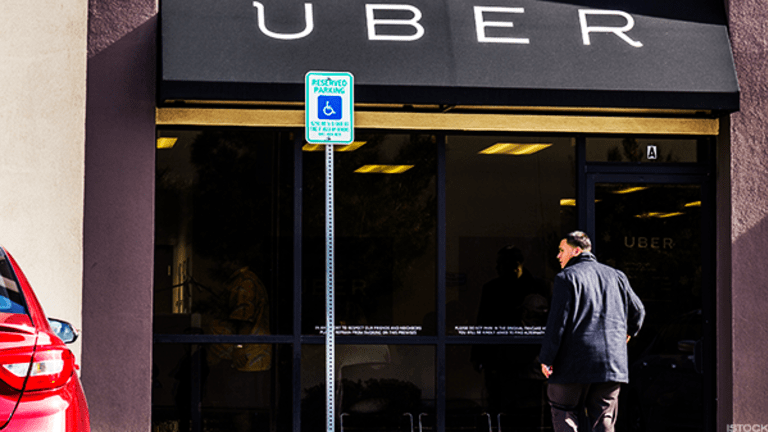 Travis Kalanick Resignation Adds Another Obstacle to an Uber IPO
Just a few months ago, Kalanick's ride-hailing company seemed a prime candidate to be the IPO of the year.
When Snap Inc. (SNAP) - Get Report sold $3.4 billion worth of stock in an early-March public offering, Uber Technologies Inc. seemed a likely candidate for the blockbuster IPO in 2017.
Investors' reported push for CEO Travis Kalanick's resignation is the latest black mark on Uber's record. The move follows the departure of senior vice president for business Emil Michael, defections of top executives and dismissals of others, a report on sexual harassment and a lawsuit by Alphabet Inc. (GOOGL) - Get Report unit Google's Waymo self-driving car business.
"I love Uber more than anything in the world and at this difficult moment in my personal life I have accepted the investors request to step aside so that Uber can go back to building rather than be distracted with another fight," Kalanick said in a statement to The New York Times.
If the private investors such as Fidelity Investments and Benchmark Capital, who backed Uber early on and have seen the value of their investment grow, agitated for change, as reported, the company is likely not ready for the scrutiny that would come with an IPO.
"If Uber goes to the capital markets, investors are going to demand more control over the board -- both for strategic and cultural reasons," Columbia Business School professor Evan Rawley noted in an email.
Kalanick joins former Twenty-First Century Fox Inc. FOXA news boss Roger Ailes, American Apparel Inc. CEO Dov Charney and others who were forced to resign amid scandals. 
Whatever Kalanick's legacy may be, his exit is the latest bad publicity for Uber. A June report by former U.S. Attorney General Eric Holder had already recommended that the company review Kalanick's role at the company, and the CEO initially announced he would take a leave of absence. Earlier in June, top executive Michael left and Uber let go of 20 employees after the results of an investigation into sexual harassment at the company. In late May, former head of finance Gautam Gupta announced his departure.
Other executives have been added recently, however. The company announced the arrival of Apple Inc. (AAPL) veteran Bozoma Saint John as Chief Brand Officer and new Senior Vice President of Leadership and Strategy Frances Frei from Harvard Business School. And the company has added Nestle SA executive Wan Ling Martello to its board.
Editors' pick: Originally published June 21.
One of Uber's former trophy hires, self-driving car engineer Anthony Levandowski, has landed the company in another scandal. Uber bought Levandowski's startup, Otto, for $680 million last August. Google's Waymo unit, which is Levandowski's former employer, argues that the engineer stole intellectual property when he left the company. Uber fired Levandowski in May, though the litigation and the potential for damage to Uber's self-driving car effort remains open.
Waymo's lawsuit reflects Uber's conflicted nature as both a dynamic investment and a magnet for scandal. In addition to being a litigant through Waymo, Google is both an investor, through Google Ventures.
Meanwhile, Wall Street has been less friendly to tech companies after a big run-up so far this year. While former darling Snap rocketed 44% at $24.48 in its first day of trading, the stock now trades around $17.34 -- putting investors who bought at the peak of its IPO under water.
Though Uber does not publish its financial results, the company disclosed 2016 numbers to Bloomberg in April. Gross bookings, or the total fares collected, grew 126% to $20 billion. However, the company posted a $2.8 billion net loss on $6.5 billion in net revenues. 
So Uber faces cultural and financial impediments to an IPO.
"If you're trying to parse which set of issues if more important, my sense is that Uber's struggles have revealed serious cultural problems that will require fundamental reforms," Columbia's Rawley suggested. "However, I think the biggest barrier to going public, at this point, is the cash burn rate."
For all of its woes, though, Uber is still the lead unicorn. Kalanick's company has a $68 billion valuation, according to CB Insights. Didi Chuxing, essentially the Chinese version of Uber which Uber acquired a stake when it abandoned its own China efforts, is next with a $50 billion valuation.
If Uber's backers hoped to exit through an IPO this year, they may have to wait a little longer for their returns.
Alphabet and Apple are holdings in Jim Cramer's Action Alerts PLUS Charitable Trust Portfolio.