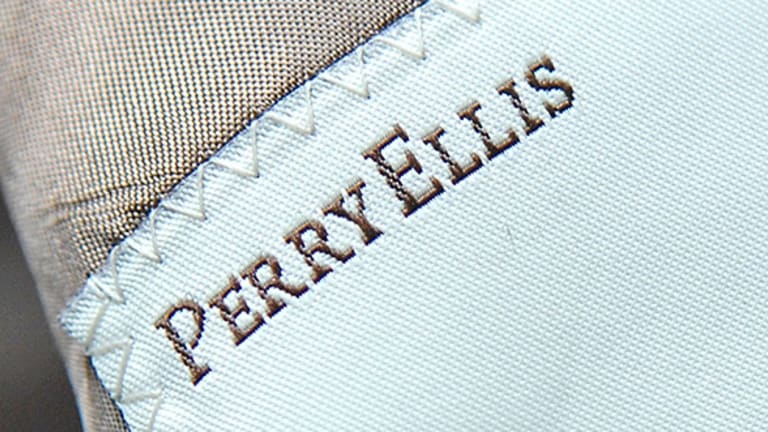 To Win a Proxy Fight, Win the Heart of a Qualified Board Nominee
As insurgencies proliferate, investors and targets are fishing in the same small pool of candidates. Experienced executives are the ideal recruits -- and companies may have an advantage over activists.
NEW YORK (The Deal) -- When Legion Partners co-founder Chris Kiper was looking for director nominees to run on a dissident slate for Perry Ellis International's (PERY) - Get Perry Ellis International, Inc. Report board, one name that came highly recommended was Bruce Klatsky, the former CEO of apparel-brand-licensing company PVH Corp. (PVH) - Get PVH Corp. Report.
Klatsky seemed to have it all. He had the licensing business in his resume and licensing is a significant factor in Perry Ellis' growth plans. For the latest quarter ended May 2, licensing contributed $5.6 million in operating income, which was fully half of the operating income of $11.3 million that came in from the men's apparel line -- Perry Ellis' biggest money maker.
The retired executive also had brand-building experience. At PVH, he was instrumental in turning Calvin Klein into the brand it's known as today, and he had historical relationships with global retailers.
Kiper, being the methodical activist that he is -- he started his professional life as an auditor at Ernst & Young and a fellow activist manager described him as "very smart" and "thorough" -- got in touch with Klatsky, after other investors recommended him as a potential dissident candidate, according to a person familiar with the investor.
Legion, along with the California State Teachers' Retirement System, or CalSTRS, had taken a 6.1% activist stake, and was gearing up for a proxy fight with Perry Ellis CEO George Feldenkreis and his allies on the board. The insurgents knew they needed a top name in the industry to win their case with other institutional investors.
But the former CEO seemed reluctant, especially after Kiper laid out exactly what he thought the turnaround plan needed to be.
Though Kiper declined to comment on the matter, Legion and CalSTRs are on record as saying that they believed that the apparel retailer and brand owner needed to increase its Ebitda (earnings before interest, taxes, depreciation and amortization) margins by 2019 beyond the currently targeted 10%. The activist also wanted several incumbent directors whom he considered to be cronies of CEO George Feldenkreis, off the board.
And, most important to the dissidents, they wanted the company sold. Sequential Brands Group (SQBG) - Get Sequential Brands Group, Inc. Report had shown interest in Perry Ellis, according to people familiar with the matter. The brands-licensing company just agreed to pay a hefty multiple in its $300 million acquisition of Martha Stewart Living Omnimediia (MSO) -- about 23 times the company's projected 2015 Ebitda -- and might not be in a buying mood. But a source familiar with the situation said G-III Apparel Group (GIII) - Get G-III Apparel Group LTD. Report would also be a good fit, especially because G-III's chief financial officer used to work at Perry Ellis.
On May 20, as the activists were gearing up for their proxy fight at the July 17 annual meeting the company announced that Joe Arriola and Joseph Lacher, the two board members the investors most wanted off, were being replaced. The two new candidates were industry veterans Michael Rayden and Bruce Klatsky.
That came as a surprise to Kiper, according to a person familiar with the activist's thinking. Kiper had walked away from his meetings with the former CEO convinced that Klatsky was more interested in his philanthropic plans than helping to run another public company.
As the trend toward more activist investing continues, proxy fights are likewise on the upswing. In 2014, activist funds launched 26 proxy fights at operating companies, compared with 20 in 2013 and 15 in 2012, according to data from FactSet Research..
That means companies and their investors may find themselves fishing in the same available pool of chief executives who can bring the kind of expertise and clout to a situation where someone is claiming that changes must be made.
One corporate adviser says companies sometimes go to investors and suggest that they work with management together on a slate. Usually, he says, activists turn management down because the investor has assembled his slate and believes in them.
Activists may also believe, on some level, that their director nominees will be loyal to the investor, the adviser says.
However, in Perry Ellis' case, Legion and CalSTRS did not press on with their proxy fight. They withdrew their slate once Perry Ellis announced its board changes, saying that they believed the two new members' "relevant experience and record of building value at other companies will bring positive change to the boardroom."
Nonetheless, the activists, who currently have a 6.3% stake in the company, said they were not going away any time soon. For one thing, they remain unhappy about the fact that, while George Feldenkreis announced plans to retire as CEO, he is passing the mantle to his son, Oscar. And CalSTRS still has a proposal in for the annual meeting to de-stagger the board.
The corporate adviser believes the situation at Perry Ellis was an anomaly. But there was at least one other big proxy fight where where the opposing sides were recruiting the same potential board nominee.
According to a person familiar with the situation, when Pershing Square Management founder William Ackman was preparing to launch a proxy fight at Canadian Pacific Railway (CP) - Get Canadian Pacific Railway Limited Report, the activist held preliminary discussions with Tony Ingram, who had been at Jacksonville, Fla.-based CSX (CSX) - Get CSX Corporation Report as that railroad's president and CEO. Previously, Ingram had been at Norfolk Southern (NSC) - Get Norfolk Southern Corporation Report for 33 years. He knew railroads.
But Ingram accepted the company's invitation to join the board, only to be ousted in 2012 after Pershing Square won a bitter proxy fight, took control of the board, orchestrated the departure of CEO Fred Green and installed Hunter Harrison in the top slot.
Though decidedly different industries, it may be that the kind of specialized knowledge that railroad executives need is not unlike what was needed at Perry Ellis with its unusual mix of retailing, licensing and brand-building.
Executive-search adviser Steven Seiden, president of Seiden Krieger Associates, speaking generally about director searches and not the Perry Ellis situation, says that the best activist nominees would be executives "who are steeped in knowledge of the industry." Nevertheless, Seiden notes that, despite a more general acceptance of activism, an industry executive may still "prefer to align himself with the company."
In squaring off over company goals -- and potential director candidates -- Morgan Lewis & Bockius LLP partner Keith Gottfried says corporate management would be well advised to work up a "skills matrix," asking themselves, "What are the top 10 skills one needs on the board-where do you have it and where are you light?"
A skills matrix could lead to a compromise with an activist, or an attempt to co-opt the slate, depending on how one views it.
For instance, in Nelson Peltz's failed proxy fight at DuPont (DD) - Get DuPont de Nemours Inc. Report, one of the biggest activist targets in years, the chemical company was willing to add Nelson Myers, one of four executives put up by Peltz's Trian Fund Management. Myers, as former president and CEO of GE Asset Management, was the financial guru on Peltz's slate. DuPont, however, did not choose an industry insider -- Robert Zatta. As CEO of Rockwood Holdings (ROC) , another chemicals company, Zatta engineered its 2014 $6.2 billion acquisition by Albermarle Corp. (ALB) - Get Albemarle Corporation Report.
But more than Zatta, what DuPont was absolutely sure of was that it wasn't going to offer to seat Peltz on its board.
Though the two sides had numerous conversations leading up to the annual shareholder meeting, Peltz insisted on a seat, and the company insisted he was not getting on its board.
Peltz rolled the dice on his proxy fight and lost. Industry observers say it was a close election, but ultimately, the hedge-fund manager, even with his years of experience on boards of public companies, didn't have the horses to persuade other investors that he, or his proposed director slate, was the answer for DuPont.
Were Peltz, or another activist, to return for another go-round with the chemical company, he would be well advised to think like corporate management and go after an industry specialist.
Read more from: