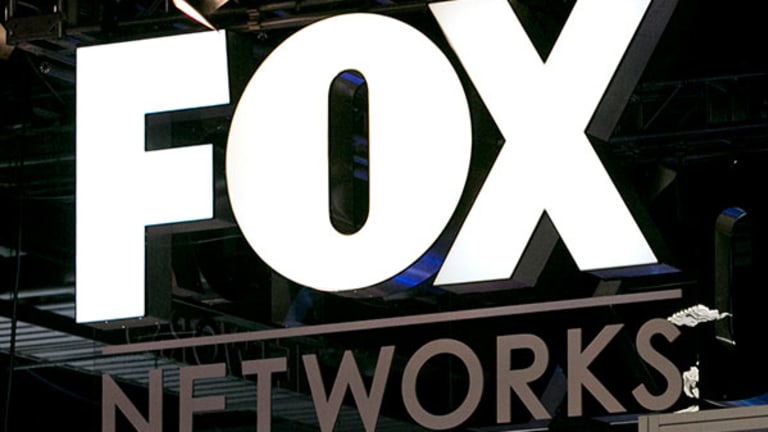 Time Warner Skyrockets as 21st Century Fox Confirms Rejected Bid
Time Warner surges after rejecting an $80 billion acquisition bid from Rupert Murdoch's 21st Century Fox.
Updated at 3:33 p.m. EDT
NEW YORK (TheStreet) -- Time Warner  (TWX) , owner of the Warner Brothers movie studio and popular pay-TV networks TBS, TNT and HBO, was surging Wednesday after confirming it had rebuffed media mogul Rupert Murdoch's 21st Century Fox (FOXA) - Get Fox Corporation Class A Report bid to buy the company in a deal worth $80 billion.
Fox, ever the acquirer, could be willing to pay higher than its original offer of around $85 a share to seal the deal, Bloomberg reported, citing people familiar with the matter.
Shares of New York-based Time Warner were gaining 18% to $83.61, its highest price since August, 2001, while Fox shares was tumbling 5.6% to $33.21.
Though the potential for an increased offer has yet to be confirmed, Fox did publicly state that its original offer had been refused. "21st Century Fox can confirm that we made a formal proposal to Time Warner last month to combine the two companies," New York-based 21st Century Fox said in a statement. "The Time Warner Board of Directors declined to pursue our proposal. We are not currently in any discussions with Time Warner." 
The proposal, which the New York Times reported had been in the works since June, was made public just a week after executives from most of the country's largest media and technology companies gathered for Allen & Co.'s Sun Valley conference, an annual event that has historically cemented larger industry mergers and acquisitions.
Time Warner's Rupert Murdoch Defense Could Mirror Sale of Time Warner Cable
Big Media Says Pay-TV Needs an Upgrade
How Sun Valley is Jumpstarting a Mad Scramble for Media Content
The cash-and-stock offer consisted of a combination of 1.531 a share of 21st Century Fox common stock and $32.42 per share in cash, valuing the proposed deal at about $80 billion.
For the moment, a marriage between two of the industry's largest companies (Disney (DIS) - Get Walt Disney Company Report being the largest) has been put on ice after Time Warner's board rejected Murdoch's overture, deeming the offer too low while declaring that the company was better off continuing as is.
"The Board is confident that continuing to execute its strategic plan will create significantly more value for the Company and its stockholders and is superior to any proposal that Twenty-First Century Fox is in a position to offer," Time Warner confirmed in a statement. Time Warner's board also cited the "considerable strategic, operational and regulatory risks" as reason to turn down a 21st Century Fox combination. 
Being a multimedia conglomerate, though, Time Warner didn't simply rely on its press release as evidence of its refusal. CEO Jeff Bewkes took to Google's (GOOG) - Get Alphabet Inc. Class C Report YouTube to explain the company's position.
"Time Warner has unique and powerful brands and leading businesses that are the envy of our competitors so it's not surprising that we might attract attention from others," Bewkes said, noting the board determined not only to refuse the offer, but that it was not in its best interest to "pursue any discussions with Fox."
Before news of a potential merger broke, Time Warner had a market capitalization of just under $63 billion. The offer represents a 25% premium to Time Warner shares, or around 12.6 times 2013 earnings before interest, taxes, depreciation and amortization.
Should Time Warner reconsider, a combined company would be a game-changing force in the increasingly global media industry.
Fox, which is controlled by the Murdoch family, commands a diverse portfolio of media properties led by its Fox Networks and Twentieth Century Fox Films, a television station group and international channels throughout Europe and Asia as well as ownership stakes in BSkyB and Star India. Among Time Warner's properties are its film and production studio Warner Bros. Entertainment as well as HBO, the Cartoon Network and CNN, which Fox would potentially be forced to sell to ward off antitrust issues with its Fox News division.
Murdoch's willingness to spend big to acquire Time Warner underscores his eagerness to make good on two of his biggest investments: sports programming and the international expansion of U.S. cable-TV channels.
The potential for consolidation among pay-TV providers appears to have prompted Murdoch to want to acquire more television programming. Fox has its sights set on Time Warner's sports contracts and popular HBO serials, to cite only two of its most popular and coveted assets.
By owning more programming, Fox would be better able to negotiate with pay-TV heavyweights, said Wells Fargo media analyst Marci Ryvicker, in an investor note. Murdoch clearly wants more leverage in the event that Comcast (CMCSA) - Get Comcast Corporation Class A Report is able to convince regulators to approve its acquisition of Time Warner Cable (TWC) , and AT&T does the same in its pursuit of DirecTV (DTV) .
"We also think such an offer underscores the value of [Time Warner]'s assets, which we continue to believe the market has not fully appreciated," Ryvicker said.
Fox started Fox Sports 1 a year ago in part to aggregate the company's many regional sports operations but also to compete with ESPN, the pay-TV channel that receives the most money per subscriber from Comcast, Time Warner Cable and DirecTV. Time Warner has possession of lucrative sports contracts in Major League Baseball as well as professional and college basketball. 
However, marrying Fox's sports networks with Time Warner's non-sports programming strength could prove a headache, BTIG Research's Richard Greenfield said in a note Tuesday. A longtime media analyst, Greenfield argued that Murdoch would be better off spending billions to acquire rights to the National Basketball Association than attempting to acquire a slew of pat-TV channels that might prove to undercut his company's own programming.
"In the early stages of creating Fox Sports 1 and FXX, buying Time Warner would add to its programming challenges," Greenfield wrote. "HBO is the crown jewel asset, but imagine now you have to figure how to program TBS, TNT, Cartoon, CNN, etc. If NBA rights are critical they should spend whatever it takes to take the content away from TNT, not buy all of Time Warner to get them."
A combined 21st Century Fox-Time Warner would have had total revenue of $65 billion, dwarfing Viacom's (VIAB) - Get Viacom Inc. Class B Report 2013 revenue of $13.8 billion and against Disney's $45 billion.
--With reporting by Leon Lazaroff in New York.