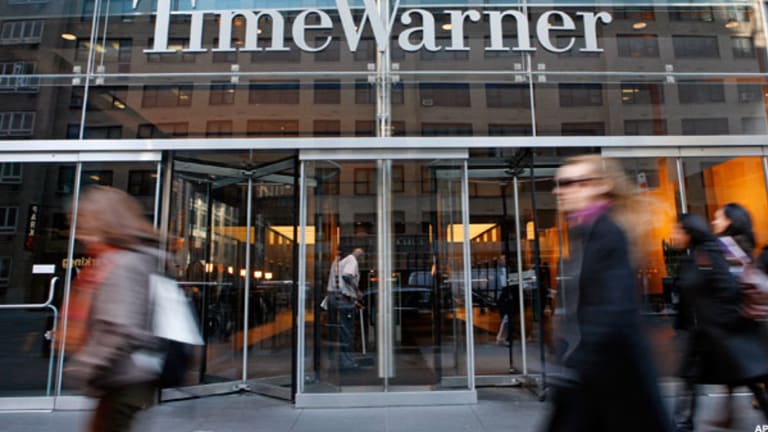 Publish date:
Time Warner Cable Ripe for Activists as Paulson Builds Stake
Could an activist push Time Warner Cable into a takeover?
Could an activist push Time Warner Cable into a takeover?
NEW YORK (TheStreet) -- Struggling cable giant Time Warner Cable (TWC) is ripe for an activist investor as speculation mounts that the company could draw merger and acquisition offers from competitors such as Charter Communications (CHTR) - Get Report and Comcast (CMCSA) - Get Report.
Already, there are signs that vocal hedge fund investors have taken notice of speculation surrounding a possible Time Warner Cable takeover. During the third quarter, hedge fund Paulson & Co. built a four million share stake in the company, or approximately 1.42% of Time Warner Cable's outstanding shares, according to a filing with the Securities and Exchange Commission.
The John Paulson-run hedge fund has its roots in merger arbitrage and it also has been a vocal shareholder in recent telecom sector consolidation.
Paulson & Co. advocated changing terms to T-Mobile's (TMUS) - Get Report acquisition of MetroPCS and the hedge fund made public statements that pushed forward other merger and acquisition activity in the industry, including SoftBank's takeover and recapitalization of Sprint (S) - Get Report and AT&T's (T) - Get Reportacquisition of Leap Wireless.
Currently, Paulson & Co. is the largest vocal Time Warner Cable shareholder, according to TheStreet's review of SEC filings as of Sept. 30. 
Armel Leslie, a spokesperson for Paulson & Co. declined to comment.
Other hedge fund investors in the cable giant include Larry Robbins-run Glenview Capital Management and JAT CapitalManagement, however, both funds hold positions that represent less than 1% of Time Warner's outstanding shares, according to SEC filings compiled by Bloomberg.
The filings disclosing Time Warner Cable's shareholders, however, represent just a snapshot as of the end of the third quarter. Since then, speculation of a deal has increased. Funds disclose their holdings on a quarterly basis, bit a firm taking a greater than 5% stake would have to disclose their holding soon after taking their position.
John Malone, the billionaire chairman of Liberty Media (LMCA) , a large minority shareholder in Charter Communications, has pressed for a merger between it and Time Warner Cable.
At the Goldman Sachs (GS) - Get Report Communacopia conference, Malone told Bloomberg News he was still interested in a merger, even after reports surfaced that Time Warner Cable wasn't interested in a transaction. In an October investor presentation, Liberty Media even put up a chart of Time Warner's weak share price performance while playing The Rolling Stones song "Time Is on My Side."
Liberty Media owns 27% of Charter Communication's outstanding shares.
Craig Moffett, co-head of research firm MoffettNathanson said in a Monday telephone interview that if Time Warner Cable is unwilling to accept or consider takeover offers an activist could try to press for a deal.

"There is the question of whether Time Warner Cable is willing to sell itself," Moffett said of recent merger and acquisition speculation. Bloomberg News reported on Friday that Charter Communications and Comcast could consider a joint bid for Time Warner Cable, citing unnamed sources.
A Time Warner Cable spokesperson declined to comment for this article.
Moffett said in a Monday telephone interview he believes a takeover of Time Warner Cable could happen over the next 12-months because of the firm's weak operating performance. The most likely scenario would be a transaction where Comcast buys Time Warner Cable's New York businesses, while Charter acquires the rest, according to Moffett.
The analyst, however, noted that any prospective transaction will be subject to the Federal Communications Commission's willingness to accept cable industry consolidation and Comcast's expansion.
DUring the third quarter, Time Warner Cable lost video and broadband customers, a first for the company, as it fought a programming dispute with CBS (CBS) - Get Report.
"If Time Warner Cable wants to remain independent, this probably isn't the best way to go about it," Moffett wrote of Time Warner Cable's third quarter earnings.
Time Warner shares were down over 1% in Monday afternoon trading. Shares have gained over 20% in the past three months, outperforming the S&P 500, as speculation of takeover bids has mounted.
--Written by Antoine Gara in New York