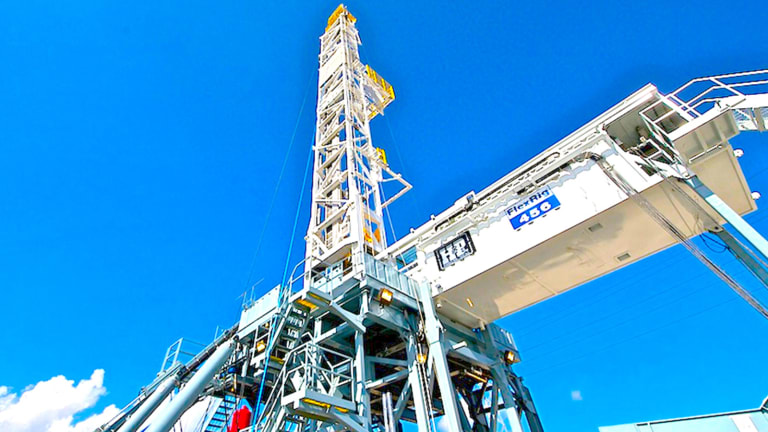 Three Oil Drillers to Buy if You Want to Ride the Recovery in Prices
Among companies that operate on land, Helmerich & Payne, Nabors Industries and Patterson-UTI are expected to perform better than their rivals now that the slump has bottomed out.
NEW YORK (The Deal) -- Lots of energy folks are in a better mood these days, with oil prices back up to around $58 per barrel after their dramatic slide from over $100 last summer to around $44 in March. Rig counts appear to be leveling off a bit after falling to 885 recently, half of what they were and their lowest level in almost three years. As a result, stocks of U.S. companies that drill wells on land for oil and gas explorers are up 30% to 50% vs. their Jan. 15 lows.
That is pretty typical. So-called land drillers and other land-centric service companies have provided the best return in every three-month period and the entire two-year cycle after oil bottomed, "no exceptions," RBC Capital Markets analyst Kurt Hallead declared in a recent report. And while offshore fundamentals remain weak for the foreseeable future, he's starting to hear more and more talk of a bottom for North American land activity, possibly late in the second quarter or in the third quarter. "This cycle progression is playing out like every cycle dating back to 1995," he said.
Even though U.S. land drillers have already performed well, they are believed to be headed higher over the next 12 months as the cycle recovery unfolds, with U.S. exploration and production companies "selectively planning to put some rigs back to work," Tudor, Pickering, Holt & Co. Securities wrote recently. Pioneer Natural Resources (PXD) - Get Free Report, for example, said recently it would likely add two rigs per month starting in July if the outlook for oil prices remains positive.
There are more than a half dozen publicly traded land drillers operating in the U.S., including Precision Drilling (PDS) - Get Free Report, Independence Contract Drilling (ICD) - Get Free Report and Parker Drilling (PKD) - Get Free Report. But the three that are often mentioned as the tops in the industry and are expected to perform better than most include Helmerich & Payne (HP) - Get Free Report, Nabors Industries (NBR) - Get Free Report and Patterson-UTI (PTEN) - Get Free Report.
TPH in particular likes Tulsa, Okla.-based H&P, which is led by chairman Hans Christian Helmerich III (grandson of the founder Walter H. Helmerich) and CEO John Lindsay, who started at the company in 1987. TPH said it was the only publicly traded U.S. land driller to have achieved earnings per share growth in the first quarter. Its stock is up around 23% over its Jan. 15 trough.
It's not all wine and roses. Management said on the company's first quarter conference call that 169 of its AC-drive FlexRigs -- considered the top of the line in the industry -- are idle, which is more than the 161 it has contracted, TPH reports. But management added that they've contracted a handful of the systems in the spot market to customers that are high-grading the rigs in their drilling programs, so that's a positive sign.
Bermuda-domiciled Nabors, led by CEO Anthony Petrello, is also thinking positively, projecting that rig counts will bottom out this summer, crude oil will be around $65 per barrel by the end of the year, and a full recovery will be taking place in the later part of next year. In the meantime, it projects that it can take 10% to 15% or more out of its daily rig operating costs over the next year. Investors like what they're hearing. Its stock is up around 48% from its mid-January low. RBC's Hallead rates the stock at "outperform."
Finally, Houston-based Patterson-UTI, which is led by CEO William Andrew Hendricks Jr., is up about 47%. TPH said the company, which it says has the best rig fleet disclosure of its larger U.S. land drilling peers, has had a few of its previously idled rigs go back to work recently. Global Hunter Securities analyst Ken Sill said last week that the company is his top pick among the drillers and RBC has it at "outperform."
Even though there's a lot of excess capacity in the market, which might be helped by consolidation, observers don't expect a lot of M&A anytime soon. Deal activity is way down in the oil services sector (77% in the first quarter, PwC reported recently), with companies waiting for the regulator-forced divestitures resulting from the tie-up between Halliburton (HAL) - Get Free Report and Baker Hughes (BHI) -- a "once in a generation" opportunity that will have multiple bidders, Hallead says. Jefferies analyst Brad Handler noted recently that he's getting a clear sense from companies that further discounts are needed to "catalyze acquisitions."
The key things to watch out for on all of the land drillers, TPH advises, is which rigs go back to work first -- whether they will truly be the best assets, as analysts expect -- and what kind of daily drilling rates companies are able to get. They're currently around $15,000 per day, down 25% to 30% from their peak, and the firm thinks they'll shake out to around $18,000 to $20,000, "which is sufficient to bring rigs back to the market," said TPH. It would be a welcome sign for an industry that's been hurting badly.