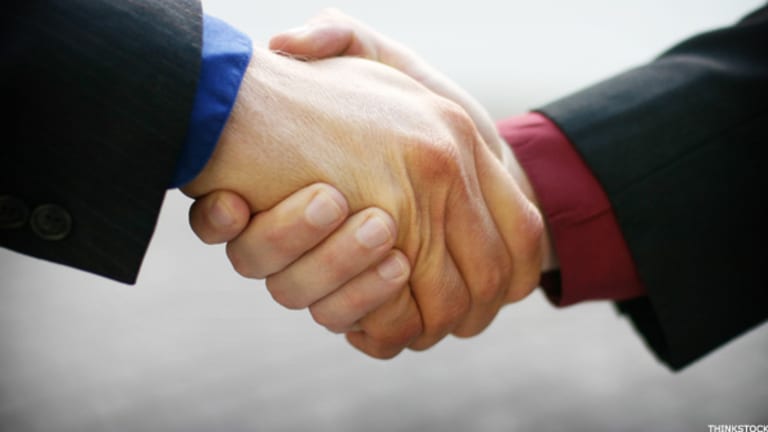 Thomas & Betts Acquisition Could Spark More Deals
ABB's $3.9 billion acquisition of Thomas & Betts may push other electrical engineering giants into deals.
NEW YORK (
) --
ABB Ltd.'s
$3.9 billion deal to buy power-distribution equipment specialist
Thomas & Betts Corp
( TNB) at a 24% premium may have big implications for deal activity in the sector.
ABB's purchase signals that some large international electrical engineering conglomerates -- weighed down by earnings and diversification needs -- may look to cut deals in the U.S. Deals may also be propelled by the fragmented nature of the sector, its low pricing power and a cyclical upturn, according to analysts.
ABB's deal to buy Memphis Tenn.-based Thomas & Betts signals that consolidation is "inevitable" in the electrical engineering space as companies try to become more "vertically integrated" while European conglomerates look for U.S. assets to hedge a Eurozone slowdown and falling euro, writes Barclays Capital analyst Scott Davis in a Jan. 29 research note.
"This group has long struggled with scale issues, global coverage, and pricing power," writes Davis. Other keys to the deal include the strong diversification benefits between Thomas & Betts' over 80% North American oriented sales and ABB's stated intent to bump U.S. sales up to a third of its overall revenue from a current 19% share. In addition, Davis expects that the electrical engineering tie-up will catch an upturn in key utility and construction end markets.
"Although hard to predict, we would expect any transaction to cause further consolidation within the industry. It's logical and timely," writes Davis.
Thomas & Betts shares rose over 22% to $71.03, slightly below ABB's $72 a share offer on news of the deal, adding to the company's near 15% 2011 stock gain. For more on electrical equipment stocks, see
TheStreet Ratings'
portfolio of
top rated electrical equipment stocks
. ABB shares fell nearly 3% to $20.63 on news of the deal.
On Monday, Thomas & Betts reported fourth quarter earnings per share of $1, beating
consensus estimates of 90 cents. For the full year, the company reported EPS of $3.55 on $603 million in 2011 sales.
Companies like
Hubbell Corp.
(HUB.B)
,
General Cable Corp.
(BGC)
,
Littelfuse
(LFUS) - Get Littelfuse, Inc. Report
,
Acuity Brands
(AYI) - Get Acuity Brands, Inc. Report
,
Rockwell Automation
(ROC)
,
Cooper Industries
( CBE) and
Wesco
(WCC) - Get WESCO International, Inc. Report
have similar U.S. electrical components and transmission operations, but analysts say the deal puts some of the companies into the M&A crosshairs and others on the sidelines.
The deal targets the low voltage electric distribution networks and equipment of Thomas & Betts, in addition to U.S. diversification. "This fills one of the largest gaps in the company, which was not having a meaningful presence in the world's largest low- voltage market," said ABB Chief Executive Joe Hogan on a media call.
Hogan, who's been outspoken about being disciplined in M&A, has started cutting deals as the company targets up to 10% sales growth a year from acquisitions. The Thomas & Betts buy and a $3.1 billion Jan. 2011 purchase of
Baldor Electric
, both deals that target energy distribution bottlenecks, are ABB's two largest deals since 2010 in an M&A boost that's included $9 billion worth of U.S. companies, according to
Bloomberg
data.
As a result, the moves may now put ABB on the deals sideline once more. Morgan Stanley analyst Nigel Coe wrote in a Monday note that the deal makes a Rockwell Automation and Cooper Industries takeout unlikely. Coe highlights the spun pieces of
Tyco International
(TYC)
as the most likely targets in the space.
Previous to the deal, Credit Suisse also highlighted that Cooper Industries was unlikely garner takeover interest because of its size. "In light of today's news, we reiterate this view, and note that other potential takeout targets
Hubbell Corp., Littelfuse, Acuity Brandsare likely to remain independent now that
Thomas & Betts is now set to be acquired," writes Credit Suisse analyst Julian Mitchell in a Monday note.
Nevertheless, the engineering sector didn't have a big M&A wave even as company valuations were cut during the recession because big players used their capital with discipline, leading to no post-crisis megadeals as of yet. It means that there are plenty of potential growth hungry buyers and attractively priced takeover candidates, according to Credit Suisse.
General Electric
(GE) - Get General Electric Company Report
,
Dover Corporation
(DOV) - Get Dover Corporation Report
and
Danaher Corporation
(DHR) - Get Danaher Corporation Report
are potential acquirers in the electrical engineering space according to Mitchell because of their muted deals stance in the second half of 2011. In Feb. 2011, Danaher bought
Beckman Coulter
for $5.87 billion, but may now be able to absorb a new deal.
"We think that
Invensys
( ISYS) (Neutral) would be a good fit with GE, given the latter's increased focus on process automation and Invensys' top 5 global installed market share in DCS automation," writes Mitchell.
In General Electric's fourth quarter earnings, the company indicated that it may cut deals as it considers a
. Acquisitions would be a shift from the company's post-crisis focus on selling assets. TheStreet nominated GE as one of the
5 biggest sellers during the financial crisis
as it raised billions to address a liquidity squeeze and reshape its balance sheet.
Mitchell of Credit Suisse also notes that industrial products conglomerate
SPW Corp.
(SPX)
, which recently
its auto's aftermarket diagnostics division, could enter the fray as a buyer or seller.
"Given the general health of corporate balance sheets and the general outlook for muted global demand in developed markets, we would not be surprised if potential buyout stories like these become more common," writes KeyBanc Capital Markets analyst Anthony Kure in a Jan. 30 note.
To be seen is what deals emerge, but expect more similar acquisitions by European conglomerates and growth hungry U.S. giants, as they exit the deals sideline.
-- Written by Antoine Gara in New York