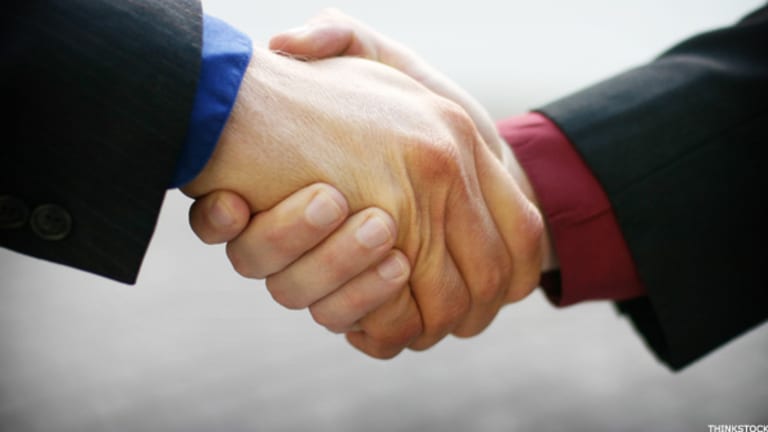 Publish date:
Thoma Bravo-led Consortium Buys Riverbed for $3.6 Billion
Activist Elliott forces sale after IT company turns in middling performance.
Activist Elliott forces sale after IT company turns in middling performance.
Chicago-based leveraged buyout shop Thoma Bravo LLC and Teachers' Private Capital, the investing arm of the Ontario Teachers' Pension Plan, are acquiring Riverbed Technology Inc., (RVBD) for $21 per share in a deal valued at $3.6 billion, the San Francisco-based IT infrastructure company said Monday.
The deal marks a successful campaign by activist Elliott Management LP, a hedge fund that has long agitated to acquire Riverbed.
At $21 a share, selling to a private equity firm generates a premium of about 12% Riverbed's closing stock price Friday. It also comes after a year where Riverbed's stock comparatively underperformed the S&P 500, with a total return of only about 4.6% year-to-date.
Thoma Bravo, Riverbed and Elliott Management declined to comment further on the deal.
The transaction is expected to close in the first half of 2015.
Earlier this year, Elliott pressured Riverbed to sell itself to the hedge fund, also at $21 a share, but it took until October for the tech company to agree to conduct a sale process. In November, Riverbed also agreed to allow Elliott, a 9.6% stakeholder, to conduct due diligence.
For Thoma Bravo, the deal is the latest in a string of transactions. The PE firm also announced the closing of its 11th fund at $3.65 billion earlier this year. With its biggest fund to date, the sponsor has been on a roll, scooping up targets left and right.
Before it announced the May fundraising, Thoma Bravo agreed to buy TravelClick Inc. from Genstar Capital LLC in a $930 million deal. TravelClick provides technology to hotel industry clients.
It also bought Sparta Systems Inc., a supply chain management services company, in a sponsor-to-sponsor deal where terms were not disclosed, in June.
The Riverbed deal is Thomas Bravo's largest yet, the firm said. It happened after another big tech deal for the firm: the buyout of Compuware Corp. at a 12% premium and a price tag of $2.5 billion — a situation where Elliott was also involved in pushing the company to sell itself.
Earlier this month, Thoma Bravo sold Tripwire Inc. to strategic Belden Inc. for $710 million.
As for Teachers' Private Capital, the pension's private equity arm has been taking on deals of its own and regularly co-investing alongside LBO shops on big deals.
In 2013, in a deal for about $550 million, Teachers' invested in U.K. cookie maker Burton's Biscuit Co. In May, it bought into Calif.-based Flynn Restaurant Group for $300 million.
Riverbed's financial advisers included Qatalyst Partners' Frank Quattrone, George Boutros, Nadir Shaikh, Brian Cayne and Steven Wu, and Goldman, Sachs & Co.'s Ryan Limaye, Jon Woodruff and Nick Giovanni. Riverbed took legal counsel from Wilson Sonsini Goodrich & Rosati PC's Dave Segre and Michael Ringler. Thoma Bravo and Teachers' Private Capital tapped a Kirkland & Ellis LLP team that included Gerald Nowak, Corey Fox and Brad Reed.