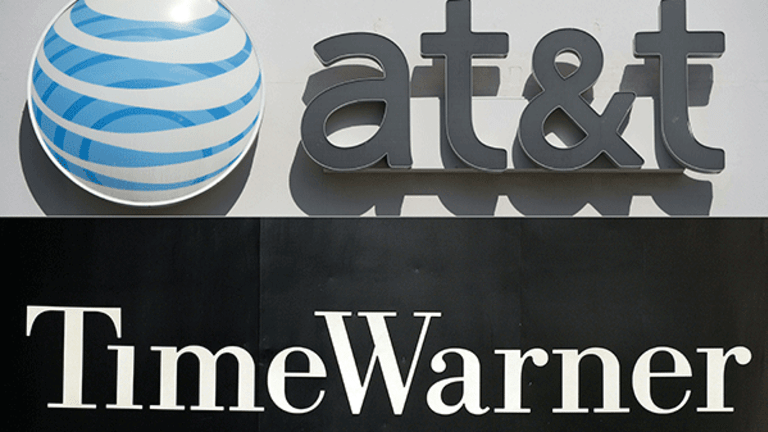 Publish date:
TheStreet's Mohr: Apple Should Join AT&T/Time Warner Deal
Adding AAPL's 1 billion+ users to the mix makes lot of sense.
Adding AAPL's 1 billion+ users to the mix makes lot of sense.
(This article originally appeared at 12:48 p.m. ET on Tuesday, Oct. 25, as an e-mail alert to subscribers of Action Alerts PLUS, which Jim Cramer and Jack Mohr co-manage as a charitable trust. Click here for a free 14-day trial and get e-mails like this delivered right to your inbox, along with access to custom conference calls with Cramer and Mohr and other special material.)
The planned $85.4 billion merger of AT&T (T) - Get Report and Time Warner (TWX) will create an important media "ecosystem" of content plus distribution, but the tie-up could really use another layer -- mobility. I think it'd make sense for Apple (AAPL) - Get Report to jump in and provide this missing piece.
The Wall Street Journal recently reported that Apple had actually approaching Time Warner a few months back about possibly buying TWX for itself, but that the talks never progressed beyond the preliminary stage.
Apple could certainly afford to buy Time Warner, even with U.S. repatriation taxes on AAPL's overseas profits. The tech powerhouse could simply do a bond offering and use its $220 billion hedge fund in Nevada as the vehicle to park the collateral.
That said, I'd be shocked if Apple ever really considered a Time Warner acquisition. Instead, I believe the tech powerhouse simply approached the media giant to understand the magnitude and opportunity of TWX's platform.
I think AAPL would be way better off simply partnering with a combined Time Warner/AT&T entity and expanding beyond iPhones by tapping into the business of having a multimedia TV/movie library.
After all, the AT&T/TWX merger's TV opportunities will be enormous, and Apple's installed base of 1 billion active users (600 million on the iPhone alone) could become as powerful ecosystem for that. A combined AT&T/Time Warner could tie up with Apple and become a content engine that would sit atop of world's most powerful hardware-and-software platform. That would create a natural opportunity for Apple to strategically deploy its billions of dollars in excess cash to either lease content, create original programming and/or build a structure similar to Amazon Prime from Amazon (AMZN).
I've long argued that Apple is a stock to own rather than trade. That's a view underpinned by our confidence in the sustainable, visible growth trajectory that's embedded within the company's high-growth, high-margin services business. Apple's services revenue is based on its 1 billion+ installed devices, and should only accelerate as more users add devices and adopt more features per device (apps, Apple Pay, Apple Music, etc.). Apple isn't simply a hardware company; it's an ecosystem that engenders long-term loyalty and constantly innovates on behalf of its customers.
The Journal reported that AAPL's exploratory talks with Time Warner involved senior Apple executives who work for CEO Tim Cook. Since Apple was represented at the highest levels, I assume that means the tech giant managed to extract valuable information from TWX. To me, that means Apple is now sitting pretty on the sidelines -- a common position for the tech giant, which has always exercised patience over urgency when it comes to disruption and opportunity.
Action Alerts PLUS, which Cramer and Mohr co-manage as a charitable trust, is long AAPL.