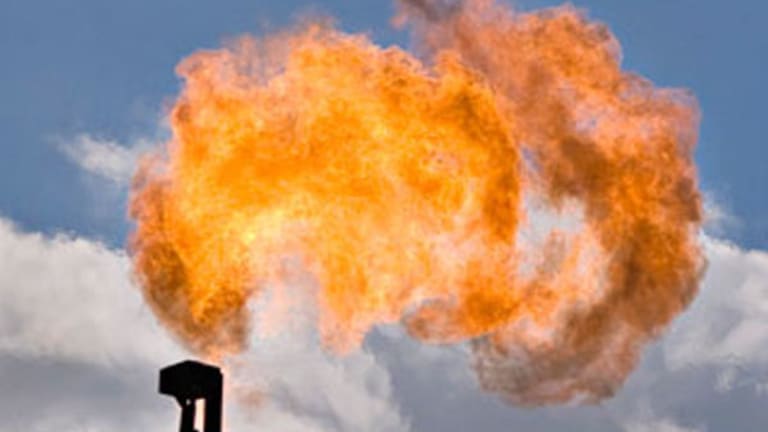 Publish date:
These Oil and Gas Companies Are Hot Picks This Earnings Season
Doing more with less, limiting cash flow spending and flat production are expected to be the common themes this earnings season.
Doing more with less, limiting cash flow spending and flat production are expected to be the common themes this earnings season.
It's third-quarter earnings season, and oil and gas analysts are trying to read the tea leaves on how the exploration and production industry is really faring at a time of lower oil prices and where companies will go from here.
Several themes are expected to resonate on conference calls, according to a Seaport Global Securities report out this week: That doing more with less is how to win in this environment; that companies will limit their cash flow spending given the lack of visibility on the macro front; that flat oil and gas production will be the name of the game for next year; and that it's been a "surprisingly tame" season this fall for banks' annual reevaluation, or "redetermination" in industry parlance, of asset values, with most exploration and production companies walking away with their liquidity unscathed.
The analysts also think companies will highlight several bright spots around the country, including the promising Stack/Scoop play in Oklahoma, where important test results are coming due; West Texas' and New Mexico's Permian Basin, where operators in the Wolfcamp A/B and the Lower Spraberry are claiming outperformance on their test wells; and the Middle Spraberry, which operators believe could prove as prolific as the lower, a big statement considering internal rates of return there can top 50% at $50 oil, the analysts said.
With all of that in mind, the firm listed four near-term picks in its coverage area.
The first is Continental Resources (CLR) - Get Continental Resources, Inc. Report , which is led by billionaire Harold Hamm, who is better known than his company for his rags-to-riches story and some nasty divorce proceedings (in which his ex-wife wanted more than just a $975 million check). Seaport thinks the company continues to make significant progress on the cost and efficiency front, so much so that they expect it to hold its production flat next year while staying within cash flow at an oil price of less than $50 per barrel. Continental also has $1.3 billion of availability on its revolver that's not subject to a redetermination until 2019, which buys it a lot of time.
Would now be a good time for Continental to go after another Bakken player, Whiting Petroleum (WLL) - Get Whiting Petroleum Corporation Report , which was rumored in March? Whiting is led by a 68-year-old CEO (Jim Volker) who might want to retire and get equity in a larger company. And it would be a good deal for Continental, as Whiting's stock is almost half of what it was when the takeover reports surfaced earlier this year.
Seaport also likes Concho Resources (CXO) - Get Concho Resources Inc. Report , which continues to distinguish itself as a leader on enhanced well completions in the Permian and is expected to live within cash flow next year, even if it has to drop another rig or two (it's currently at 14 rigs versus 37 the fourth quarter of last year). The company also recently raised around $800 million in the equity markets—a rarity in the industry—to pay down its revolver and maybe fund opportunistic acquisitions in its operating area. It's also been mentioned as a potential takeover target.
Concho is also on Tudor, Pickering, Holt & Co.'s pick list, along with Anadarko Petroleum (APC) - Get Anadarko Petroleum Corporation Report , Devon Energy (DVN) - Get Devon Energy Corporation Report , Newfield Exploration (NFX) and Cimarex Energy (XEC) - Get Cimarex Energy Co. Report for its exposure to the Stack and West Texas' and New Mexico's Delaware Basin.

Seaport's other picks include PDC Energy (PDCE) - Get PDC Energy, Inc. Report , which has been showing efficiency gains in the Wattenberg basin in Colorado and now has added takeaway capacity from DCP Midstream Partners (DPM) and Anadarko; and Bill Barrett Corp. (BBG) , which also has shown recent operational execution and improving capital efficiencies and has other assets to sell to improve liquidity, including non-core acreage in Wattenberg's DJ, or Denver-Julesburg, Basin.
Bill Barrett in particular has been thought to be a potential target by the likes of Encana (ECA) - Get Encana Corporation Report . Or, with its shares trading at around $5 per share, a third of what they were a year ago, could it be a take-private candidate by onetime private equity backer Warburg Pincus? Stranger things have happened.
Seaport also lists 11 stocks to be cautious about this earnings season. The names include Apache (APA) - Get Apache Corporation Report , which had a "sluggish" third quarter; Bonanza Creek Energy (BCEI) - Get Bonanza Creek Energy Inc Report , whose liquidity is still in question; Chesapeake Energy (CHK) - Get Chesapeake Energy Corporation Report , whose capital expenditures will likely be "talked down;" and Cabot Oil & Gas (COG) - Get Cabot Oil & Gas Corporation Report , as uncertainty over the construction of the Constitution pipeline that would take its natural gas out of the Marcellus Shale into New York and New England clouds its outlook for next year.
Its other seven cautionary names include Energen (EGN) , which has low completion activity, midstream constraints in the Delaware and appraisal exposure that may hurt third quarter production; Northern Oil & Gas (NOG) - Get Northern Oil and Gas, Inc. Report , which is completing fewer wells than thought with lower production; Parsley Energy (PE) - Get Parsley Energy, Inc. Class A Report , which is weaker on the oil front than Wall Street expects; and Rex Energy (REXX) , whose Utica well is likely not a game-changer and is still waiting for midstream assets to take its natural gas out of the Moraine East area in the Marcellus Shale.
Also, Stone Energy (SGY) , which has shut-in about 30% of its natural gas production in the Marcellus (because of low margins); Southwestern Energy (SWN) - Get Southwestern Energy Company Report , whose initial outlook for 2017 is worse than next year's; and WPX Energy (WPX) - Get WPX Energy, Inc. Report , whose projected activity levels are being taken down while leverage creeps higher.
Not a lot of good news out there.