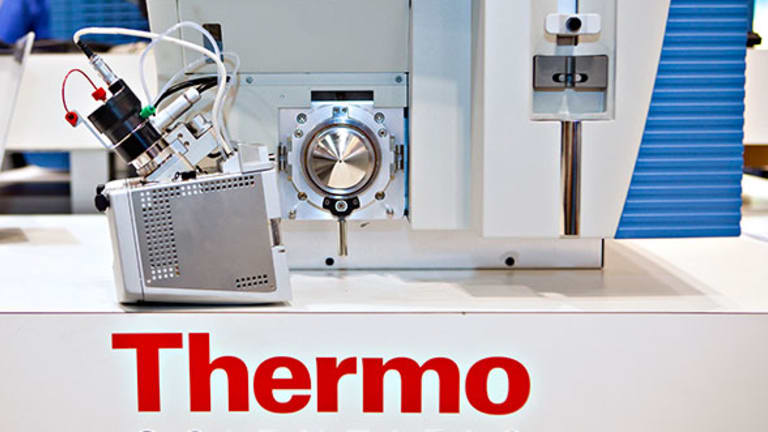 Thermo Fisher Can Afford More Deals After Affymetrix Buy
The medical device maker is paying 20 times Ebitda for the specialty diagnostics company. Still, analysts believe the company is financially nimble enough for even more deals.
Thermo Fisher Scientific (TMO) - Get Thermo Fisher Scientific Inc. Report is buying Affymetrix (AFFX) for $1.3 billion, and, despite paying a steep 20 times Ebitda for the business, the medical device maker still appears to be financially nimble to make more acquisitions, according to analysts.
"The nice part about this deal is that it gives them the flexibility with capital allocation to do more deals," said Matthew Mishan of KeyBanc Captial Markets in a phone interview. "In diagnostics, specifically, specialty diagnostics, they haven't done a deal. That's a higher-margin, higher-growth business they could look to expand."
Thermo announced Friday it had agreed to pay $1.3 billion, or $14 per share, for Santa Clara, Calif.-based Affymetrix, which provides genetic analysis of biological systems that help drug developers identify and understand disease mechanisms. The deal is Thermo's largest since it acquired Life Technologies Corp. for about $13.6 billion on Feb. 3, 2014.
Jack Mohr, co-portfolio manager for Jim Cramer's charitable portfolio, Action Alerts PLUS, said the acquisition is a good strategic fit for the company and "is well aligned with our view that TMO is constantly -- yet selectively -- identifying ways to create value for shareholders."
In addition, the size of the transaction "is in line with our views on the company's M&A strategy, which we see as Thermo Fisher's best use of capital. From management's recent commentary, it has been clear that the company expects to maintain a disciplined capital deployment strategy with tuck-in M&A as the preferred use of cash, followed by share repurchase," according to Mohr.
Even after the $1.3 billion acquisition, "we believe TMO -- as a direct result of its robust free- cash-flow generation and high operating margins -- can deploy an incremental $2.5 billion of capital through dividends, buybacks and/or further accretive tuck-in acquisitions this year. This would still allow Thermo to end the year with a net debt to Ebitda (i.e., leverage) ratio within its targeted range of 2.5 times to 3 times."
Exclusive Look Inside:
You see Jim Cramer on TV. Now, see where he invests his money and why. Learn more now.
Thermo will integrate Affymetrix into its Life Sciences Solutions business, which provides services to the pharma and biotech industry. Affymetrix's technology is used in a variety of clinical and applied markets, including reproductive health and agricultural biotechnology.
"Overall, we are inclined to view the deal as a prelude as TMO possibly re-enters an era of re-accelerated capital deployment, now that debt post the Life transaction has been reduced," wrote Stifel Financial analyst Miroslava Minkova in a note Monday.

Barclays Capital's Jack Meehan said in an email that Thermo would most likely look to add bulk in the life science solutions, specialty diagnostics and analytical instruments areas.

"That said, given their portfolio breadth, Thermo Fisher can afford to be patient and wait to acquire assets that meet the company's internal hurdles and return criteria," Meehan wrote. "Management doesn't feel pressure to complete deals just for the sake of M&A."
Meehan added that "the company can deploy up to $4 billion this year," including the $1.3 billion shelled out for Affymetrix, in a note Monday.
Terms of the Affymetrix acquisition work out to about 20 times the company's projected 2016 Ebitda of about $65 million, and about 3.5 times projected sales of about $370 million. Thermo said it would gain more than $55 million in additional synergies from the deal.
Since the Life Technologies deal, Thermo has reduced its debt-to-Ebitda ratio to about 3.2 times. As of Sept. 26, the company had total long-term debt of about $10.3 billion.
For Affymetrix, the sale to Waltham, Mass.-based Thermo marks the end of a three-pronged turnaround plan that began in 2011 by CEO Frank Witney.
"Over the last several years, AFFX made notable progress realigning its portfolio, entering new markets (acquired eBioscience, entered single cell biology) and returning to profitability," said Jefferies' Brandon Couillard in a note Monday.
Thermo's CEO and President Marc N. Casper said Witney has "done a great job of strengthening the business" and that he is "excited about the opportunity to leverage Thermo Fisher's scale and depth of capabilities to build on that momentum and accelerate growth."
Thermo Fisher and Affymetrix officials didn't respond to calls seeking comment.