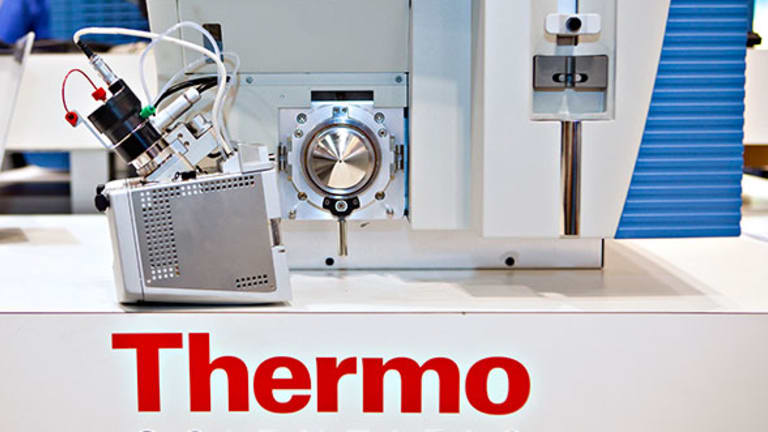 Thermo Fisher Adds Electron Microscopy Specialist FEI in $4.2B Deal
The deal continues Thermo Fisher's aggressive push to be the premier supplier of equipment for the biotech and health care industries.
Thermo Fisher Scientific (TMO) - Get Thermo Fisher Scientific Inc. Report said Friday it would acquire FEI undefined in a $4.2 billion deal that would expand the scientific instrument manufacturer's expertise in electron microscopy.
Terms of the deal call for Waltham, Mass.-based Thermo Fisher to pay $107.50 per share in cash for FEI, a premium of 13.7% to the target's Thursday close. Thermo Fisher said it intends to use proceeds from committed debt financing and cash on hand to fund the transaction.
Hillsboro, Ore.-based FEI is a designer and manufacturer of electron microscopes that help study proteins. The company generated 2015 sales of $930 million, employing 3,000 worldwide. Thermo Fisher, a $17 billion-sales equipment vendor, said that the FEI product line will fold well into its mass spectrometry offering, and praised the company's business servicing its products for providing reoccurring revenues.
"The addition of FEI's leading electron microscopy platform is an outstanding strategic fit with our company and will create significant value for our customers and our shareholders," Thermo Fisher CEO Marc N. Casper said in a statement. "The technologies we gain with FEI will complement our mass spectrometry leadership, putting Thermo Fisher in the best position to capitalize on this important trend."
Thermo Fisher said that it expects the deal to contribute about 30 cents per share to adjusted earnings per share in the first full year. The company expects to extract about $55 million in annual costs and gain about $25 million of adjusted operating income benefits within three years of closing the deal.
The company has been an active acquirer of scientific equipment makers, earlier this battling Chinese and private equity bidders to acquire DNA testing company Affymetrix ( (AFFX) ) for $1.3 billion. The company, which in 2013 acquired Life Technologies for $13.6 billion, last year added Alfa Aesar for $400 million and Advanced Scientifics for $300 million.
Jim Cramer, founder of The Deal's parent, TheStreet, and manager of the Action Alerts PLUS Charitable Trust Portfolio, this morning said Thermo Fisher has become "the foremost equipment company for biotech and healthcare," saying that the FEI purchase "fits right in to the mosaic of Thermo Fisher." Thermo Fisher is a holding in the AAP portfolio. 
In an AAP bulletin sent out Friday morning Cramer and Jack Mohr, TheStreet's research director, said "we believe the deal makes sense from a financial and strategic standpoint as Thermo leverages its existing ecosystem and increasingly positions itself at the fore-front of innovation in healthcare and molecular/cellular biology."
FEI was founded in 1971 as Field Electron and Icon, and through the years has grown by adding the electron microscope assets of Philips and acquiring rival Micrion. Company CEO Don Kania in a statement said the deal "bolsters our already strong position in the marketplace and allows us to play an increasing role in enabling our customers to accelerate breakthrough discoveries, increase productivity and provide solutions to global challenges."