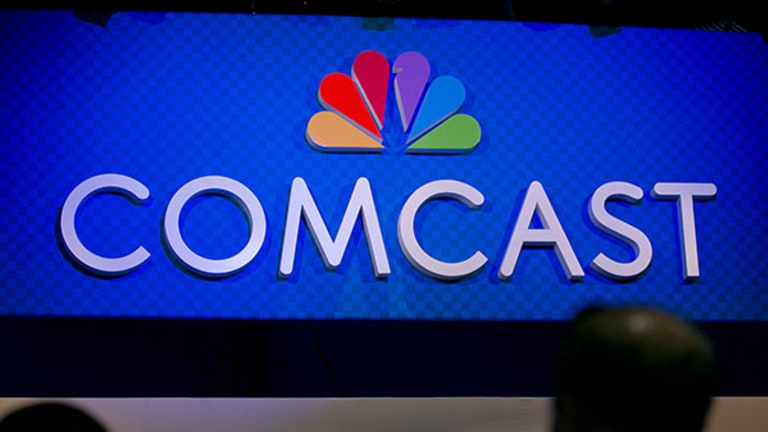 Breakup Fee Drove Time Warner Cable Merger Negotiations
How a Comcast and Time Warner Cable deal could have fallen apart.
Updated to include additional information throughout, including closing share prices.
NEW YORK (TheStreet) - Comcast (CMCSA) - Get Comcast Corporation Class A Report chairman and CEO Brian Roberts wasn't willing to negotiate a takeover of Time Warner Cable (TWC) unless the company agreed not to receive a payment in the event the combination was blocked by regulators. For that stipulation, Comcast eventually agreed to Time Warner Cable's asking price.
That disclosure, made in a proxy filing on Thursday, sheds new light on Comcast's emergence as a buyer of Time Warner Cable, as industry middle-weight Charter Communications (CHTR) - Get Charter Communications, Inc. Class A Report pursued a highly-leveraged takeover campaign.
Comcast's Deal for Time Warner Cable is Good for America
On February 4, after rejecting a $132.50 offer put forward by Charter Communications, which consisted of $82.54 cash and the remaining consideration in stock, Time Warner Cable CEO Robert Marcus approached Comcast's Roberts about a merger of the two companies.
Comcast, which previously hadn't been interested in a full merger of the two companies, insisted that before negotiations start, Time Warner Cable agree not to ask for a reverse termination fee. Given the size of Comcast's eventual $45 billion all-stock acquisition of Time Warner Cable, such a fee could have run in the billions.
"Mr. Roberts emphasized that Comcast would only be willing to proceed with a transaction that included specific and objectively measurable undertakings with respect to regulatory matters and that did not require Comcast to pay a "reverse termination fee" in the event the transaction could not be completed due to an inability to obtain required regulatory approvals." Comcast said in its proxy statement released on Thursday.
"[If] TWC were willing to accept the regulatory framework proposed by Comcast, then the price would be significantly higher than the nominal value of $132.50 per TWC share that Charter was offering," the filing states.
Comcast's proxy indicates that Time Warner Cable CEO Marcus initially insisted on the protection of a reverse termination fee, something Comcast CEO Roberts was unwilling to concede.
"Mr. Marcus indicated that any potential transaction should include a "reverse termination fee" payable by Comcast in the event the transaction could not be completed due to an inability to obtain required regulatory approvals and Mr. Roberts reiterated that Comcast would not be willing to agree to any "reverse termination fee." The filing states.
Marcus went back to Time Warner Cable's board with negotiation offered by Comcast.
On Feb. 5, the board allowed Marcus to pursue a deal on Roberts's terms so long as Comcast gave Time Warner Cable a deal with acceptable financial and operational stipulations.
On Feb. 6, Marcus told Comcast CFO Michael Angelakis that Time Warner Cable would be open to discussing a deal on their terms so long as the company agreed to a stock-for-stock merger at a price of $160 per TWC share. Comcast's price was $150 a share, filings show, however, both companies agreed to continue discussions.
After entering a confidentiality agreement, Comcast and Time Warner Cable continued to negotiate. On Feb. 8, Comcast conceded that although it wouldn't allow a breakup fee, it would include in the merger agreement detailed commitments to obtain regulatory approvals of the merger. [When a deal was announced, Comcast offered to divest 3 million subscribers.] 
Later in the negotiation, an agreement was reached that allowed Time Warner Cable to walk away from a merger at no cost to its shareholders, and Comcast would not be liable for any reverse termination fee.
When it came time to agree on a share exchange ratio, Comcast offered 2.67 shares of its Class A shares for each Time Warner Cable share. Time Warner Cable asked for 3 Comcast shares per Time Warner Cable share.
Ultimately, the 2.875 exchange ratio agreed upon valued Time Warner Cable at $158.82, very close to the company's initial $160 a share asking price. CEO Marcus got the price he wanted. Filings indicate that it was the reverse termination fee that was the major step in negotiating a deal and which could have iced talks.
Breakup Fee a Non-Issue?
In a call with the media on Feb 13, both Time Warner Cable and Comcast characterized a lack of termination fees as a non-issue, given that both companies would benefit from an absence of such provisions.
Comcast's Roberts also said that the company has historically never agreed to reverse termination fees - or asked for them - when engaging in merger and acquisition activity. Disclosures on Thursday, however, indicate that termination fees could have been a deal-breaker in what is the ambitious consolidation efforts in the cable industry in a decade.
Currently, the merger is subject to an intense review by U.S. antitrust officials. Comcast's insistence that no termination fees be included in a deal might be something for antitrust regulators to consider.
While the merger of the two biggest cable systems in the U.S. might appear to some to be blatantly anti-competitive, there are few regional overlaps between Time Warner Cable and Comcast's businesses.
Both companies have also agreed to divest 3 million subscribers to keep the combined company below a 30% market share in the U.S., and Comcast has agreed to net neutrality provisions it was subjected to in the acquisition of NBCUniversal.
Since the merger was announced, Comcast has also engaged in a series of deals that could be seen as appeasing regulators. The company has extended its commitment to improving broadband service in low-income communities and to under-served markets.
Meanwhile, Comcast also agreed on an IP interconnection deal with streaming video provider Netflix (NFLX) - Get Netflix, Inc. Report that may benefit consumers and forestall a service standoff between the competitors.
Comcast is offering an all-stock takeover that would pay Time Warner Cable shareholders $160 a share in Comcast stock.
Comcast shares are 10% below levels prior to the company's announcement of a merger with Time Warner Cable. Time Warner Cable shares closed Thursday trading at $138.51, having pared most of their gain since the transaction was announced in mid-February.
Paulson on Time Warner Cable: This is a Dream Combination
Comcast's Netflix Punt May Assuage Time Warner Cable Merger Skeptics
Comcast's Deal for Time Warner Cable is Good for America