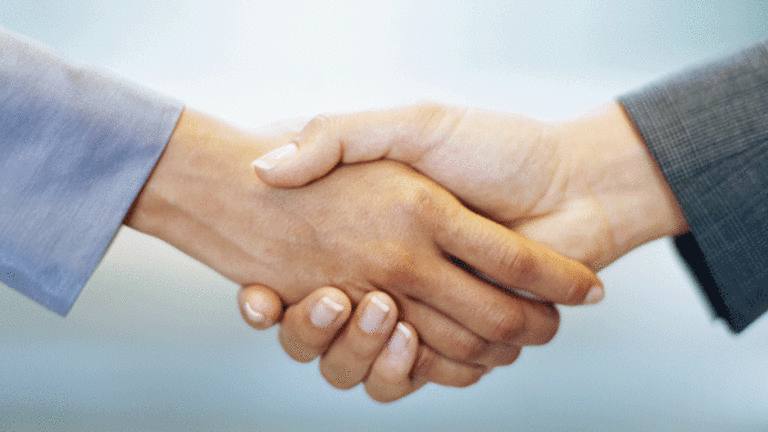 TheDeal: Shareholders Reactivated?
Activist shareholders are shaking up boards across the country in what some are calling the busiest proxy season since the credit crisis.
NEW YORK (TheStreet) -- Bankers and lawyers call it the busiest proxy season for shareholder activism since the credit crisis, as activist investors with increasing firepower shake up the boards of corporate America.
As activists stalk increasingly larger blue-chip names such as
Sony
undefined
,
Microsoft
(MSFT) - Get Free Report
and
Procter & Gamble
(PG) - Get Free Report
, their impact on corporate strategy has grown increasingly significant. The energy sector has been of particular interest.
Also see: I'm Done With Facebook
Moreover, at least one opponent believes they may be having an impact -- when it comes to boards.
"Much as the corporate raiders of the 1980s changed leverage, the activists are now focusing on how boards are configured: who's on the board and whether the directors have relevant expertise and experience," said Goldman Sachs' head of activist defense practice, Bill Anderson.
This flurry of activity, in the midst of another subpar mergers and acquisitions year, once again raises questions about the longer-term role of activist investors. It's still unclear how much broad support these funds get from major institutional investors. The jury is also still out on whether the long-term effect of activism is good, bad or indifferent in terms of corporate growth or economic health. And it's an open question whether this uptick in activity is a long-term trend or a response to a reviving economy.
What's clear is that activists have been picking up more assets under management, which should provide more clout to push their agendas. Activist funds had $73.4 billion in assets at the end of the first quarter, up from $32.3 billion in 2008, according to Hedge Fund Research Inc. (This does not capture activist titans such as Carl Icahn, who runs a holding company.)
Last year was the busiest for activist action since the 2008 credit crisis, with 240 campaigns targeting a change in company strategy or board membership, according to FactSet SharkWatch. That year was a high point for activism, when 324 campaigns were launched, a number that skidded to 187 the following year as global stock markets tanked and many activists nursed steep losses. Each year since has seen a rise in assets that has enabled the gradual return of activism. This despite a reduction in the number of activist funds, which have fallen since the crisis from 63 in 2009 to 56 this year. The result: fewer funds with greater firepower. As such, bankers and lawyers expect activity in 2013 to exceed last year.
Also see: WWDC Could Give Undervalued Apple a Boost
"At one point this year we had 20 different shareholder activism situations and I can't remember when that last happened," said Schulte Roth & Zabel LLP partner David Rosewater, who primarily represents activists but also advises on corporate defense strategies. He said institutional support for activism, while growing, remains marginal.
"Institutions are more receptive to activist strategies but there's still a reluctance by some large money managers to publicly support activists," he said. "It's a reputational and access to corporations related concern."
In terms of board shakeups, activists have had mixed success. Procter & Gamble late last month said it would bring back former boss A.G. Lafley to replace chief executive Bob McDonald, a win for Pershing Square Capital Management LP impresario Bill Ackman.
Lafley's return, of course, is no guarantee of success at the consumer products giant. Meanwhile, Ackman has been singed by his very public championing of former Apple Inc. retail chief Ron Johnson as CEO at J.C. Penney Co. Johnson failed to resuscitate the struggling retailer and was replaced by his predecessor, Mike Ullman, in April.
Another recent case of blue-chip activism has seen shareholder group ValueAct Capital take a $2 billion stake in Microsoft, sparking hopes its stock price will be revived above decade-low levels.
"Activists often have the view that they know how to run companies better than incumbent management, but that case has not been proven," Anderson said.
Goldman Sachs became a recognized leader in takeover defense more than 30 years ago, when it developed a practice within its M&A group. While it did not initially advise on hostile transactions, it later abandoned this stance, and carved out an activist defense practice in its investment bank.
Banks as diverse as Barclays Bank plc, Credit Suisse Group and Houlihan Lokey Inc. offer similar services, while UBS has developed a different kind of first-hand expertise: The Swiss bank is facing a motion by Knight Vinke Asset Management to spin off its investment banking arm.
Activists, not surprisingly, take a different view. They argue they improve corporate transparency and board accountability, which creates long-term value.
Over the short term, activists do seem to bolster stock prices. Research house Activist Insight Ltd. found that the stocks of 202 companies that had activists exit since 2010 outperformed the S&P 500 by 4.3%. Large-cap stocks with activist involvement had average outperformance of 13.1% -- though with a tiny sample size of just 18 companies.
Also see: Apple's iRadio Looms at WWDC, Cue Pandora's Swan Song
Activists are also making their presence felt in dealmaking and restructuring. Bankers said spinoffs are a common strategy pushed by funds -- such as the campaign at Sony by Third Point Management Co. LLC's Daniel Loeb, who is agitating for a breakup to free up cash. The Japanese electronics maker has reportedly hired investment bankers to estimate how much value the proposal would release, while its U.S. shares (in the form of American Depositary Receipts) have jumped 14% since Loeb announced his $1.1 billion stake less than a month ago.
Loeb will be hoping to replicate the success of hedge fund Elliot Management, the catalyst for a $6.9 billion sale of underperforming Houston, Texas-based BMC Software in May to a private equity consortium at a premium to its share price.
Similarly, activist Corvex Management's Keith Meister agitated to restart failed takeover talks between giant food processor Omaha, Neb.-based ConAgra Foods Inc. and St. Louis food producer Ralcorp Holdings, culminating in a $5 billion deal to buy out Ralcorp late last year.
Goldman's Anderson says the presence of activists has added an element of uncertainty to M&A deals, particularly in the period between signing and closing. As a result, he notes that buyers have been getting information out earlier to sell deals more effectively and to "ensure misperceptions about the deal are not created and do not gain momentum."
Even proxy firms, which are often viewed as opposing company agendas, say the benefits of activism are not always clear-cut. "We do see companies that are well run being targeted by activists when there's no reason to split the company up or replace anybody," Glass, Lewis & Co. LLC managing director Warren Chen said, claiming the proxy firm backed management in about 50% of cases. He cites Calgary, Alberta, agribusiness Agrium Inc., which defeated a push by Jana Partners LLC in April to win board representation. Jana had sought to split off Agrium's retail farm products from fertilizer production. Management opposed the plan.
On the flipside, Chen says Glass Lewis supported Elliott Management Corp. in a fight over governance and strategy at New York-based oil company Hess Corp. Last month Hess agreed to appoint three of Elliot's nominated directors, with the hedge fund pledging to keep a close watch on performance and governance at the global energy company.
Meanwhile, industry participants say the influence of activists will continue to grow, albeit slowly. "Several years ago institutions were reluctant to support activists," Rosewater said. "That has changed significantly, but it's very much a case-by-case basis. The next step will be when institutions begin to behave more like activists themselves."
-- Written by contributor Jane Searle.