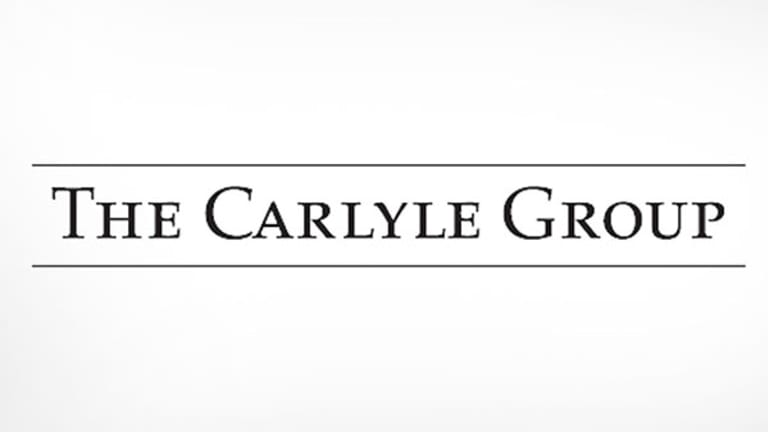 U.S. Economy According to Carlyle Group
Here's what the economic recovery looks like, according to one of the world's biggest private equity funds.
NEW YORK (TheStreet) -- With the shutdown of the federal government crimping the release of crucial economic data such as monthly employment reports from the Bureau of Labor Statistics, private equity giant The Carlyle Group (CG) - Get Free Report has decided to make public its perception of the economy, gleaned from the firm's over 200 portfolio companies.
Carlyle Group released what it calls proprietary economic indicators that the firm calculates from its holdings around the world. It appears to be both a veiled protest against Washington's dysfunction and a significant marketing opportunity for the firm and the wider private equity industry.
The economy, in Carlyle's view, grew at an annualized rate of 1.7% in the third quarter as consumer prices rose 1.5% year-over-year. Carlyle's GDP estimate, however, is based on the total number of cargo containers "lifted" on or off rail cars at more than 50 facilities across the U.S. and Mexico. Those shipments and trade volumes have had an 80.2% correlation with U.S. real GDP over the past 93 months, according to the private equity firm.
Retail sales were up 0.25% in September, Carlyle said, using data it gleaned from a single appliance company. Residential housing starts grew at an annualized rate of 913,000, Carlyle said, citing lumber sales to homebuilders made by a U.S.-based Carlyle portfolio company. That data has a 94% correlation with housing starts over the past 94 months, Carlyle said.
Durable goods orders were $68.6 billion in September, Carlyle said, citing telecommunications orders received by one of the firm's portfolio companies.
Those data points are generally in line with the economic trends exhibited in recent months. Inflation is still below the Federal Reserve's targeted 2% rate, while GDP growth remains below what would be needed to materially move the unemployment rate lower.
While Carlyle's data is unlikely to move markets or change investors perceptions on the economy - and should only be taken as an anecdotal read on the economy -- it may indicate a growing unrest among America's most prominent businesses with the government shutdown and looming federal debt ceiling.
In September, Carlyle co-founder David Rubenstein said at a Dow Jones private equity conference that he expected a government shutdown would last a few days and that a U.S. debt default would be averted, albeit in a way that wouldn't make the average voter proud of their government.
Rubenstein, who is player in political circles as president of the Economic Club of Washington D.C., appears to have underestimated Washington's dysfunction.
Other prominent CEOs have been making public statements against the government shutdown and a possible debt default.
Starbucks (SBUX) - Get Free Report CEO Howard Schultz has begun a campaign to reopen the government and have Washington agree on crucial bi-partisan legislation surrounding immigration reform, tax reform and the federal budget. Schultz on CNBC made the case that voters deserve better from politicians, especially in a competitive global economy where gridlock puts the country at a competitive disadvantage.
Carlyle's economic data is instructive and also a sign of growing consensus that businesses can play a role in breaking Washington's impasse. It is also appears to be a bit of a marketing ploy for the private equity industry, which can sometimes be a lightning rod for criticism.
Carlyle's data is appended with what looks like boiler plate PR for the PE giant.
"Our economic indicators identify trends and inflection points to help us make better investment decisions. However, several of our monthly data series are highly correlated with, and therefore may serve as reliable proxies for, U.S. official data that are not currently reported due to the government shutdown," Carlyle Chief Economist Jason Thomas, said in a statement.
"Over the past several years, Carlyle has developed its own proprietary economic indicators from its global portfolio of more than 200 companies. The firm gathers company data - orders, shipments, occupancy rates, etc. - most synchronized with macroeconomic series like GDP, retail sales and industrial production. Carlyle then formally calibrates these data to official series to estimate, for example, what a 1% increase in telecom equipment orders means for overall business spending," the firm states.
Who wouldn't want to invest with such smart financial managers?
Cynicism aside, it is positive that Carlyle Group, which indirectly employs hundreds of thousands of workers and invests billions on behalf of public pension funds, feels it can play a role in mitigating the deleterious impact of the federal government's partial shutdown.
Carlyle Group shares rose nearly 4% in Friday trading, closing at $28.93.
-- Written by Antoine Gara in New York