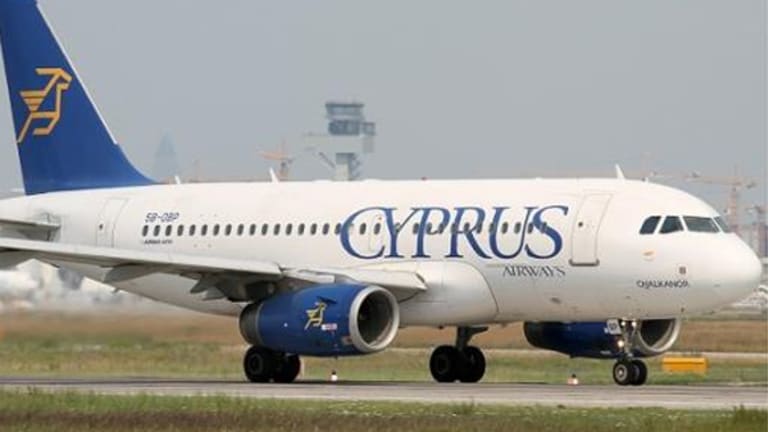 The Trials of Older Airlines in the Wake of Cyprus Airways
The collapse of Cyprus Airways reflects a bigger crisis among former European flag carriers.
There was no mystery and no tantalizing search for a missing black box on Jan. 9, when ailing Cyprus Airways finally crash-landed into bankruptcy. Within hours of a decision by the European Commission to demand the repayment of €65 million ($75.6 million), plus interest, of illegal state aid, the 68-year-old airline made its last flight. The carrier, 93% owned by the Cyprus government, had been running on empty since at least 2007, when the Commission had authorized an aid package worth €95 million. Now, the emergency fuel line provided by the Mediterranean island's long-suffering taxpayer had finally been shut.
Politically, the decision to close the airline will have been painful for a government still coping with the fallout from Cyprus' 2013 financial crisis. The loss of a flag-carrier would be a blow to the pride of any nation, let alone a country so recently forced to suffer the ignominy of a European Union bailout. But for the nation's treasury it may have come as a relief. The closure was described as "unavoidable," by government spokesman Nicos Christodoulides. He told local radio that the airline's problems were "long-standing" and irreversible.
As European Competition Commissioner Margrethe Vestager put it in a statement: "Injecting additional public money would only have prolonged the struggle without achieving a turnaround. Companies need to be profitable based on [their] own merits and their ability to compete; [they] cannot and should not rely on taxpayer money to stay in the market artificially."
At least the closure of the national airline will likely not be a devastating blow to the island's lucrative tourist industry. Almost as soon as the government announced that Cyprus Airways would be put into liquidation — and its name and mountain sheep logo put up for sale, with a financial adviser to be appointed by Feb. 2 — other airlines promised to fill the gap.
Ireland's aggressive budget carrier Ryanair Holdings plc — which last summer tried to buy Cyprus Airways — said it would offer "rescue fares" for passengers left stranded by the closure. Athens-listed Aegean Airlines SA, which already employs 50 people at its Cyprus base and was another bidder in last year's failed auction, announced expanded services to and from the island. Romanian low-cost carrier Blue Air said it, too, would expand its base in Cyprus.
Cyprus Airways had just six aircraft, four of which were leased from Dublin-based CIT Aviation, and have since been spirited away to an enterprise zone near Cardiff Airport in Wales. They are being looked after there by Cardiff Aviation Ltd., an aircraft maintenance company run by Mario Fulgoni and Iron Maiden frontman Bruce Dickinson.
The airline generated a pre-tax loss of €23.6 million on sales of €212.9 million in 2011, the last year for which audited figures were published. But its demise reflects a bigger crisis among European legacy airlines. The remaining national flag carriers are battling to compete with fast-growing low-cost carriers, led by Ryanair and easyJet plc — as well as with Middle Eastern airlines such as Emirates Group or Etihad Airways PJSC, which do not have to worry about European Union caps on the lavish state investment that keeps them airborne.
Some have already lost the battle. Greece's national carrier Olympic Airways was privatized and broken up at the end of 2009 during the Greek financial crisis. Much of its traffic eventually landed with Aegean via its 2013 takeover of Olympic's successor airline Olympic Air. KLM Royal Dutch Airlines NV was merged with French national carrier Air France SA as early as 2004, as the EU doggedly pushed ahead with its decades-old efforts to deregulate the airline industry, open domestic networks to international competition and dismantle barriers to cross-border deals. As recently as June 2014, Italy's near-bankrupt airline Alitalia SpA agreed to a €600 million rescue by Abu Dhabi-based Etihad. Etihad took a 49% stake in Alitalia — but only after Air France-KLM decided it was not worth increasing its stake. Air France-KLM had taken a minority share in the business in 2009 after a previous bankruptcy at the formerly Italian state-controlled airline and a battle with German rival Deutsche Lufthansa AG.
Predictably, too, a number of low-cost carriers have also failed or disappeared. Bmibaby Ltd., the budget airline arm of British Midland Airways Ltd., was closed in 2012, when Lufthansa sold British Midland International to International Consolidated Airlines Group SA, or IAG. BMI's international slots at London's Heathrow Airport were kept on by IAG's British Airways arm, while BMI Regional thrives as a niche regional airline plying routes within Britain as well as to other countries; and, as a legacy from its Lufthansa days, between Germany and neighboring European countries. It also operates a successful charter business with its fleet of small 50-seat Embraer aircraft. But neither IAG nor Lufthansa could see any future for Bmibaby.
Another casualty was charter airline Monarch Holdings Ltd., which last year was forced to cut salaries by up to 30% and slash 700 jobs. Its majority owners, the Mantegazza family of Switzerland, decided to cut their losses and sell the company to private equity turnaround investor Greybull Capital LLP. The restructured airline, nearly forced out of business by fierce competition from the budget sector, will instead become a low-cost carrier in its own right, operating scheduled short-haul flights to Mediterranean and other European leisure destinations.
British Airways' own early experiment with a low-cost model — Go Fly Ltd. — was arguably too successful for its own good, arousing concerns that it was cannibalizing traffic from the parent company's own full-fare traffic. When BA changed strategies to focus on high-margin business travellers, it sold Go to private equity firm 3i Group plc for £110 million ($166 million) in 2001. 3i flipped the business to easyJet for £374 million the following year.
Go is gone, but BA's decision to sell it rather than shut it down ended up by helping easyJet double in size, turning an already successful business into an even bigger threat to the full-service sector.
EasyJet and the even-lower-cost Ryanair continue to dominate the budget sector. EasyJet recently announced it carried 65.35 million passengers in 2014, up 6.5% on the previous year, with a load factor of 90.8%. Ryanair said it carried 86.4 million, up 6%, and with a load factor in the high 80s. European Low Cost Airline Association figures for 2013 show Norwegian Air Shuttle ASA came in a distant third, at 20.7 million passengers, IAG's low-cost carrier Vueling Airlines SA took fourth place with 17.2 million and Budapest-based Wizz Air Hungary Ltd. a respectable No. 5 at 12 million, up 12.5% on the year before. Wizz grew another 17% to carry 15.8 million passengers in 2014.
And despite the weakness of the European economy, the low-cost sector is booming in part because of this year's drop in fuel costs, although forward hedging has meant some airlines have yet to take advantage of the lower prices. So the challenge for the bigger European airlines remains: how to maintain a balance between fending off the competition from the low-cost carriers, on the one hand, and eating into profits by promoting relatively low-cost flights from their own affiliates, on the other.
Established airlines have big problems reducing their cost base, which go beyond high crew salaries. Historically, before the European Union began its reforms in the 1980s, each nation had a separate flag-carrier. These were often vanity assets, state-funded symbols of national pride, which were shielded from competition by bilateral agreements between governments limiting each airline to flights between its own capital city and that of the flag-carrier in the partner nation. Each had its own costly infrastructure, and often hired only its own nationals to fly its aircraft. But the markets were gradually opened up, first to allow direct flights between other cities, then for carriers to pick up passengers in each other's airports for onward flights to third countries and rival airlines to ply international routes in competition with the national airline. Eventually EU air networks were opened up to "cabotage," allowing the airlines of one member state to fly between cities entirely within another member state as well as non-EU members Switzerland, Norway and Iceland.
By the time the last two "freedoms" had opened up the market to low-cost pioneers such as EasyJet and Ryanair, entrenched costs were difficult to cut back. Not only were the budget carriers able to use smaller, more flexible airports to turn planes around quickly, but their aircraft were also able to circulate between cities rather than fly back and forth on single routes. This allowed them to fly more hours each day and made for huge improvements in efficiency. Short-haul passengers also required no expensive in-flight catering and were less likely to feel cheated if airlines cut back on trimmings such as seat-reservation systems, business-class seating areas with more space per passenger and multilingual crews.
And crucially, according to Peter Morris, chief economist at Ascend Flightglobal Consultancy, the low-cost airlines can recruit cheaply wherever they might happen to have a base, choosing to employ crews, say in Romania or Estonia, at cheaper rates than pilots in their home countries.
"If Lufthansa tried to do that they'd have a strike on their hands immediately," Morris said.
The fact that the budget model is harder to achieve on long-haul routes is one of the main reasons why some full-service airlines have managed to survive at all. Preserving that long-haul market for themselves and bringing passengers into their hub airports from regional centers via feeder services have become a key priority for legacy airlines across Europe. But this focus has come at a cost, according to analyst Wyn Ellis of Numis Securities Ltd.
"This has allowed the [low-cost carriers] to flourish in point-to-point secondary markets," Ellis noted in a report on easyJet. "Hubbing can also be a relatively expensive process for network carriers, given the need to look after transferring passengers and their baggage and the need for high frequency feed, sometimes from thin routes."
As Ascend's Morris argued, the more the long-haul flights are concentrated in hubs, run by airlines with ever-more limited short-haul services, the more difficult and costly it will be for them to bring in feeder traffic. If it becomes a problem for passengers to transfer within one airline or alliance at a single airport, they will choose to travel with a competitor. But that puts the burden of cost on that competitor to maintain its own feeder network. Eventually, the low-cost carriers, especially those like easyJet with a number of slots at the bigger airports will have the advantage.
In some ways, Europe's big three, IAG, Lufthansa and Air-France KLM have adopted similar models to counter the budget onslaught. All have tried to cut costs, though with varying degrees of success, depending on the militancy of their staff unions. But beyond that, all have tried to separate their long-haul and short-haul businesses as well as their regional feeder airlines.
Lufthansa's solution was to build up Germanwings GmbH, a lower-cost carrier which operates within Germany and to other European destinations on routes that do not touch down at the parent airline's two hub airports, Frankfurt and Munich. It reportedly has a cost-base about 20% below that of the main airline. Now, in the teeth of fierce opposition and repeated strike-action from its pilots, Lufthansa plans to expand its even lower-cost brand Eurowings GmbH. Historically, Eurowings was Germanwings' parent, though it has been a 100% subsidiary of Lufthansa since 2009.
Eurowings will operate short-haul flights within Europe, using pilots and crew recruited outside the group's long-standing collective labor agreement with Germanwings, reportedly aiming for a cost-base 20% below that of Germanwings. And more daringly, with lower fuel prices factored in, Eurowings plans to offer budget fares on long-haul routes from its Cologne/Bonn home base to destinations in Florida, the Indian Ocean and Southern Africa.
Air France-KLM, after battling its own pilots through a long and costly strike last year, recently agreed that its budget unit, Transavia Airlines CV, based at Amsterdam's Schiphol airport, should only fly to hubs within France and the Netherlands. The idea was to satisfy the French pilots' unions that jobs would not migrate outside the group's home territories, but in the end the main SNPL union also accepted that Transavia staff would be paid lower wages than their Air France colleagues and spend more time flying. Air France also operates a domestic regional airline, called Hop, which follows the Germanwings model of point-to-point services which do not link up with its main hub airports.
Meanwhile IAG in 2013 acquired Madrid-listed Spanish budget carrier Vueling, taking it private six years after the final exit of its founding private equity backer Apax Partners LLP and 12 years after BA's own exit from Go. Vueling operates alongside IAG's other Spanish holding, the former flag-carrier Iberia Lineas Aereas de Espana SA, which it put together with BA in a $9 billion merger in 2010. That merger, too, was followed by bitter strikes among the Spanish pilots over salary cuts and longer working hours, job cuts and the development of a lower-cost, short-haul airline Iberia Express, which would be a feeder service for Iberia's long-haul routes, with their focus on Latin America. The issues took until last year to resolve.
As Numis' Ellis noted: "The recent trend has been for the flags to delegate flying in short-haul point-to-point markets to their own 'low-cost' subsidiaries with Vueling, Transavia and Germanwings having, respectively, become inheritors of much of IAG's, Air France — KLM's and Lufthansa's point-to-point short-haul network."
But under the surface, the airlines' policies take very different national circumstances into account. According to analyst Damian Brewer of RBC Capital Markets, Air France-KLM's short-term goal has been to freeze the budget airlines out of the Paris market, by concentrating its point-to-point traffic at the second-tier airport at Orly, as well as bringing feeder traffic into its international hub on the other side of the city.
"Unlike Heathrow in London," he said, "the main hub airport, which is Charles de Gaulle, is not the airport Parisians want to fly from point-to-point. They prefer Orly, which has higher point-to-point yields because it's closer, it's nearer to where some of the richer parts of the population are and because it's just easier to get to."
However, because Orly is slot-restricted, meaning there is a cap on the amount of new traffic allowed to apply to flights from the airport instead of migrating to Charles de Gaulle, it is officially almost full. So while it is difficult to get a slot at the older airport, it is not crowded and there is plenty of capacity for the faster turnarounds that low-cost carriers crave.
"If you're Air France and you are cutting down on regional and point-to-point flying, you don't want to leave those slots open and find EasyJet or Vueling have tripled their capacity overnight," Brewer said. "Transavia is partly about using an Air France group slot in a way that at least makes a neutral or slightly positive contribution, but avoids the opportunity-cost of letting EasyJet or Vueling in."
However, he concedes that Air France is trying to cut costs and lift productivity within the core airline as well as setting up Transavia in a way that should, in the long term, allow it to compete with easyJet, "provided they avoid labor cross-contamination with the mainstream unit."
By contrast, however, he said he believes Lufthansa's decision to keep its own low-cost subsidiaries away from its main hubs is "dealing with costs on the periphery rather than the core of the business." He argued that Frankfurt is not a high-volume destination for the tourism-focused low-cost operators or for its own point-to-point traffic.
Meanwhile, for Tim Coombs of consultancy Aviation Economics, it is IAG's purchase of Vueling which has the most chance of success. The Spanish flyer is what he called a hybrid, combining many of the offerings of a full-service carrier, such as allocated seating, business-class seating and free newspapers, with the advantages of a low-cost base. Although he conceded that easyJet and, lately, also Ryanair have been moving toward a similarly passenger-friendly service, he said he believes that Vueling is still well ahead of the field.
He also argued that it would be hard for Lufthansa to replicate IAG's coup in acquiring a low-cost carrier with an established network like Vueling's which suits its need. Wizz Air's network, for instance, is more Eastern European-focused, while Air Berlin, a ready-made German carrier, part-owned by Etihad, is "not so low cost."
"It's one of the least efficient of the low-cost carriers," he said, adding that any attempt by Lufthansa to buy another ready-made low-cost carrier would be very sensitive and likely lead to more strike action.
Indeed, as Ryanair CEO Michael O'Leary told the German newspaper Northwest Zeitung in a recent interview: "There is a long history of expensive airlines that have tried to get a foothold in the low-cost segment. The aircraft get a new livery and the in-flight meals are cut. But that doesn't make them low-cost operators."
Adding that he expected Ryanair to be the No. 2 airline in Germany within the next four years, ahead of Air Berlin and with a market share of 15% to 20%, O'Leary added: "Germanwings will never be a low-cost carrier, and Lufthansa's Eurowings project won't be one either. That isn't going to work. Lufthansa has quite different cost-structures. We won the price war long ago."
Read more from
: