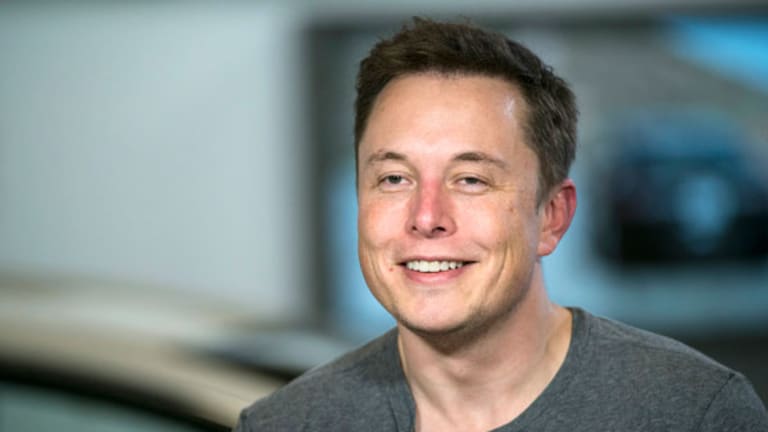 Tesla's Elon Musk: A Financial Wizard
Tesla's DOE loan repayment speaks volumes about CEO Elon Musk's financial savvy.
Tesla's DOE loan repayment speaks volumes about CEO Elon Musk's financial savvy.
NEW YORK (
) --
Tesla Motors
(TSLA) - Get Report
deserves the attention it is getting after
all of its Department of Energy loans, but few in the hyperbolic business press are focusing on the right things.
Tesla's DOE loan repayment, characterized in the media as a breakthrough in repaying taxpayer-backed alternative energy loans, actually speaks bigger volumes about the Elon Musk-run company's financial savvy as it nears a third year trading on public stock markets.
Musk, Tesla and its bankers
Goldman Sachs
(GS) - Get Report
,
JPMorgan
(JPM) - Get Report
and
Morgan Stanley
(MS) - Get Report
should get the biggest praise for their canny use of a brief moderation in financial markets to improve the company's financial footing in coming years.
Tesla's May 17 capital raise and it's DOE loan repayment on Wednesday were both likely inevitable. Doing so now, however, greatly improves the company's ability to report profits for shareholders and fund its continued growth.
A look behind the numbers of Tesla's capital raise and it's DOE loan repayment indicates the deals have little to do with the optics of weaning the company from the support of Uncle Sam.
Ford
(F) - Get Report
and
Nissan
, after all, are in no rush to repay even larger DOE loans.
In the rearview mirror, Tesla's
capital raise by way of a $600 million convertible note offering and a $313 million secondary stock offering is likely to prove a particularly shareholder friendly move.
Creating shareholder value, after all, is CEO Elon Musk's top job, even if he has ascended to an almost super-hero stature in some media circles.
First off, Tesla's note and stock offering may actually be accretive to current shareholders, over the long-term. The company also appears to have managed a harrowing few years funding its rollout of the Model S sedan without the help of booming bond markets, only to gain access to markets at near-record cheap rates.
Both moves augur well for Tesla's continued use of financial markets to fund expansion efforts.
Had Tesla been less opportunistic, the company easily could have found itself in a position of destroying shareholder value to raise capital and at a competitive disadvantage to competitors such as Ford,
General Motors
(GM) - Get Report
and Nissan.
Tesla had to repay its $465 million DOE loan by 2022, and by 2018 to extinguish millions of stock warrant contracts that carried highly dilutive exercise prices of $7.54 and $8.94 a share, given current prices.
Within that prism, the company's capital raise may slightly dilute near-term earnings per share, according to
Goldman Sachs
estimates, but accretive over the long-run.
For instance, in Tesla's secondary stock offering, the company issued 3.4 million new shares at an offer price of $92.4 a share to help it fund its loan repayment. On Wednesday, the company confirmed in an 8-K filing with the
Securities and Exchange Commission
it had extinguished about
3.1 million stock warrants at prices of either $$7.54 or $8.94 a share
.
Issuing stock at $92 a share to help cancel warrants less than a tenth the price ultimately delivers shareholder value, even if the creation of 3.4 million new shares is dilutive to current earnings-per-share forecasts.
Of course, Tesla CEO Elon Musk said the company was well on its way to repaying DOE loans ahead of schedule even before the company's near $1 billion capital raise, signaling there was little likelihood the DOE's stock warrants would ever hold value.
Swapping out of $465 million in cheap government financing for $600 million in similarly cheap private market financing through the convertible note offering also stands out as smart financial management.
Tesla's five-year convertible note carries a coupon of just 1.5%, in line with borrowing costs under the DOE loan program, and a conversion price of $124.52, a 36% premium from current prices.
The note offering and DOE loan repayment will give Tesla more flexibility as the company tries to grow in coming years, while only marginally increasing the company's borrowing costs. Tesla's DOE loans carried restrictive covenants that precluded the company from raising additional debt.
Were Tesla to report meaningful profit and cash flow in coming quarters, it could have found DOE loans restricted the company from raising debt at current low rates. The company's loans now also come due in 2018 instead of at an accelerated schedule, meaning Tesla will benefit longer from the 1.5% rate it was able to get from markets.
Had Tesla waited a few years to raise capital to repay DOE loans, it's highly likely the company would have had to pay far higher interest rates.
With note financing in place, Tesla also has set the stage to get its next round of capital at advantageous prices. Were Tesla shares to continue motoring higher and past the $124 a share note conversion price, the company may essentially raise its next $600 million in equity capital by issuing less than 5 million new shares.
This is what Tesla's stock issuance would look like:
Tesla priced an initial public offering of 13.3 million shares at $17 apiece, raising $226.1 million in capital on June 28, 2010.
Tesla priced a secondary offering of 6.92 million shares at $28.25 apiece, raising $195.65 million in capital on September 28, 2012.
The company priced another secondary offering of 3.93 million shares at $92.4 apiece, raising $313 million in capital on May 17, 2013.
Tesla's convertible notes would effectively convert into 4.81 million shares at $124.52 apiece, raising $600 million in capital.
So in spite of shaky financial markets over the past three years, heated political rhetoric and uncertainty over whether the electric car can be commercialized, Tesla has not had a down financing round since going public.
Tesla CEO Elon Musk is often celebrated as an innovator on par with the likes of Henry Ford, Steve Jobs, Andrew Carnegie and Walt Disney, given his success in launching
eBay
(EBAY) - Get Report
subsidiary
PayPal
,
Solar City
(SCTY)
and even the burgeoning space transport company
SpaceX
.
It's about time Wharton-educated Musk is given his due credit for financial management.
Given Tesla's quick ascendance to the pantheon of large cap automakers like Ford under Musk's guidance and his CEO role at Solar City, another multi-billion market cap outperformer on the
Nasdaq
, it may be the more important story for shareholders.
Tesla Is Just a Winning Stimulus as Fourth U.S. Automaker Emerges
The Government's Buffett-Less Tesla Warrants
.
-- Written by Antoine Gara in New York