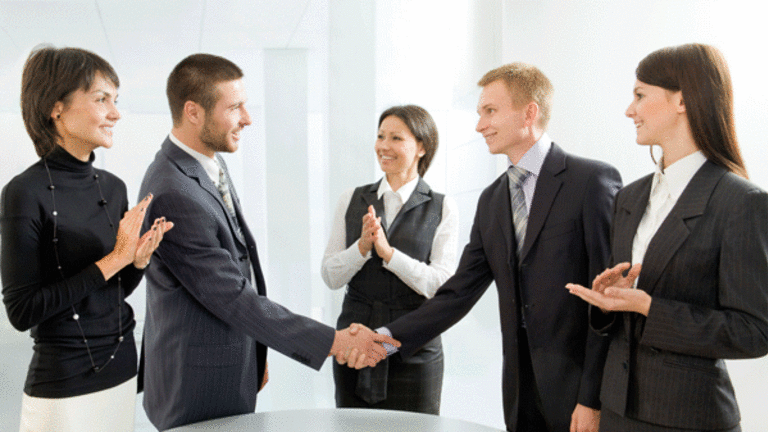 The History of M&A and Dealmaking, Encased in a Tiny, Plastic Toy
When a big M&A deal happens, its essence is often best summarized in a small piece of poured plastic.
When a big M&A deal happens, its essence is often best summarized in a small piece of poured plastic.
Deal toys have persisted long after many aspects of 1980s finance culture have fallen into oblivion -- and as M&A law and finance have become routinized and large companies make numerous acquisitions every year. Google Inc. (GOOG) - Get Report toasted its 2011 purchase of RightsFlow, a New York music licensing services company. Where even the largest companies needed to rely almost entirely on outside M&A lawyers and bankers in the 1980s, Google and others have the internal expertise to do many deals themselves.

NEW YORK (TheDeal) -- D. Graham Burnett has developed an unlikely obsession with deal toys.
Burnett, a professor of the history of science at Princeton University, wrote a short history of the Lucite objects for Cabinet Magazine early this year. But the publication of "Tombstones and Toys" did not exhaust his interest in the topic, and in April he and artist Ben Thorp Brown put together a one-night pop-up show of deal toys.
The duo began the evening by showing "La chant de la styrene," a short film that Frenchman Alain Resnais made about the production of plastics for Pechinay in 1958, followed by a piece of video art that Brown put together about the production of deal toys at a plant in Canada, where almost all of them are made. The two men and their audience then engaged in a round of theorizing about the meaning and social function of the deal toys they had assembled.

D. GRAHAM BURNETT; BEN THORP BROWN
Lucite, a form of PMMA or poly(methyl methacrylate), was developed by DuPont (DD) - Get Report for use in shatterproof cockpit windscreens. According to DuPont's website, Rohm & Haas developed the polymer at the same time and was more successful in commercializing it under the brand name Plexiglass.
By the 1960s, law firms and banks were encasing their partnership announcements in Lucite, from which the deal toy evolved. An example from 1970 is typical: a miniaturized prospectus symbolizes a securities offering by Pennzoil Offshore Gas Operators Inc. The debt, issued in 1970, was due in 1979. Holders of this debt, like many creditors in the 1970s, probably did poorly on the investment because of the high inflation of the era.
Investment banking became a much more aggressive business in the 1970s and 1980s, a change presaged by a rather risqué deal toy -- two brass balls -- commemorating the 1973 merger of Drexel Firestone with Burnham & Co. That combination, of course, gave rise to junk bond legend Michael Milken.
In 1982, T. Boone Pickens, the owner of Mesa Petroleum Corp., made an unsolicited offer for City Services Co., which rebuffed the raider and agreed to sell instead to Gulf Oil. But Gulf, a world power in the oil business for much of the 20th century, reneged on the deal, and CSC stock plunged, causing years of litigation.
Pickens got his revenge the next year when he went hostile for Gulf, which ended up selling to Chevron Corp. (CVX) - Get Report Pickens made hundreds of millions of dollars selling his Gulf stake. He took some of that lucre and commissioned deal toys mocking claims by Gulf's advisers that the company was bulletproof.
Kohlberg Kravis Roberts' (KKR) - Get Report $25 billion buyout of RJR Nabisco came to symbolize the excesses of the 1980s. It stood as the largest leveraged buyout until 2007, when another buyout frenzy crested and crashed. A deal toy marked the $5 billion in debt raised for the RJR deal.
After being deregulated in 1978, the major airlines endured years of economic pain. A deal toy noted the numerous law firms that worked on TWA's 1992 bankruptcy. Two more Chapter 11 filings followed in 1995 and 2001, when American Airlines (AAL) - Get Report bought TWA. A bankruptcy lawyer at a major firm could fill an entire credenza with airline deal toys.

Brown and Burnett have a fondness for whimsical deal toys, like one marking the 1991 IPO of Ground Round Inc., a dining chain launched by Howard Johnson's (WYN) in 1969. The franchisor filed for Chapter 11 in 2004, but a group of franchisees banded together to buy it so they could continue to use the brand name.

Deal toys are most closely associated with large public company mergers and acquisitions -- the most lucrative deals for law firms and banks -- but they are commissioned to mark the completion of all kinds of transactions. One celebrated the funding of Barclays (BCS) - Get Report Center in Brooklyn, which was completed in 2007 even though the building wasn't finished until 2012.