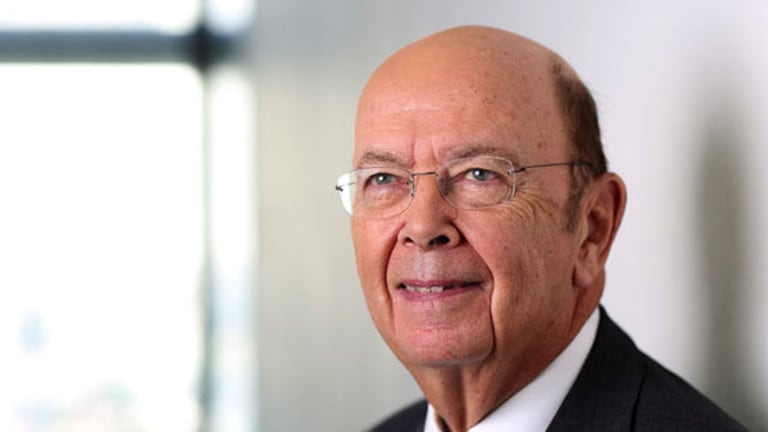 The High Cost Wilbur Ross Would Have to Pay to Join Trump's Cabinet
The buyout-shop billionaire would need to extract himself from board positions at a number of companies including ArcelorMittal, the world's largest steel company, to serve as Trump's commerce secretary.
Private equity billionaire Wilbur L. Ross Jr. -- best known for restructuring failed companies in industries including steel -- may be President-elect Donald Trump's leading candidate for commerce secretary.
Taking the post, however, would require him to step down from a number of public and private company boards and either sell investments or place them into a blind trust, according to governance experts.
Ross, 78, an economic adviser to Trump's presidential campaign and chairman and chief strategy officer of buyout shop WL Ross Co LLC, a division of Invesco  (IVZ) - Get Invesco Ltd. (IVZ) Report , is said to be considering whether he wants the job and didn't respond to a request for comment.
Billionaire corporate raider-turned activist investor Carl Icahn seemed to confirm the possibility, though, with a Twitter post: "spoke to a @realDonaldTrump. Steven Mnuchin and Wilbur Ross are being considered for Treasury and Commerce. Both would be great choices." Mnuchin is an ex-partner at Goldman Sachs (GS) - Get Goldman Sachs Group, Inc. (GS) Report and a close confidant of Trump.
According to data gathered by relationship mapping service BoardEx, a subsidiary of TheStreet, Ross sits on at least five public company boards: ArcelorMittal (MT) - Get ArcelorMittal SA ADR Report , the world largest steel company; the Bank of Cyprus, Exco Resources   (XCO) , Sun National Bank (SNBC) and Nexeo Solutions  (NXEO) - Get Nexeo Solutions, Inc. Report , the company created when WL Ross Holdings Corp. bought Nexeo Solutions Holdings LLC from TPG Capital for $1.64 billion earlier this year, renaming the combined organization. Ross stepped down from a handful of boards when he took on the role of vice chairman at Bank of Cyprus.
He is also a director at privately-held Diamond S Shipping Co. Ltd., a tanker company, and Compagnie Européenne De Wagons Sarl.
On top of that, BoardEx notes that Ross is a member of the investment committee for Asia-focused activist investor Taiyo Pacific Partners LLC, a joint venture set up by WL Ross; and a team investing in Japan. Ross is "also the chairman and chief executive officer of several unlisted Invesco portfolio companies," according to his ArcelorMittal director profile.
Having Ross as commerce secretary or in some other high-level government post would produce an "extraordinarily" complicated situation, said Norman Eisen, a fellow at the Brookings Institution, and a former special assistant and counsel to President Barack Obama for ethics and government reform. "The complex business affairs of Wilbur Ross send off a thousand red flares. It would require heavy vetting, but it can be done and it was done it the past."
Ross would need to immediately resign from all the boards, said Nell Minow, vice chairman of governance consultancy firm ValueEdge Advisors. He would also need to recuse himself from any matters involving those corporations and likely have to sell or move his investments, including stocks and bonds, into a blind trust. Minow questioned, however, just how blind that trust would be.
"You can't be the umpire and the pitcher in the same game," Minow said. 
Charles Elson, chief of the University of Delaware's Center for Corporate Governance, agreed that Ross would need to step down from all public and private boards. Government service is 24 hours a day, seven days a week, "and you can't be on a for-profit corporate board," Elson said. "There is nobody with a federal appointment that is on a private company board."
Critics of Ross's appointments are likely to cite concerns that the private equity giant would pressure Trump not to raise taxes on private equity managers and hedge funds even though the president-elect, in a variety of forums, has suggested he would get rid of a loophole in the tax code by treating so-called carried interest -- the profits received by fund managers -- as ordinary income.
Right now, carried interest is treated as a capital gain, with a top basic rate of 23.8% as opposed to the top ordinary income rate of 39.6%. Opponents have argued that the tax structure allows the wealthy who manage funds on behalf of other investors to pay a lower rate than many middle-class families.
Critics contend that a provision in Trump's revised tax plan would offer up an alternate route for fund managers to get a lower tax rate even if the carried-interest measure is eliminated. Trump's plan calls for a special low tax rate on business income for partnerships, and opponents say hedge funds and private equity firms would find a way to employ this provision to essentially qualify for the lower rate.
Ross, however, said in October that investment managers would pay higher taxes on the "carried interest" that makes up a large part of their income and that fund managers would not be eligible to take advantage of another proposal that sets up a tax break for partnership income, which fund managers often use.