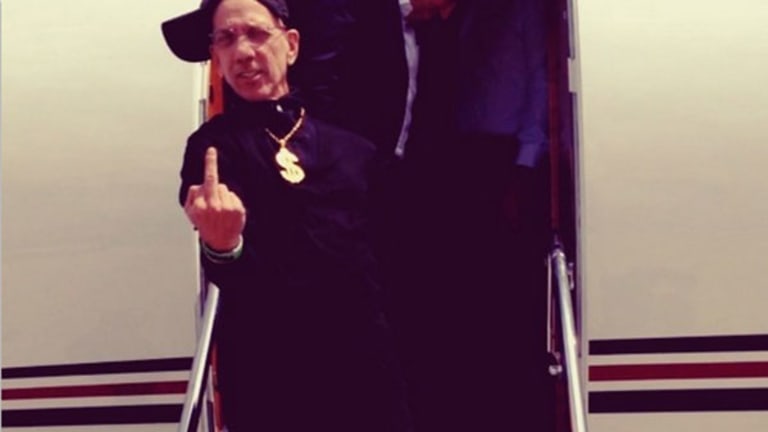 The Definitive Story of What Happened On SFX Entertainment's Conference Call
The electronic music giant saw its shares tumble 20% at one point Thursday during a profanity-laced conference call in which an analyst questioned the CEO's sanity.
NEW YORK (TheStreet) -- SFX Entertainment (SFXE) saw its shares tumble 20% at one point Thursday during a profanity-laced conference call in which an analyst questioned the CEO's sanity.
When the theatrics subsided, however, investors decided things might not be so bad for the company, which claims to provide "the ultimate end-to-end experience to the largest connected electronic dance music community."
There was actually a fair bit of drama before the call. Earlier in the week, pictures surfaced on Instagram and Twitter of Chairman and CEO Robert Sillerman giving photographers the finger as he exited a private jet in Miami.
Alluding to the photos, one analyst conceded Sillerman was known as a non-traditional CEO but said, "we just want to make sure you are still sane."
Adding gasoline to the fire, perhaps intentionally, was an analyst who identified himself as Ben Green of BD Capital.
Green accused SFX of trying to brush over its "s__ty deals" by way of accounting adjustments to derive its non-GAAP earnings.
"It looks like you guys take out some of the legacy losses of the platform company. What is that? Is that some of the s__ty deals?" Green asked.
But Sillerman did not take the bait.
"I am not sure that we have done any s__y deals," he said in response to Green's inquiry. "This is a pretty modest adjustment based on non-recurring transfers and investments in upgrades. Nothing more, no less."
SFX's CFO Richard Rosenstein, who'd been introduced by Sillerman at the start of the call as "Shecky Green" an old Las Vegas comic, said that the businesses Green inquired about had been folded into SFX's growing entertainment platform for their technology. Past losses, Rosenstein said, were largely irrelevant to the company's ongoing business.
Shame on Them!
The exchange with BD Capital's Green and SFX Entertainment came over 50 minutes into the company's conference call to discuss its full-year results. The call started at 10 a.m. EDT, and SFX Entertainment's stock tumbled as much as 20% to $5.70 around 10:52 a.m EDT, around the time of Green's comments.
Shares subsequently rebounded in Thursday afternoon trading. However, they closed down over 11% at $6.81, below levels prior to SFX's conference call this morning.
Richard Tullo, an analyst at Albert Fried, had the unfortunate task of speaking next on SFX's conference call. According to a telephone interview with Tullo, rumors circulated that he'd been the one to ask SFX about its alleged 's__ty deals,' or that he had dropped an 'f-bomb' on the call.
"It seemed to me those false rumors that were generated during and just after the conference call were solely related to someone with an ax to grind who owned puts," Tullo said. "Shame on them!" he added.
TheStreet hasn't yet been able to make contact with Green of BD Capital. SFX Entertainment wasn't immediately available for comment about the incident.
Earnings Miss, Strong Guidance
Shares in SFX Entertainment had opened Thursday trading relatively unchanged after the company announced full-year results that included revenue of $170 million and a net loss of $111.9 million. For the fourth quarter, SFX Entertainment booked $84.2 million in revenue and posted a $39.2 million net loss.
Pro forma revenue to include SFX Entertainment's many recent acquisitions was $313 million for the full-year and $92.6 million for the fourth quarter. SFX Entertainment's pro forma adjusted earnings before interest, taxes, depreciation and amortization (EBITDA) was $23.6 million for 2013 and $3.6 million for the fourth quarter.
Those results generally underwhelmed analysts covering SFX Entertainment's stock. Jefferies had forecast pro forma revenue of $107 million and $14 million in EBITDA in the fourth quarter.
The company, however, provided a first quarter outlook that indicates the electronic music culture (EMC) rollup is executing on acquisitions and revenue-generating partnerships faster than anticipated.
SFX Entertainment said it had booked $40 million in EBITDA in 2014 from marketing and sponsorship partners including AB InBev and Clear Channel and two yet-to-be-named parties. That disclosure exceeded Jefferies' forecasts for the quarter and represented over 50% of the investment bank's full year estimate of $74 million in pro-forma EBITDA.
"I fully expect to have two more significant marketing partnerships," CEO Sillerman said of possible 2014 sponsorship announcements. "If that is the case, we will blow away the $40 million EBITDA estimate for this area," he added. Sillerman also alluded to a partnership deal reaching eight figures that SFX had turned down.
Jefferies analysts sounded happy enough in a note to clients on Thursday.
"SFXE is making good progress on its partnerships with big brands, and the impact is being seen in the financial model."
Deutsche Bank analysts were similarly laudatory, adding in a client note "2014 marketing partner profitability is trending well ahead of our estimate."
The analysts' comments provide good insight as to why SFX Entertainment shares traded slightly higher at the market open on Thursday. As SFX's conference call began, shares remained higher for the day.
'F**k Yeah, We Get It'
While the sanity question may have rattled some investors who may not have been aware of the photos, Sillerman took the question in stride.
"Well thank you for referring to me as a non-traditional CEO," Sillerman said
Sillerman founded music industry behemoths LiveNation and CKX, Inc. in the 1990s and 2000s. His latest venture, SFX Entertainment, is a rollup of the EMC industry, an area normally outside of Wall Street's purview.
Still, on Sillerman's track record, SFX Entertainment was able to raise $260 million when it priced its October initial public offering at $13 a share for a valuation of around $1 billion. In January, through an over $200 million bond offering, SFX Entertainment was able to refinance and end a guarantee provided by Sillerman to cover all of the company's debt.
Sillerman said the pictures and videos that surfaced were the result of an internal joke and had actually created waves of publicity in at a Miami EMC industry meeting, where top SFX executives had traveled. SFX Entertainment's conference call was conducted from Miami.
"That was a result of an internal - the combination of an internal conversation and joke within the company and while I certainly wasn't crazy about the fact that it was tweeted out, it's had a very interesting reaction from the music community down here as fundamentally [they] said, f**k yeah, we get it," Sillerman said.
"But, no, I was not trying to imitate Michael Jackson or Steven Colbert talking to somebody about how much better the hot dogs were in New York... It is fairly indicative, I think, of the way internally that we enjoy ourselves and we're willing to push the envelope, I guess is the best way to say it," he added.
"[If] you've ever heard Bob's investor calls, he does them very differently from other CEOs," Ed Tagliaferri, a SFX Entertainment spokesperson said in an e-mail.  
-- Written by Antoine Gara in New York