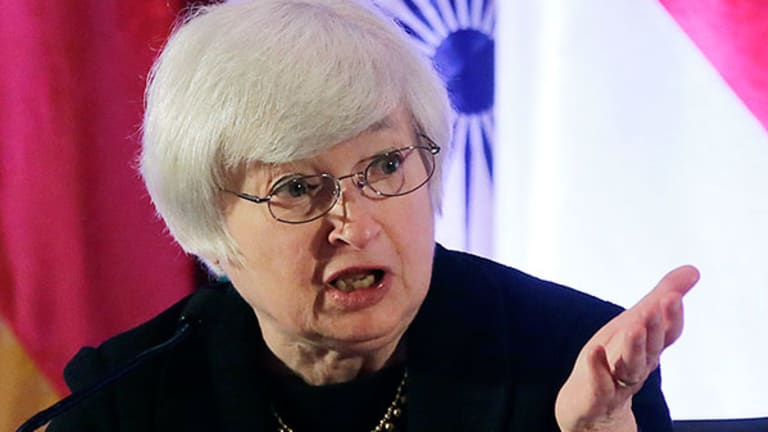 The Deal: What Too-Big-to-Fail Banks Should Expect From Yellen Fed
Central bank would look continue to impose tough big bank capital and leverage limits.
NEW YORK (The Deal) -- The biggest U.S. banks would not be broken up if Federal Reserve Governor Janet Yellen takes over as the head of the central bank.
However, if Yellen were to take over the reins at the central bank, as many Fed watchers expect, she would take further steps in an effort to end the perception that large financial institutions are "too big to fail," a situation that she acknowledges still exists.
Under her oversight that effort will likely come in the form of tough capital and leverage regulations on big banks, as her recent speeches demonstrate. She is expected to back the chock-full agenda recently laid out by the Fed's chief bank regulator, Fed Governor Daniel Tarullo.
"You've seen the Fed pursue strict counterparty credit limitations, higher capital requirements for big global banks and other major financial firms
and tough leverage limits and Yellen would continue down that road," said Michael Barr, a former assistant secretary for financial institutions at the U.S. Treasury between 2009 and 2010.
Yellen has outlined a whole host of new requirements she'd like to see imposed on big financial institutions, including new restrictions on short-term wholesale funding big banks often rely upon to make loans.
In the run-up to the 2008 financial crisis, big banks became increasingly reliant on short-term funding to make loans. The quality of collateral that banks put up to obtain the funding became steadily worse, including subprime loans, all of which helped drive a liquidity crisis in 2008. Proponents argue that new capital requirements on the activity could help limit a run on the banks and help stem a future crisis should a significant amount of the loans begin to go bad.
In a June speech, Yellen indicated her backing for new restrictions on short-term funding, noting that the "trigger for the acute phase of the
2008 financial crisis was the rapid unwinding of large amounts of short-term wholesale funding" that had been made available to "highly leveraged" big banks. Most observers expected that Yellen would back Tarullo in his efforts to require more capital for financial firms that rely on short-term wholesale funding.
Internationally, observers expect Yellen to follow outgoing Fed chief Ben Bernanke's lead in urging other countries to adopt mechanisms to dismantle a big bank in a way that does not cause collateral damage to the global markets. Like Bernanke, Yellen has backed efforts by U.S. regulators to set up a new regime known as the "orderly liquidation authority" to unwind a failing big bank.
However, global financial institutions operate in multiple jurisdictions. For such a system to work it would need to have complementary mechanisms in the U.S., the U.K. and elsewhere, otherwise a failing big bank will still experience global jurisdictional issues with creditors around the world seeking payments based on different systems.
In July, Yellen backed the introduction of a controversial proposal that would prohibit big U.S. banks from taking on as much leverage as that allowed under agreements of global bank regulators, known as Basel III. Now, as Fed chair she will be in position to push the tougher proposal through. The Clearing House, which is an advocacy organization for big banks, on Sept. 20 released a study estimating that big banks will need to reduce their exposure by shedding about $1.2 trillion in assets or raise $69 billion in capital to meet the leverage restriction under consideration by regulators.
Even with her tough agenda, breaking up banks is not in the cards. She argues that reinstating the Glass-Steagall Act -- the Depression era law that would force some big banks to split in two -- would be a "blunt" approach and not the most efficient way to address the too-big-to-fail problem. Her comments come as some state and federal lawmakers are seeking the reinstatement of that 1933 statute, which would require some big banks such as
Citigroup
(C) - Get Citigroup Inc. Report
and
JPMorgan Chase
(JPM) - Get JPMorgan Chase & Co. Report
to divide up their investment banking and commercial banking units.
Most Fed watchers believe Yellen will be nominated by President Barack Obama next week. A speech Yellen was scheduled to make on Oct. 1 for the Economics Club of New York was postponed recently, increasing speculation that she is being vetted by the White House and wants to lower her profile during the nomination process.
Most observers believe she will obtain the 60 votes to overcome any possible filibuster and be approved by the Senate, making her the first woman chairman of the central bank. However, her confirmation process is expected to be bumpy, with Republican opponents, including possibly Sen. Richard Shelby, R-Ala., raising concerns about her oversight record while she was president of the San Francisco Fed from 2004 to 2010.
"You can certainly be confirmed and have it be an uncomfortable process," said Mark Calabria, director of financial regulation studies at the Cato Institute. "Her performance at the San Francisco Fed is going to be fodder for Republicans on the committee. It covers California, but also Arizona and Nevada. She oversaw ground zero for the housing crisis."
Some moderate GOP lawmakers are expected to criticize her, driven by concerns that any sign of deference could add fuel to their Tea Party opponents in 2014 election races.
Key supervisory lapses that may come up included the collapse of the parent company of
Countrywide Financial
, which was regulated partly by the San Francisco Fed until 2005, when the firm was permitted to reorganize and came under the oversight of the more industry-friendly Office of Thrift Supervision. Countrywide is widely seen as a leader in the lending that led to the nation's financial crisis because it wrote so many subprime mortgages to borrowers with little income. The OTS was shut down in an effort to limit regulatory arbitrage that contributed to Countrywide's eventual implosion and acquisition during the crisis by
Bank of America
(BAC) - Get Bank of America Corp Report
.
-- Written by Ronald D. Orol In Washington