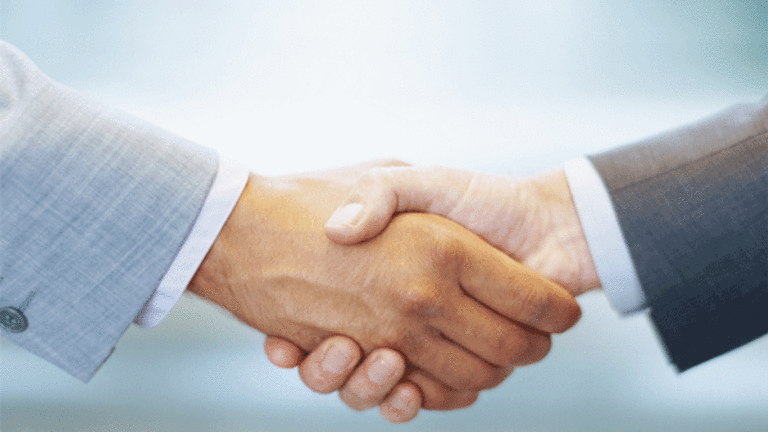 The Deal: Universal Proxy Battle Fight Gathers Steam at SEC
Pershing's Ackman a key advocate for changing proxy fight rules.
NEW YORK (TheStreet) -- In 2009 billionaire activist fund manager Bill Ackman engaged in an unsuccessful proxy contest at Target (TGT) to have the company install five of his dissident director nominees.
During that insurgency the dissident investment manager also launched another unsuccessful battle -- one to have the mega-retailer use a so-called universal proxy ballot for the director competition.
This approach, which was not employed at Target, would give shareholders greater flexibility to pick and choose among management and dissident nominees.
Specifically, it would replace today's cumbersome system in which shareholders who are not in attendance at annual meetings can only choose from nominees that appear on either management's or a dissident's ballot -- but not both. A universal proxy system would allow both sides to send out universal ballots listing all candidates from management and dissident slates, allowing shareholders to "split their vote" and pick a few dissidents but not the entire slate.
Any change that would either mandate or provide for the option of setting up a universal ballot in the U.S. would need to start at the nation's securities regulator. That's why Pershing and other advocates are taking their campaign to the
Securities and Exchange Commission
. If such a system is approved by the SEC it could dramatically transform the "all or nothing" way big proxy contests featuring high-profile activist investors such as Ackman, Carl Icahn or Dan Loeb are conducted.
Nevertheless, in the four years since the Target contest, regulators haven't taken any steps to implement a universal proxy card regime. However, a few recent events have raised the profile of the issue at the commission, leading many to believe that its time has finally come.
First, in July, an influential investor advisory group (of which Pershing Square chief legal officer Roy Katzovicz is a member) that meets at the SEC voted to recommend that the agency give corporations and dissident activist hedge funds the option of employing a universal proxy. The recommendation isn't binding on the SEC, but the advisory group carries significant weight with the agency and many of their suggestions transform into government initiatives.
SEC Chairman Mary Jo White acknowledged on Tuesday, Sept. 17, that the SEC is "certainly looking" at the recommendation, along with other suggestions by the advisory committee. The agency soon will be under additional pressure to implement some sort of change in the area. The Council of Institutional Investors' general membership plans this week to vote on a governance policy that would urge regulators to set up a mandatory universal proxy ballot for every U.S. proxy contest.
The CII policy is expected to pass and the recommendation is already supported by the CII board. The next step may be a roundtable discussion at the agency -- advocates said they believe that if all relevant groups are represented then the SEC will recognize that the measure is widely supported.
However, beyond Pershing and CII members, it is unclear who else would support a revised ballot.
New York University law professor Marcel Kahan pointed out that the second tier of activist hedge fund managers may not be as enthusiastic about such a ballot because it would likely require them to spend more on contests than they would prefer. That's because communication through a proxy solicitor firm would likely be critical if a universal proxy card was required.
Dissidents would likely need to employ proxy solicitors to explain to investors that if they don't want to vote for all of their dissident slate, which one or two candidates they should back. The alternative is a messy situation where votes are spread unevenly among all the dissident slate and none get elected. Big activists always employ proxy solicitors but insurgents that target small capitalization companies often don't.
"For smaller traditional challengers they may get hurt more than they benefit," Kahan said.
The business side is also not convinced. Richard Grossman, partner at Skadden, Arps, Slate, Meagher & Flom LLP in New York, argued that the corporate community has mixed feelings about the measure. Some argue that it might make it easier for dissidents to be elected to corporate boards. However, certain corporations view the change as a way of limiting damage to management by encouraging institutions to back just one or two dissident board candidates rather than their entire slate. That's why it is more likely that giving companies the option of setting up a universal card, rather than mandating it would likely be supported more enthusiastically.
So far the debate has refrained from including change-of-control dissident slates. The issue of a universal proxy card may be less relevant when a dissident seeks to take over the entire board of directors. In such a case, investors must decide if they want to give full control of the company to the dissidents or not. However, Kahan argued that shareholders should also be given the flexibility to pick and choose who they want when it comes to a full-out change-of-control proxy contest.
"If you have a political election, could you imagine a Democratic voting station where you can only vote for Democrats and a Republican voting station where you can only vote for Republicans and there isn't any option to split your vote?" Kahan said. "That would be very strange."
Damien Park, managing partner at Hedge Fund Solutions in Philadelphia, argued that in a world where companies have the option of a universal proxy ballot, management would need to decide several months before a shareholder election whether having one would be a benefit or not.
Companies may want to have a universal proxy in a situation where it looked like a dissident might be successful at winning shareholder support for a majority of its nominees. In such a case, companies might prefer having investors split their vote in an attempt to reduce the number of dissident candidates elected. However, in most situations, it is difficult to project how successful a dissident will be, making it hard to determine whether a universal proxy card makes sense, he added.
A recent example in Canada, however, provides a warning to companies seeking to employ the tactic. A battle between Ackman and Canadian Pacific Railway Ltd. last year represented the first time a universal proxy ballot was employed in a Canadian contest. The result? CP struck an 11th-hour settlement with Ackman to install his seven dissident directors on the company's board.
Six CP directors, including its chairman and CEO, agreed not to stand for re-election. All this after the proxy battle votes, much of which had been submitted early, were significantly in favor of Ackman and his team. The embattled railroad company may have believed that allowing investors to split their votes would have driven investors to back more of management's slate. But as votes were being tabulated it was clear Ackman was going to win overwhelmingly.
With that battle, Institutional Shareholder Services, the influential and largest proxy advisory firm, recommended for all of Ackman's candidates. However, ISS often recommends that their clients split their vote and back some dissident and incumbent nominees, a trend that is helping drive the push for a universal ballot.
Many U.S. pension funds and other institutional investors base their votes on ISS guidelines, so the firm's views play a big part in showdowns, and a universal proxy ballot would make it easier to follow the advisory firm's recommendations.
Would Ackman's 2009 proxy contest at Target have been more successful with a universal proxy card regime? Some believe so. However, only time will tell if the system behind proxy fights will shift in his favor.
-- Written by Ronald D. Orol In Washington