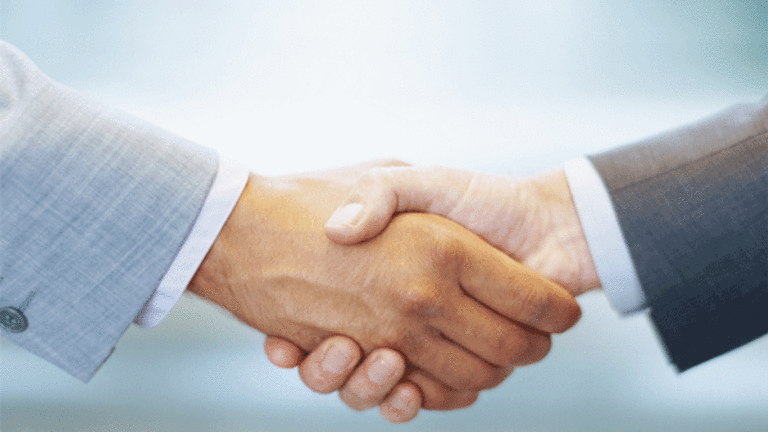 The Deal: Twitter Sets Up Revenue Streams Prior to IPO #ftw
The micromessaging startup is proceeding cautiously, but its investors are eager for a market debut.
NEW YORK (
) --
Twitter
is trying to assure that it doesn't repeat the mistakes of rival social media company
Facebook
(FB) - Get Free Report
, which took 15 months to catch up to what proved to be an overinflated float price.
Even as the market -- and its own investors -- clamor for the next "IPO of the year," the micro-blogging platform is lining up mega revenue streams to complement its billion-dollar ad business. This could have Twitter invading the space of live events promoters and app store operators like Apple Inc. and Google Inc., say those familiar with the company's plans.
The company has held off on decision-making regarding its initial public offering, sources said, in part because of the unknown trajectory of public markets for the rest of the year.
Indeed, there's a lot to be concerned about, from the central bank pulling back from asset purchases to a possible strike on Syria, plus the next round of Washington hyperbole concerning the U.S.'s deficit limit.
At least one investor, however, believes the time is right. "They could do it very quickly this fall," this shareholder said, adding, "I would go now, rather than in 2014."
The shareholder, who put the company's market capitalization at about $12 billion, suggested it would rise, but not past $15 billion, by the time it debuts on public markets.
That is a substantial contrast to Facebook, which saw eager institutional investors push an oversubscribed offering into a $100 billion market cap leading up to its IPO.
An investor in the company said Twitter could very easily raise a fresh round of capital for a longer stay as a private entity, but that few feel this is the optimal path.
The company has ramped up its revenue and is expected to exceed $1 billion in advertising revenue, a source said, but Twitter's true potential may lie in yet-undeveloped verticals.
News on Tuesday of the hiring of former
Ticketmaster Entertainment
CEO Nathan Hubbard signaled Twitter's intent to move from live commentary to live events. Though there are incumbents in the sector -- such as
Live Nation Entertainment
-- they have little presence on social and mobile platforms.
While developing a ticketing system and revenue stream would likely come after its highly anticipated IPO, a second investor in the startup said it has long been a consideration. The source called ticket sales for live events, such as concerts, an "obvious market ...
one they could take whenever they want."
The first investor in the startup suggested Twitter could also pursue sales of digital goods, adding, "The Apple store won't have a lock on apps
in perpetuity."
Sources said they expect Twitter to conduct limited M&A leading up to its offering, consistent with its existing strategy. Twitter, according to website
Crunchbase
, has bought nearly 30 startups since its formation, but the overwhelming majority of these startups were small acquisitions. Twitter on Wednesday struck a deal to buy television-centric social media company
Trendrr
as it furthers its integration into traditional media. A source said the company considered acquiring long-form writing site
Tumblr
before it sold to
Yahoo!
(YHOO)
, but ultimately dismissed the idea as too costly.
Twitter has also effectively controlled the size of its shareholder base via its secondary market strategy. That was something Facebook failed to do, essentially allowing willy-nilly share swapping on private markets that muddled its capital structure leading up to the May 2012 IPO.
For Twitter, however, corralling its shares' movement on secondary markets was more essential than it had been for Facebook. Twitter saw several classes of shares temporarily spin out of control in 2011, and had to craft internal strategy to ensure none of its classes of shares got so many investors that it would inadvertently trip the Securities and Exchange Commission's 500 investor rule that would require it to submit preliminary paperwork for its IPO.
That situation developed after several Twitter employees and some of its venture capital backers -- including
Spark Capital
and
Union Square Ventures
-- unloaded substantial portions of the stakes they accrued in the startup through multiple early-stage investing rounds. However, those investors sold at a substantial discount to the $12 billion valuation at which some Twitter stock has recently sold, sources said. Other valuations of private Twitter stock sales have been in the $10.5 billion to $11.5 billion range, several sources confirmed.
Now, through a handful of "right of first refusal" buyers who are Twitter stockholders that have maintained positions for some time, the company regularly intervenes in secondary market stake sales and, through established language in the shareholder contracts, redirects stock to existing shareholders at the same price the initial party offered to the seller.
Twitter did not respond to a request seeking comment.
Taken together, multiple sources said, all these steps have been part of a painstaking plan not to repeat mistakes made by other major tech offerings, such as big, last-second increases in pricing or float size.
"Twitter's not going to try and take every last dime off the table in
IPO pricing," said one source and shareholder.
--
Written by Jonathan Marino in New York