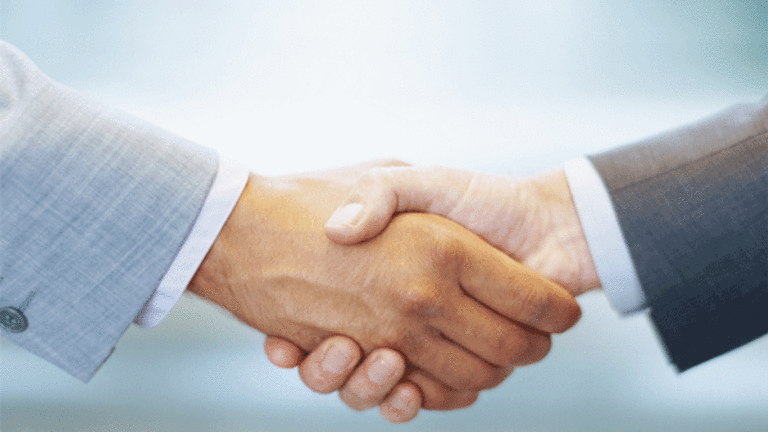 The Deal: Thoma Bravo Profits on Flip of Digital Insight
After an approach from NCR results in a deal, the PE firm makes 3.4 times return on its equity.
NEW YORK (The Deal) -- Private equity firm Thoma Bravo is exiting portfolio company Digital Insight in a sale to strategic player NCR Corp. (NCR) for $1.65 billion only four months after acquiring the target from Intuit (INTU) . The deal was announced late Monday, Dec. 2.
That could mean the PE owner will recoup about 3.4 times the equity it used to finance its acquisition, assuming it took out no dividends and that the company does not pay down debt before the deal closes.
In October, Standard & Poor's said the private equity firm put in "roughly 47%" of equity to finance the $1.025 billion deal when it acquired Digital Insight from Intuit. The deal included $620 million in debt financing provided by Jefferies Group.
And though the holding time for the PE firm was inordinately short, a source said it wasn't Thoma Bravo's intention to flip the company; rather, NCR approached the firm directly about a deal.
NCR's acquisition of Digital Insight is expected to close in the first quarter of 2014.
Moody's Investors Service assigned a B3 rating to Digital Insight with positive outlook in October after Thoma Bravo finalized the acquisition of the company, but pointed out the target ended up with "very high initial leverage" of "well over 7x." The ratings agency also said it expected the company to cut its leverage down to 6 times by the end of fiscal year 2015.
In a conference call held to discuss the deal, NCR said that the transaction is valued at a multiple of 15.7 times pro-forma EBITDA of $105 million for the 12 months up to July 31.
That's higher than the median valuation for technology deals that took place in the first half of 2013. According to mid-market investment bank Berkery Noyes, the median EBITDA multiple for technology deals was 12.5 times in the first half of this year.
However, if EBITDA is calculated up to the time of the deal announcement, its EBITDA multiple valuation is lower and more in line with other recent deals in the technology space, a source said.
Menlo Park, Calif.-based Digital Insight is a provider of online and mobile banking solutions serving more than 1,000 financial institutions with 12 million online banking customers.
In the year ended July 31, the company posted revenue of $330 million, according to NCR.
For the acquirer, the Digital Insight purchase, as well as a $84 million deal for U.K.-based technology security provider Alaric Systems, is a way to boost its mobile and online banking software portfolio.
NCR received financial advice from an RBC Capital Markets team led by EJ Molenaar, JPMorgan Chase and Bank of America Merrill Lynch, and legal counsel from Sharon Johnson, Eric K. Glidewell, Theodore F. Claypoole and James E. Daniel at Womble Carlyle Sandridge & Rice.
Thoma Bravo was advised by Gerald T. Nowak and Theodore A. Peto of Kirkland & Ellis.
Written by Taina Rosa