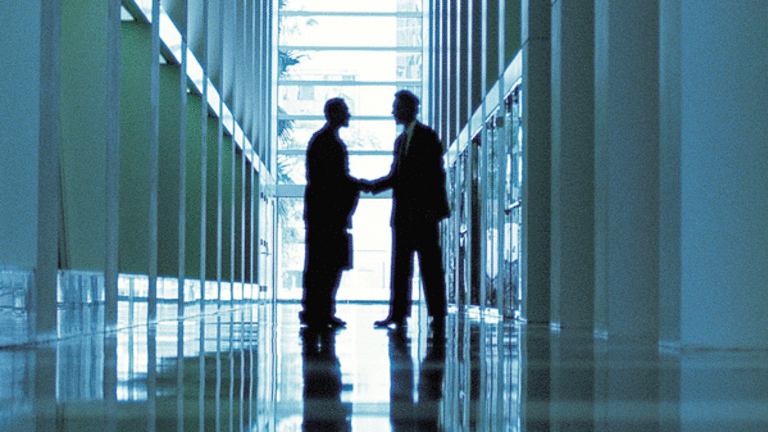 The Deal: Third Bidder Approached MTR
Jacobs continues effort to upend acquisition by Eldorado.
NEW YORK (The Deal) -- Jacobs Entertainment continues to pursue a spoiler bid for MTR Gaming Group (MNTG) as an alternative to that company's pending $145 million merger with private Eldorado Resorts, but yet another party has entered the bidding. 
The proxy for the Eldorado deal was filed Monday with the Securities and Exchange Commission under the legal entity Eclair Holdings Co. The Eldorado deal of Sept. 9 values the target at $5.15 in a mix of cash or new equity in the combined MTR and Eldorado. Jacobs Entertainment, which previously had offered itself as a target for MTR, made a spoiler bid based on a multiple of MTR's trailing EBITDA that would place a value of $5.69 on the gaming company. 
MTR has casino operations in West Virginia, Ohio and Pennsylvania. Eldorado operates in Nevada and Louisiana, Jacobs has casinos in Colorado, Nevada, Virginia and Louisiana. Jacobs, which is privately held, owns 18% of MTR through its founder Jeffrey Jacobs. 
The proxy for the merger with Eldorado relates that another company, called company Z in the document, approached MTR in late October with an unsolicited bid between $5.25 and $5.50 per share for MTR. That offer is conditioned on due diligence but not any financing condition. Company Z is identified as a strategic buyer. 
MTR, on its Tuesday conference call, declined to comment on the process as its board mulls the offers. 
Both Jacobs and company Z have entered into confidentiality agreements with MTR. 
Jacobs previously claimed its proposal gives Eldorado a 55% share of the merged gambling operations and offers better geographic diversity, tax benefits, and swifter regulatory approvals than the Eldorado combination. 
Jacobs said in an SEC filing in late October that among other things, the valuation of the Eldorado combination might be artificially skewed by the Reno, Nevada's national bowling championship, which could inflate Eldorado's EBITDA by $5 million. 
Jacobs, in its 13D filing also states that to simplify its bid in response to MTR, it determined to not distribute $18.7 million of real estate out of its gaming operations prior to a proposed deal close to remove the need of lender consents on related mortgages. Jacobs also notes that the pending reorganization of Penn National Gaming Inc. into a REIT could increase the demand for gaming-related real estate, which might increase the value of that real estate holding. Jacobs said that it would accept $15 million in stock in the combined company regarding the real estate to avoid valuation discussions. 
MTR reported third-quarter revenues of $129 million, down 11.5% compared to the same period last year. Adjusted EBITDA for the third quarter was $22.5 million, off 28%. 
MTR shares traded Wednesday for $5.22, down 4 cents, or 0.7%.
Written by Scott Stuart