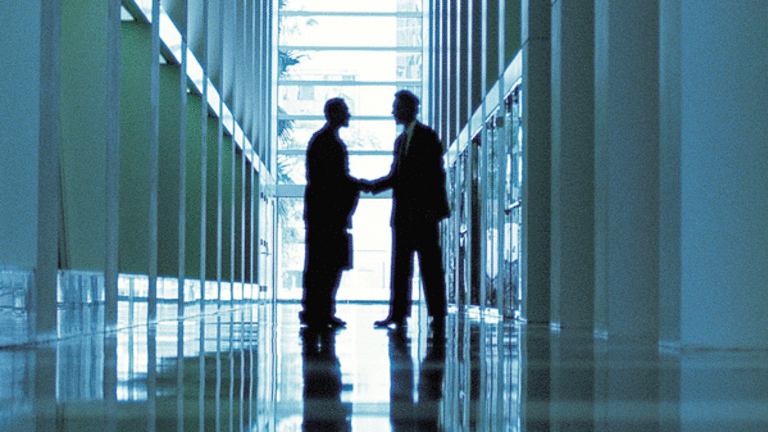 The Deal: Telefonica to Increase Stake in Telecom Italia
The multi-faceted agreement allows for an eventual exit from the telco shareholder consortium of Italy's Intesa Sanpaolo, Mediobanca and Generali.
NEW YORK (
) -- Spain's
Telefonica SA
on Tuesday, Sept. 24, agreed to increase its indirect investment in Italy's
Telecom Italia SpA
(TI)
in a mult-faceted agreement that will allow its financial investor partners to begin stepping away and keep potential suitors at bay.
Telefonica, of Madrid, said it would initially pay €324 million ($437.3 million) to increase its stake in Telco SpA to 66% from 46% in non-voting shares and spend €424 million to buy Telco bonds . Telco is a consortium of investors that owns 22.4% of Telecom Italia.
In the second phase, Telefonica would pay an additional €117 million to increase the investment to 70%. At the same time, it would convert the non-voting stock into voting shares, giving it control of Telco and the right to appoint half its board.
The Spanish phone company will also have the right to buy all the Telco stakes of its partners, Italian financial services companies
Intesa Sanpaolo SpA
,
Mediobanca SpA
and
Assicurazioni Generali SpA
.
The investors have been meeting to discuss the fate of both their venture and Telecom Italia, which is saddled with €28.8 billion in debt and faces a possible downgrade on its debt to junk. Analysts expect the company to soon sell its
TIM Mobile
Brazilian unit, which accounts for about 40% of sales, to avoid the downgrade.
Telecom Italia's woes has made it a popular target. A 2007 approach from
AT&T
and Carlos Slim's Mexican phone company
America Movil SAB de CV
led to the formation of Telco. At the time, the investors paid €4.1 billion for an 18% stake to keep the company European.
More recently, Egyptian telecom investor Naguib Sawiris, the founder of Egypt's
Orascom Telecom Holding SAE
, last year offered to pay €5 billion for a minority stake but was turned away. Earlier this year Hong Kong phone company
Hutchison Whampoa Ltd.
failed in a bid to buy Telecom Italia's cellular business and fixed-line customers.
Telecom Italia is already working to carve out its fixed-line network and sell at least part of it to state bank
Cassa Depositi e Prestiti SpA
to raise money. It could also possibly sell its network of Italian cellular towers.
Telefonica, which is working to strengthen its positions in Europe and South America, is the only Telco investor interested in staying with the company. Mediobanca has already said it wants out, and Generali has said it would wait for the right conditions.
The Spanish telecom has agreed to refrain from buying further Telecom Italia shares after the maneuvers announced Tuesday unless a third-party emerges to buy 10% or more of the Italian company.
Tuesday's agreement values Telecom Italia shares at €1.09 - 85% higher than Monday's close. Investors see the pact as a move in the right direction, and pushed the shares 2.5%, or €0.015, higher to €0.605. That values the company at €10.98 billion.
Written by Andrew Bulkeley