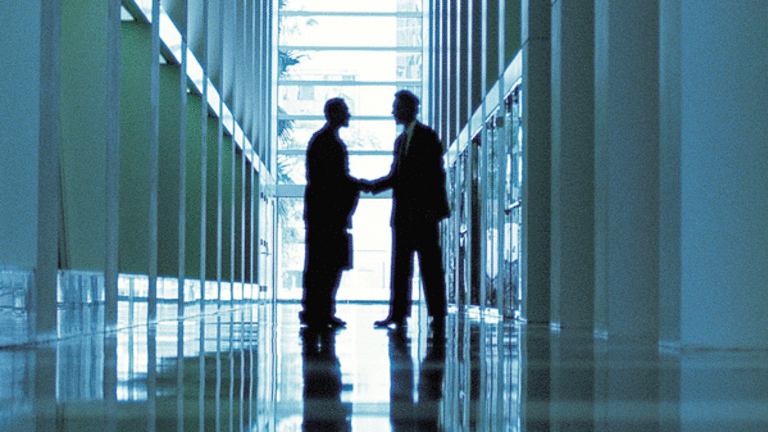 The Deal: Telefonica Raises Offer for E-Plus To Win Backing
But a deal change to win América Móvil's vote still faces a tough regulatory review.
NEW YORK (
) -- Spain's
Telefonica SA
on Monday, Aug. 26, increased its agreed offer for
E-Plus
, the German cellular division of
Royal KPN NV
, to win the backing of major KPN shareholder
America Movil SAB de CV
(AMX) - Get America Movil S.A.B. de C.V.n Depository Receipt Series L Report
.
Telefonica, of Madrid, said it would now pay a total €8.55 billion ($11.4 billion) in cash and shares to merge E-Plus with its own German O2 cellular division, the country's No. 4 and No. 3 wireless companies, respectively.
"The transaction will generate expected synergies valued between €5 billion and €5.5 billion and will make Telefonica the second largest European operator," the company said.
The acquisition still faces tough questions from Germany's competition and telecommunications regulators. Both watchdogs have expressed concerns the deal would eliminate a key low-cost competitor and shrink Germany's cellular playing field to three competitors from four. The Bundesnetzagentur, the agency which awards cellular licenses, has also said E-Plus' licenses are contingent on it remaining independent.
After increasing its minority stake to 29.77% last year, America Movil earlier this month launched a €7.2 billion offer for KPN. The Mexican company said it wanted to help troubled KPN get back on its feet but there was speculation that the suitor, controlled by billion Carlos Slim, was unhappy with the terms of the E-Plus sale.
In the two-part E-Plus agreement, Telefonica's German
Telefonica Deutschland Holding AG
will first pay KPN €3.7 billion in cash as well as a 24% stake in new Telefonica Deutschland shares. Telefonica itself will then buy a 4.4% stake in the expanded Telefonica Deutschland from KPN for €1.3 billion, leaving KPN with a 20.5% stake in the expanded German cellular company.
The previous agreement had Telefonica buying a bigger stake from KPN for the same amount, leaving KPN with 17.6% of Telefonica Deutschland. Telefonica said the new deal also allows it to buy an additional 2.9% Telefonica Deutschland stake to boost its investment to 65%.
"America Movil has agreed with Telefonica to vote in favour of the E-Plus transaction at the improved terms at the extraordinary general meeting of shareholders of KPN," the company said.
KPN shares gained 2.8%, or €0.063, to €2.32 in morning Amsterdam trade as Telefonica Deutschland rose 3.2%, or €0.162, to €5.236 in Frankfurt while Telefonica rose less than 1%, or €0.04, to €10.76.
UBS
(UBS) - Get UBS Group AG Registered Report
and
Bank of America Merrill Lynch
are acting as financial advisers to Telefonica Deutschland while CMS Hasche Sigle's Oliver Thurn, Martin Kolbinger, Martin Kuhn, Jens Neitzel, Daniel Hofmann, Christian Runte, Michael Bauer, Claudia Rid, Hildegard Ziemons, Stefan Hoss, Philipp Melzer, Stefan Luft, Rolf Leithaus, Richard Mitterhuber, Thomas Muhl, Petra Stockle and Tilman Weichert are providing counsel. Also acting as legal advisers to Telefonica Deutschland are a Milbank Tweed Hadley &
McCloy LLP
team led by Alexander Rinne.
KPN is taking legal advice from
Allen & Overy's
Jan Burggraaf and Hartmut Krause as well as
Bird & Bird LLP's
Sven-Erik Heun and Valerian Jenny.
Written by Andrew Bulkeley.