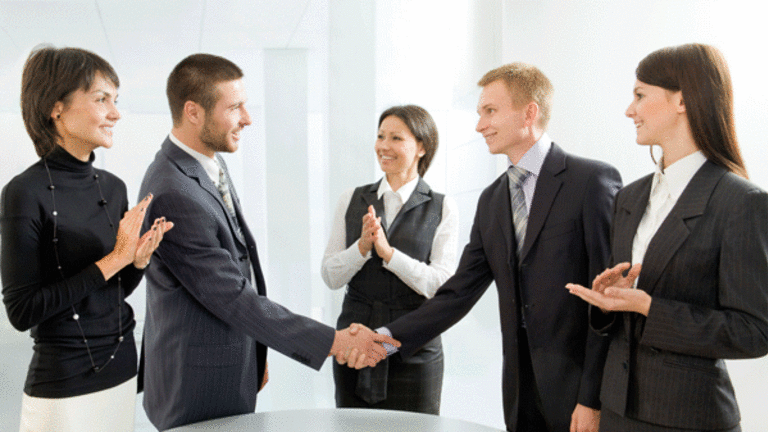 The Deal: Suntech Gets $150M Shot in the Arm
Suntech is getting $150 million in added liquidity.
NEW YORK (
) -- The world's largest solar panel producer,
Suntech Power Holdings
(STP)
may have secured a $150 million investment to fund its reorganization from a Chinese investment firm.
Wuxi, China-based Suntech announced on Wednesday, Oct. 30, that it has received a letter of intent for at least a $150 million cash investment from
Wuxi Guolian Development (Group)
.
The investment will support the company's rehabilitation and restructuring of its financial and operational affairs, the statement said.
The investment company, which is based in Wuxi in China's Jiangsu Province, invests in downstream solar companies, power generation projects, textile industries, waste disposal facilities and environmental protection and energy projects. It will fold other solar products companies it owns into Suntech, according to Wuxi Guolian.
"Even though the investment letter of intent is indicative only and is not a firm commitment, this is an important step in the restructuring of the company with key stakeholders," said Suntech's CEO Zhou Weiping said in the statement Wednesday. "While there will be substantial dilution for existing shareholders, the successful implementation of these efforts will preserve the company's international platform, rebuild the company's operating assets, and rehabilitate the company's global brand."
Suntech announced on Aug. 30 that it was looking for a new strategic investor to provide it with funding through the purchase of new equity. The company also said it had reached a deal with a group of creditors led by Clearwater Capital Partners and
Spinnaker Capital
to restructure its debt by converting it into equity.
Since then, however, Suntech has had an involuntary Chapter 7 petition filed against it on Oct. 14 in the U.S. Bankruptcy Court for the Southern District of New York in Manhattan.
Jiangsu Liquidators
(owed $1 million),
Trondheim Capital Partners
($516,278), Michael Meixler ($51,628) and
Longball Holdings
($10,325) filed the bankruptcy case against the company after it failed to make payments on a $578,231 judgment.
Suntech hasn't yet responded to the involuntary petition, but has until Nov. 6 to do so.
Suntech had been operating under a forbearance agreement with the majority of its 3% convertible noteholders, but the agreement expired on Aug. 30. The company owes $541 million on the notes that came due on March 15. Since Suntech failed to repay the notes when they came due, it's in default under the agreement.
The 3% notes are convertible into Suntech's American Depositary Shares, which trade on the New York Stock Exchange under the symbol STP. The shares, which closed at $1.27 on Oct. 29, were trading up at $1.36 midday Wednesday, Oct. 30.
Suntech retained UBS Investment Bank to help it evaluate alternatives to address its convertible notes, it said in filings with the Securities and Exchange Commission in October.
Meanwhile, an ad hoc group of convertible senior noteholders is getting legal counsel from Mark Fucci and Ronald Silverman at Bingham McCutchen LLP and financial advice from Brian Cullen and Matthew Gates at Duff & Phelps Securities LLC.
UBS, Fucci, Silverman, Cullen and Gates couldn't be reached for comment.
Wuxi Suntech Power Holdings Co. Ltd., a subsidiary of Suntech Power Holdings, was pushed into bankruptcy protection in the Wuxi Municipal Intermediate People's Court in Jiangsu Province after eight Chinese banks filed an insolvency and restructuring petition on its behalf in March.
Wuxi Suntech is Suntech's principal operating subsidiary in China, manufacturing photovoltaic cells and modules.
Wuxi Suntech's administrator selected an undisclosed bid from Shunfeng Photovoltaic International Ltd. to acquire the subsidiary. Shunfeng, which manufactures solar cells and related solar products, has provided the administrator with a 500 million renminbi ($81.42 million) deposit for its bid.
Wuxi Suntech's administrator picked the bid from Shunfeng as the preferred bid over the only rival bid, which was from Wuxi Guolian Group. Wuxi Guolian has $6.7 billion in assets, the statement issued Wednesday said.
However, the strategic investment is subject to creditor approval. The creditors are scheduled to consider the bid at a Nov. 12 hearing. If it's approved by creditors, the bid would still need to be confirmed by the Wuxi Intermediate People's Court.
In addition, the company's principal operating subsidiary in Europe, Suntech Power International Ltd., was granted a six-month definitive moratorium on creditor claims by the judicial authorities in Schaffhausen, Switzerland, on June 18. A two-month provisional moratorium had been provided on April 9.
The European subsidiary, which applied for the provisional moratorium as a result of having too much debt, is working with its court-appointed administrator and has proposed a new business plan. It's hoping to restructure its debt, the majority of which is intercompany debt.
Suntech on May 1 announced its preliminary financial results for the fourth quarter and full year ended Dec. 31, but has not yet filed its full financial report with the SEC.
In 2012, the company's revenue fell by 48% to $1.63 billion, its preliminary financial statement said.
The company's spokesman Ryan Scott Ulrich couldn't be reached for comment.
--
Written by Jamie Mason in New York