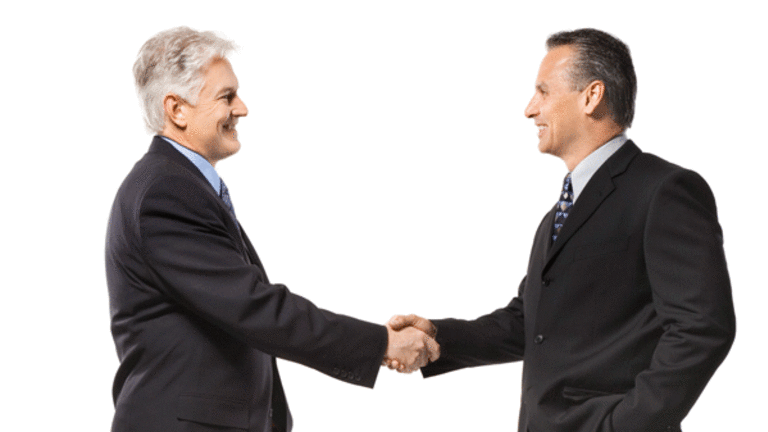 The Deal: Sense of the Markets: For Now at Least, Euronext May Stay Single
With derivatives and emerging markets the growth areas du jour the bourses operator may make through its IPO without being intercepted by a rival.
NEW YORK (The Deal) -- A planned initial public offering of Euronext has raised the possibility of a takeover of the pan-European exchange operator but potential trade buyers are likely to be wary. On top of that, political pressure from Paris, concerned about being financially sidelined by Frankfurt and London, may make a sale to a foreign bidder even more difficult.
Atlanta-based IntercontinentalExchange Group (ICE) - Get Intercontinental Exchange, Inc. Report, or ICE, earlier this month completed its $11 billion acquisition of NYSE Euronext and said it hoped to carve out and list Euronext by the summer. The move was expected: ICE had promised to make Euronext independent to appease regulators worried about a trans-Atlantic powerhouse.
However, the planned IPO may have flushed out interested suitors, including several who have made previous runs at the bourse. The Wall Street Journal recently reported that the continent's three main exchange operators -- London Stock Exchange Group (LSE.L), Frankfurt's Deutsche Borse and Nasdaq OMX GroupI:IXIC -- had all at least mulled an offer.
All three refused to comment, and analysts said that though the three would be interested, Euronext's main stock trading activities were no longer as interesting to rivals since they are looking for growth in derivatives and markets farther afield.
Euronext itself is a combination of stock exchanges in Brussels, Amsterdam, Paris and Lisbon. It lists companies that had combined market capitalizations of $2.8 trillion at the end of 2012 -- compared with nearly $6.5 trillion on the London Stock Exchange and $1.6 trillion at Deutsche Borse.
The size alone might be enough to attract some interest and the most likely candidates would be Nasdaq OMX and London Stock Exchange. Nasdaq OMX -- with $7 trillion in listed companies -- as early as this summer reportedly considered linking up with a rival to tap new executive manpower. The bourse has been led for more than a decade by Bob Greifeld and, although he recently re-enlisted for another five years, its supervisory board appears to have the company's distant future on its mind.
Nasdaq OMX is also under additional pressure to beef up after Bats Global Markets Inc. and Direct Edge Holdings LLC combined and surpassed Nasdaq as the second-largest U.S. equities market.
With a focus on the Nordic and Baltic regions, Nasdaq OMX could gain much-needed bulk by landing exchanges in more southerly European countries, including France, the continent's No. 2 economy.
Still, it hasn't yet fully digested its $1.23 billion acquisition earlier this year of fixed-income platform eSpeed from BGC Partners Inc. as well as the $390 million purchase of Thomson Reuters' investor relations business.
London Stock Exchange also looks like a likely candidate. The exchange has been looking to assert its dominance in Europe -- and even North America -- for over a decade with more failures than victories. It failed to merge with Deutsche Borse at the turn of the millennium and later fought off bids from suitors, including the Frankfurt exchange operator, Macquarie Bank and Nasdaq OMX. In 2011 London Stock Exchange lost out to a group of Canadian investors in the bidding for TMX Group TMXXF, the parent of the Toronto Stock Exchange. In a rare victory, it earlier this year bought control of Anglo-French clearinghouse LCH.Clearnet Group.
Buying Euronext would cement London Stock Exchange's position as the leader in European equities but would probably face regulatory hurdles and pit London against Paris.
What's more, London Stock Exchange CEO Xavier Rolet has priorities outside equities, where margins have suffered from competition from electronic platforms. After fattening his bourse's clearing activities, he has said he wants to focus on more lucrative derivatives.
Then there's Deutsche Borse. Despite anchoring Europe's biggest economy, the Frankfurt exchange is the least likely to make a run at Euronext.
Deutsche Borse has a bad record in major international deals, failing to execute announced agreements for London Stock Exchange and NYSE Euronext. It has tussled with regulators and shareholders over merger plans and is already looking to Asia to expand derivatives activities. It has also been rumored to be in the sights of Chicago Mercantile Exchange Holdings Inc. -- the two confirmed talks earlier this year.
Asian exchanges such as Singapore Exchange Ltd. and Hong Kong Exchanges and Clearing Ltd. appear to be outside contenders for Euronext. Singapore Exchange in 2011 showed it had international ambitions, but regulators ultimately foiled its $7.9 billion run at Australia's ASX Ltd.
One analyst noted: "If ICE couldn't extract intercontinental synergies from Euronext, then an Asian exchange would have to think: what would make us any different."
Politics may ultimately be the undoing of any potential deal. The French government has already reportedly approached the country's biggest banks about buying a stake, and Dutch politicians also appear to want to keep the bourse independent.
Although a near-term sale can't be ruled out, the exchange may yet end up a listed bourse, albeit with a strong anchor investor.
-- Written by Andrew Bulkeley