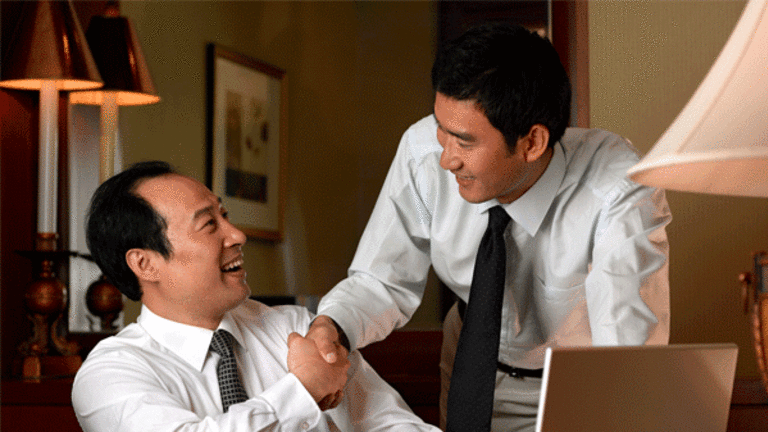 Publish date:
The Deal: Senate Warned on China's Plans for U.S. Agriculture
Critics of Shuanghui International Holdings' $7.1 billion bid for Smithfield Foods have warned the Senate Agriculture Committee about potential intellectual property and food safety risks.
Critics of Shuanghui International Holdings' $7.1 billion bid for Smithfield Foods have warned the Senate Agriculture Committee about potential intellectual property and food safety risks.
NEW YORK (
) -- Critics of
Shuanghui International Holdings'
$7.1 billion bid for
Smithfield Foods
(SFD)
characterized the proposed transaction as a massive transfer of intellectual property and agricultural know-how to China that will eventually eliminate American jobs and endanger food safety in the U.S.
"The risks outweigh the benefits," Usha Haley, director of West Virginia University's Robbins Center for Global Business and Strategy, told the Senate Agriculture Committee on Wednesday, July 10. She warned lawmakers that the companies' claim that the deal had nothing but upside to the U.S. -- by increasing exports of American pork to China without exposing Americans to any of China's well-documented food safety problems -- is false.
"Shuanghui is a highly subsidized and opaquely managed Chinese private company," she said. "This will affect food safety, how we do business and compatibility with our policies."
Haley noted that it took China only five years after it made its initial moves into food processing to move from having no exports in the business to become a major exporter, thanks to subsidies that allowed the country's food processors access to cheap land, labor and raw materials.
As a result, she said, China last year shipped 4 billion pounds of food to the U.S., including half the apple juice consumed here, 80% of the tilapia and 10% of the frozen spinach.
A similar path will occur with pork, she predicted. "The same will happen here," she said.
She said the adoption of Smithfield's industrial farming techniques and meat processing technologies eventually will result in the most profitable aspects of pork production being moved to China. "Smithfield could become the lowest rung on the commodity supply chain. High-value manufacturing could move to China, leaving low-value pork production here."
She said Australia and Africa have suffered problems as a result of China's direct investment in their countries and the U.S. will expose itself to similar threats, including the elimination of
Securities and Exchange Commission
filings after Smithfield is taken private. "This will double the number of jobs in the U.S. tied to Chinese direct investment."
She noted that the U.S. has periodically banned numerous Chinese foods and that, unlike grocery store items, foreign foods sold in restaurants or as processed foods do not need to be labeled as imported.
Haley also predicted that because of China's poor intellectual property protection, that country's investments in U.S. food production will lead to increased counterfeit American food products from China, which will "lead to brand dilution and loss of U.S. export markets."
Sharing her assessment was Daniel Slane, a member of the U.S.-China Economic and Security Review Commission, a panel created by Congress in 2000 to monitor, investigate and report to Congress annually on the national security implications of the bilateral trade and economic relationship between the United States and China.
Slane said unless the deal is blocked by U.S. regulators, it will be "the first of many forays into rural America" by Chinese firms. With only 7% of its land suitable for farming, Slane said China is determined to buy American producers in order to gain the capacity to feed a population that is increasingly demanding more protein in their diets.
The deal will help China gain some measure of control over the commodity price of pork, access hog genetics and meat processing technology and learn manure management techniques required to carry out industrial-scale hog farming, he said.
A particular danger, he said, is the unusually concentrated nature of the U.S. food production business, which leaves the sector vulnerable to domination by China. He predicted that approving the deal will exacerbate the past decade's shift of value-added production to Chinese owned or operated companies to the detriment of U.S. business.
Despite their warnings, many experts in U.S. trade and national security policy have said there is little chance the government will block the deal. The most important review is being conducted by the Treasury Department-led Committee on Foreign Investment in the U.S., but CFIUS experts have said that panel's challenges typically are limited to deals in the defense and telecom space and its members are representatives of agencies specializing in defense, national security and law enforcement.
Slane said the lack of representation from the agriculture sector "is one of the weakness of CFIUS." He said the Department of Agriculture should have a permanent seat on the panel.
Their dire warnings were dismissed by Larry Pope, CEO of Smithfield Foods and Matthew Slaughter, faculty director of Dartmouth College's Center for Global Business and Government.
Pope said the safety standards of the U.S. pork producers will be followed and the sale will not reduce the safety of the food supply here. "The combination will not result in any U.S. imports of food from China," he told lawmakers.
Slaughter said a side benefit of the deal will be presenting U.S. holders of intellectual property with a model for dealing with IP theft by Chinese firms. Rather than stealing Smithfield's know-how, Shuanghui will be paying the company handsomely.
Written by Bill McConnell