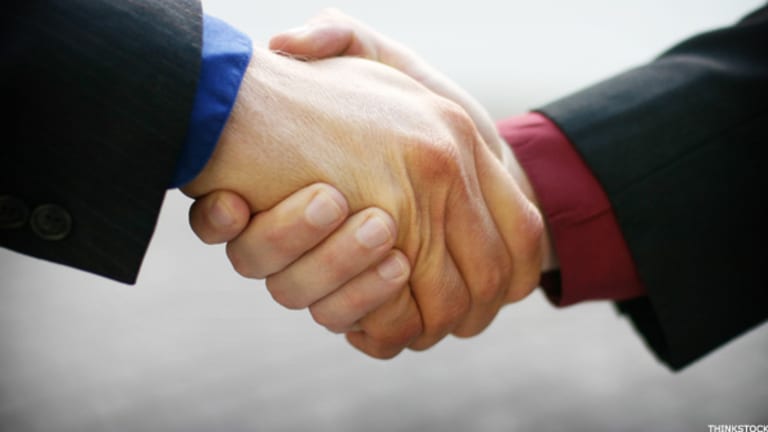 The Deal: Salix Pharmaceuticals Buys Santarus for $2.6B
Buyer views target's diabetes and heartburn treatments as complementary to its drug lineup.
Buyer views target's diabetes and heartburn treatments as complementary to its drug lineup.
NEW YORK (TheStreet) -- Salix Pharmaceuticals (SLXP) late Thursday, Nov. 7, said it has a deal in place to acquire Santarus (SNTS) for $2.6 billion in cash, adding a portfolio of diabetes and heartburn treatment products to its core gastrointestinal medicine base.
Terms of the deal call for Raleigh, N.C.-based Salix to pay $32 per share for Santarus, a premium of 36% over the company's Nov. 6 close and 39% over Santarus' 30-day trading average. Salix said it would finance the deal with a combination of about $800 million in cash on hand and $1.95 billion in committed financing from Jefferies Finance, with Jefferies also committing to provide an additional $150 million revolving credit facility.
Santarus, of San Diego, sells Type 2 diabetes drug Glumetza and heartburn medication Zegerid. Salix, which makes diarrhea drug Xifaxan, said the combination would have annual sales of about $1.3 billion in complementary markets, and argued that drugs made by both firms would benefit from the increased sales force and scale of the combined company.
Salix CEO Carolyn Logan in a statement called the deal "transformative for Salix both commercially and financially, fulfilling many of our strategic needs while providing immediate and significant accretion" in 2014.
"We are very pleased to be able to merge our sales forces, combine two complementary product portfolios, expand our pipeline, diversify revenue, access health care providers in primary care, add a significant number of health care prescribers to our called-on universe," Logan said.
Salix also on Thursday reported its third quarter earnings. Ebitda was $98.6 million on total product revenue of $238.2 million, up 37.5% and 29% year-over-year respectively. The company has generated $676.2 million in revenue through the first nine months of the year, keeping it on pace to have about $920 million in sales for the full year.
Santarus went public in 2004 after receiving more than $80 million in venture financing. Company CEO Gerald T. Proehl said "we believe the timing is right for this strategic combination with Salix," saying that the buyer is "uniquely positioned to expand the commercialization of Santarus' marketed products and to continue to advance the development of our pipeline products."
Salix received financial advice from Robert Steininger and Matt Miller at Jefferies LLC, and legal counsel from a Covington & Burling LLP team led by Catherine Dargan, Edward Britton, Ed Britton and Catherine Dargan. Santarus was advised by Declan Quirke and Peter Reikes at Stifel, Nicolaus & Co. and a Latham & Watkins LLP team led by Scott Wolfe.
-- Written by Lou Whiteman