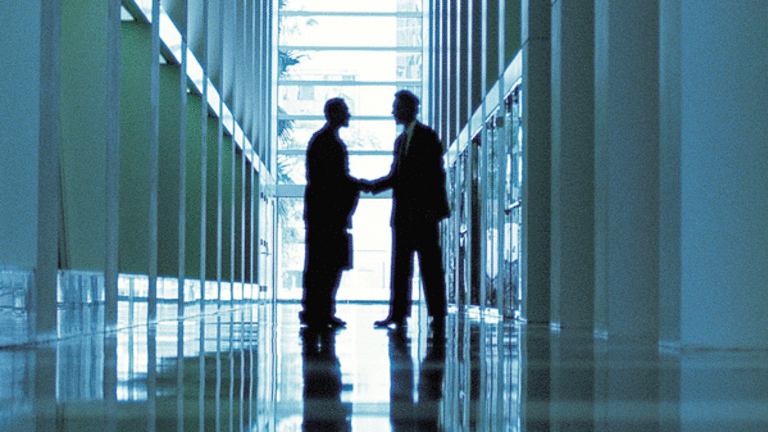 The Deal: Pearson Sells Mergermarket to BC Partners for $624M
The corporate financial news business no longer fit into the U.K. publisher's long-range plans, which still include keeping the Financial Times.
London (The Deal) -- London education and financial publishing group Pearson plc announced an agreement, Friday, Nov. 29, to sell its corporate financial news business Mergermarket Group Ltd. to London private equity firm BC Partners Ltd. for an enterprise value of £382 million ($624 million), payable in cash.
BC Partners foreshadowed its ownership of the financial information provider by declining to disclose any further financial information, although it did say it would continue to invest in the growth of the business through product development and geographical expansion. The Mergermarket team, led by CEO Hamilton Matthews will remain with the business under the new owners.
But Pearson said Mergermarket reported revenues of £100 million, operating income of £25 million and profit before tax of £23 million in the 12 months to Dec. 31, 2012, and that it continued to grow strongly. Mergermarket contributed 2.5 pence to Pearson adjusted earnings per share in 2012. At June 30, 2013, Mergermarket had gross assets of £129 million.
"The company has flourished under Pearson's ownership," said Pearson CEO John Fallon, in a statement. "But it is not part of Pearson's strategy in global education. The transaction provides us with additional financial capacity to accelerate our push into digital learning, educational services and emerging markets."
Mergermarket has hitherto been housed within Pearson's Financial Times Group division, so when Pearson put the financial information arm on the block in July, the move stoked the perennial speculation that its ownership of the Financial Times was also up for sale.
However, at the time Fallon attempted to quash the rumors, saying the newspaper was a "valued part of the Pearson business." To prove the point, the group has since decided to reposition the Financial Times within the company.
As of Jan. 1, 2014, Pearson spokesman Charles Goldsmith said Friday, the newspaper "will be part of Pearson's professional education business, which will also include our global English language teaching business.
"The FT thus fits well with our strategy of providing professional education - including to an emerging middle class in high growth countries. Mergermarket didn't fit in that way."
Pearson intends to redeploy the proceeds from the sale in its global education business. It sees significant opportunity in the growing demand for school, college, professional and English language learning and is focusing on products and businesses with a clear impact on learning outcomes and strong positions in digital education and emerging markets.
Pearson said it had acquired Mergermarket in 2006 for £101 million, plus additional earnouts, and the company had grown substantially under the group's ownership. Founded in 1999, Mergermarket provides global corporate financial news, intelligence and analysis to advisory firms, investments banks, law firms, hedge funds, private equity firms and corporations operating in 65 countries.
The sale is expected to close by the end of the first quarter of 2014. J. P. Morgan Cazenove Ltd. acted as financial adviser to Pearson, while BC Partners were advised by HSBC Holdings plc.
Written by Jonathan Braude