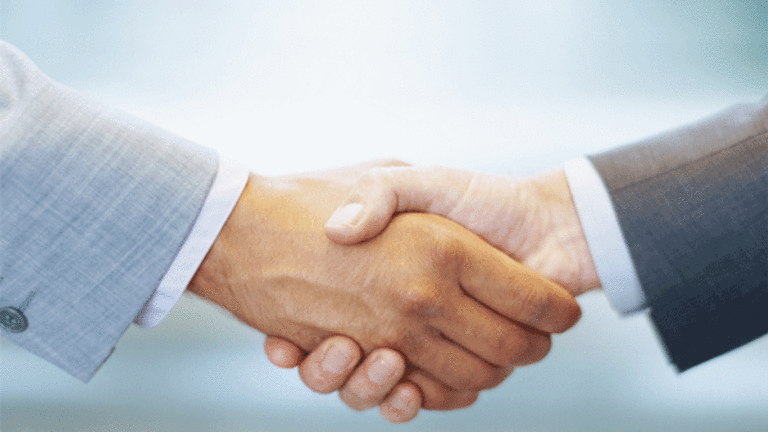 The Deal: Omnicom Fusion Creates New Advertising Leader
Publicis and Omnicom on Sunday signed off on all-share merger that will reshape the advertising industry.
Publicis and Omnicom on Sunday signed off on all-share merger that will reshape the advertising industry.
NEW YORK (
) -- Marketing heavyweights
Publicis SA
and
Omnicom Group
(OMC) - Get Report
on Sunday, July 28, signed off on an all-share merger that will reshape the advertising landscape, creating a Franco-American industry colossus with a market capitalization of about $35.1 billion and revenue of about $22.7 billion.
The resulting Publicis Omnicom Group will be the world's largest advertising agency by both equity value and revenue. It will be 50/50 owned by the shareholders of the merger partners, with the balance achieved by special dividends of as much as $724 million for Omnicom shareholders and just under 200 million Euros ($266 million) for Publicis' owners.
The combination will bring together some of the biggest names in advertising, public relations and media buying including Omnicom's agencies DDB, BBDO, TBWA and OMG as well as Publicis' Saatchi & Saatchi, Publicis Worldwide, BBH and Leo Burnett. The combination is expected to deliver "efficiencies" of about $500 million a year, split equally between improved sales opportunities and cost savings.
"This is a merger that will set our new company on a path to accelerated growth, with long-term benefits for clients, employees and shareholders," Omnicom CEO John Wren said in a statement.
Wren and Publicis CEO Maurice Levy will share control of the company as co-CEOs for 30 months before Levy, who is 71, becomes chairman, leaving Wren, 61, as sole CEO.
Shareholders of each company will receive 50% of the combined group following distributions of special dividends to balance their contributions. Shareholders in Paris-based Publicis will receive one share in the new company for each existing share and a special dividend of 1 Euro per share. Shareholders in Omnicom, of New York, will receive 0.813 of a new share for each existing share and a payment of $2 per share. In addition, Omnicom shareholders will receive as many as two quarterly dividends of 40 cents per share ahead of the closing date.
Omnicom had a market capitalization of $16.84 billion, while Publicis was worth 11.82 billion Euros ($15.69 billion) at Friday's close. The combination will see the new group leapfrog Britain's
WPP
to become the No.1 advertising group. WPP has a market capitalization of 15.7 billion U.K. pounds ($24 billion).
Publicis Omnicom will be registered in the Netherlands and listed on the New York Stock Exchange and on Euronext Paris. The deal is subject to shareholders' approval and is expected to close in the last quarter of 2013 or the first quarter of 2014.
The merger partners will also have to convince clients of the value of the deal and offer assurances that evident conflicts can be managed by internal firewalls. Omnicom counts
PepsiCo
(PEP) - Get Report
and
Microsoft
(MSFT) - Get Report
amongst its clients while Publicis has
Coca-Cola
(KO) - Get Report
and
Google
(GOOG) - Get Report
.
Talks between the two companies began after Wren and Levy met six months ago at the World Economic Forum in Davos, Switzerland.
Omnicom tapped
Moelis & Co.
for financial advice and took legal counsel from a
Latham & Watkins
team including Mark Gerstein, Brad Faris, Joel Trotter, Jeff Hammel, Timothy FitzSimons, Olivier du Mottay, Charles-Antoine Guelluy, Alex Cohen Nicholas DeNovio, Laurence Stein,Sean Finn, Xavier Renard, Roger Goldman, Marc Williamson, Michael Egge and David Della Rocca. Omnicom also took legal advice from
De Brauw Blackstone Westbroek
.
Publicis turned to
Rothschild
for financial advice. It took legal advice from a
Wachtell, Lipton, Rosen & Katz
team including partners Martin Lipton, Adam Emmerich, Ante Vucic, Deborah Paul, Michael Segal, David Kahan, Eric Rosof and Ilene Gotts. Publicis also took counsel from
Darrois Villey Maillot Brochier
and
NautaDulith
.
Publicis shares were suspended from trading Monday after the French company asked that its stock resume trading when the New York market opens to allow the two companies' stock to open simultaneously. Publicis shares closed Friday at 59.35 Euros and are up 31% since the start of the year. Omnicom shares closed Friday at $65.11 and have gained 30% in the year to date.
Written by Paul Whitfield.