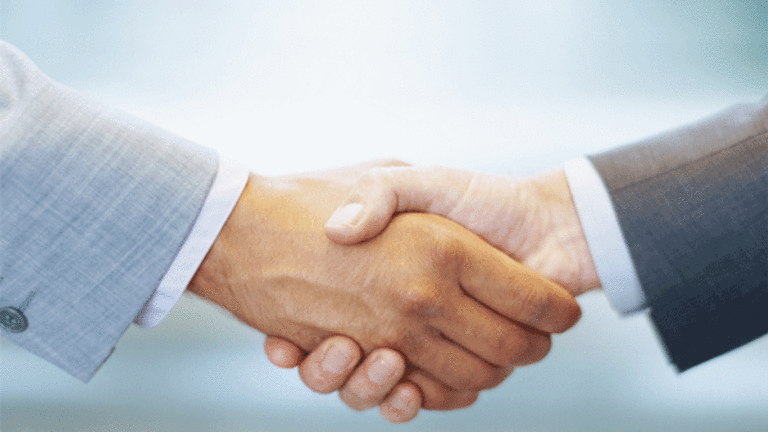 The Deal: OGX Files for Bankruptcy Protection
Eike Batista's oil and gas company says it has about $5.1 billion in liabilities.
LONDON ( The Deal) -- Latin America has an unwanted new record after OGX Petroleo e Gas Participacoes asked a Rio de Janeiro court for protection from creditors, becoming the region's largest ever corporate bankruptcy.
The filing was lodged late Wednesday, hours ahead of a Thursday deadline for OGX to make a $44.5 million payment on its dollar debt that it missed on Oct. 1, and two days after the company pulled out of talks with the holders of about $3.6 billion of bonds.
OGX, which is controlled by former billionaire Eike Batista, has about $5.1 billion of liabilities, according to its filing, including money owed to suppliers, banks and bondholders. The company, and its long list of advisers, has been scrambling for months to come to an agreement with bondholders and find new investors to boost capital drained by the exploration of oilfields, most of which proved to be uneconomical. OGX needs $250 million of new cash in order to continue operating until April next year, the company noted in documents released on Tuesday.
The corporate default by OGX is Brazil's largest ever and the largest in Latin America, topping the $1.9 billion default in 2002 by Argentina's Banco de Galicia y Buenos Aires.
If the Court of Justice of Rio de Janeiro accepts OGX's petition for protection, the company will have 60 days to present a restructuring plan. Creditors will then have a further 30 days to endorse the plan or reject it, a move that would likely force OGX into liquidation.
OGX struck an optimistic tone in its filing. "Once we restructure our debt and make our capital structure adequate, OGX will have a prosperous future, able to generate wealth for its shareholders, workers, creditors and for Brazilian society," according to the document.
Brazil's bankruptcy procedure is notoriously slow, and could take as much as four to five years if OGX successfully navigates its way through the process, according to a Brazil-based investment banker. The chances of the company emerging from the process are statistically slim. Since 2005, when Brazil introduced the current bankruptcy protection regime, only 1% of companies have successfully emerged from court protection, according to a report by Brazilian paper O Estado de Sao Paulo.
OGX was the flagship of Batista's EBX Group of companies. It went public in 2008 in Brazil's biggest private company initial public offering, raising $4.1 billion after valuing its oilfield assets at more than $1 trillion. At its peak, in mid-2010, the company's shares traded at R$23.27, equating to a market capitalization of R$75 billion ($34 billion), while Batista's personal fortune of about $30 billion made him the world's eighth-richest person in 2012, according to Forbes.
Within a year Batista had dropped out of the billionaire's club as OGX shares collapsed following repeated warnings of delays to commercial production, before the company admitted earlier this year that several of its oilfield investments would never make money and that its only producing oilfield, called Tubarao Azul, will likely close next year. The company had recently refocused its efforts on bringing its Tubarao Martelo field online, claiming that it could begin shipments from the field as early as November.
OGX shares have lost more than 96% of their value in the past year and closed Wednesday on the Brazilian exchange at R$0.17, down R$0.06, or 26%, on their Tuesday close.
OGX has $2.56 billion of bonds due in 2018 and a further $1.06 billion of bonds due in 2022. Much of the debt is likely owned by the world's largest bond fund Pacific Investment Management Co LLC, known as Pimco, which acquired a significant position in OGX bonds at the start of the year. Pimco and BlackRock Inc. were part of a bondholder committee leading talks with the Brazilian oil company.
OGX bonds had traded at as much as 80 cents on the dollar at the start of the year but have since dipped to below 16 cents on the dollar.
If OGX is forced into liquidation, both shareholders and bondholders could be wiped out, according to analysts. OGX assets could be worth about $1.9 billion, of which $1.1 billion is attributable to Tubarao Martelo, according to a September note published by Credit Suisse Group.
Those assets could yet be reclaimed by the Brazilian state. Brazil's oil regulator, the Agencia Nacional do Petroleo, Gas Natural e Biocombustiveis, has said that
OGX's decision to seek court protection is likely to have implications for Batista's other holdings, which are grouped under EBX Group. Ship builder OSX Brasi is reliant on OGX for much of its revenues. The company has about $2.4 billion of debt. It has insisted in recent weeks that it is not considering filing for protection "at this moment", though analysts have doubts that it can survive if OGX fails to pay its bills.
OGX's filing has been given the docket number 0377620-56.2013.8.19.0001. It was filed with the 4th Section of the Corporate Division of the Justice Tribunal of Rio de Janeiro State.
By Paul Whitfield