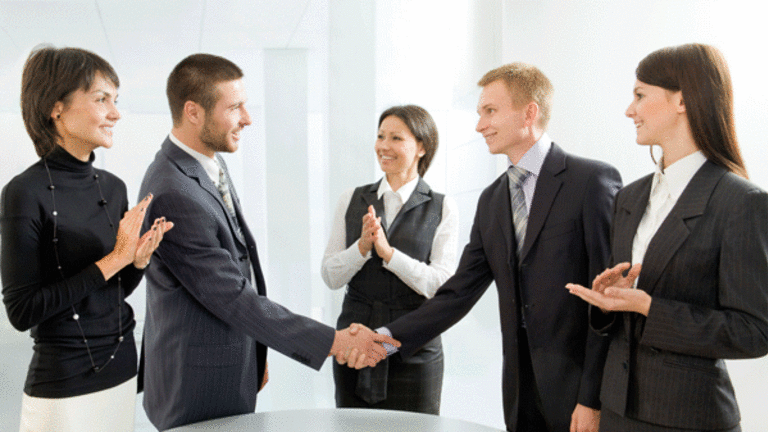 The Deal: Megavendors Stalk Digital Marketing Tech Providers
With Adobe Systems taking taking French marketing campaign management company Neolane off the market, the field of digital marketing technology companies continues to narrow.
NEW YORK (
) -- With
Adobe Systems
(ADBE) - Get Adobe Inc. Report
taking French marketing campaign management company
Neolane
off the market, the field of digital marketing technology companies continues to narrow.
Adobe's $600 million purchase of Neolane follows, and was likely motivated by,
Salesforce.com's
(CRM) - Get salesforce.com, inc. Report
$2.5 billion purchase of
ExactTarget
, which was announced in early June. Adobe and Salesforce.com may have felt some urgency to make a play in late December after
Oracle
(ORCL) - Get Oracle Corporation Report
agreed to pay $871 million acquisition for
Eloqua
.
With the sequence of deals,
Ovum
analyst Gerry Brown said, companies such as
Marketo
(MKTO)
,
Responsys
(MKTG)
and
Silverpop Systems
have gained scarcity value and could interest larger outfits.
So-called megavendors such as Adobe,
IBM
(IBM) - Get International Business Machines (IBM) Report
, Oracle, Salesforce.com,
SAS
and
Teradata
(TDC) - Get Teradata Corporation Report
have been active in digital marketing and campaign management, and could look to add capabilities.
SAP
(SAP) - Get SAP SE Sponsored ADR Report
and
Infor Global Solutions
, which Brown described as "outside bets that are flirting with the marketplace," could also make moves.
"Traditionally, most of marketing automation companies haven't been very good at account development," Brown said. They may have gotten their foot in the door at large enterprises, but not fully exploited the opportunity.
"The Oracles and IBMs are very good at that -- cross-selling, up-selling and land-and-expand kind of things," he said. Oracle has already been able to use Eloqua as a sales lead.
"Marketing automation is sexy and engaging," Brown said. "There are all kinds of sales opportunities that follow from it."
Marketo, of San Mateo, Calif., went public in a May initial public offering that raised about $90 million, including stock available to underwriters.
The stock had a massive first day. After pricing at $13 per share, the stock jumped to $23.10 in its debut. It traded at $24.80 on Wednesday, down 44 cents, or 1.7%.
Backers such as
InterWest Partners
,
Storm Ventures
,
Mayfield Fund
and
Institutional Venture Partners
maintained stakes in the company and
Battery Ventures
purchased stock. Counting the venture capital positions, Merkato has an equity value around $900 million.
"My view is that they have been set up to be acquired," Brown said. The company may not have been acquired yet, the consultant suggested, because it is seeking too high of a price or hasn't reached the level of maturity that buyers want.
"What interests the megavendors are those marketing companies that have a base of large clients," he said.
Marketo has made more success with small to mid-sized companies than with larger entities.
Stephens
analyst Carter Malloy said that both Marketo and Responsys could be targets. He doesn't follow privately held Silverpop.
"It's the value of the technology and scarcity of assets of this type of quality," he said.
Malloy notes that Responsys, trading at about 3 times revenues, scored higher in a recent
Gartner
(IT) - Get Gartner, Inc. (IT) Report
ranking than
ExactTarget
, Eloqua, Marketo or Neolane, which were acquired at or trade at 6 to 9 times sales. Marketo is at the higher range of the scale.
Before Salesforce acquired ExactTarget, some industry watchers speculated that Marketo might be the target. Responsys CEO Dan Springer suggested at a Stephens investor conference in July that Salesforce.com could have been deterred by Merkato's price expectations.
"Many people thought, and I definitely considered this, that they would buy Marketo, who was the next largest B2B centric player in the space who has recently went public," Springer said.
Salesforce may have felt squeezed after its $689 million purchase of Buddy Media in 2012.
"They paid so much money when they purchased Buddy Media for a relatively small amount of revenue, to go out and try to get what Marketo was trying to get in the marketplace was going to be very difficult," Springer said.
"For them to spend that much money again for relatively small revenue," he added, "risking that they wake up a year from now,
and in the investment community, you all
would say 'You guys are writing huge checks and not building very big businesses.' "
Responsys, like Neolane, has 400 customers. The San Bruno, Calif.-based company generates close to $200 million in revenue from retailers such as
Sears Holdings
(SHLD)
and
Lands' End
; airlines
Southwest Airlines
,
Deutsche Lufthansa
and
United Continental Holdings
(UAL) - Get United Airlines Holdings, Inc. Report
and financial services providers
E-Trade Financial
(UAL) - Get United Airlines Holdings, Inc. Report
and
Allstate
(ALL) - Get Allstate Corporation Report
.
Atlanta-based Silverpop raised $25 million in April, but did not disclose terms of the deal. It has backing from
NeoCarta Ventures
,
TTV Capital
,
Draper Fisher Jurvetson
and
D.E. Shaw
. It leans more heavily toward business-to-consumer than business-to-business marketing, Brown said, through mass e-mailings.
Marketo, Responsys and Silverpop declined to comment.
The large enterprise technology groups have varying needs.
IBM acquired Unica in 2010. Ovum's Brown notes that it has made tuck-in purchases such as
Tealeaf
and
DemandTec
, and may not be looking for purchases in the marketing automation realm.
Oracle acquired Eloqua, which Brown said is "really a business-to-business proposition," and could have interest with a company like Responsys that has a strong position among retailers, airlines and financial services.
Teradata leans more heavily to business-to-consumer marketing, and could find an entity such as Marketo, with strength in business-to-business marketing, especially hightech.
Salesforce still lags behind companies such as IBM, Brown said, and could pick up more pieces.
Even with these vendors' vast offerings, there may be gaps to fill. Automating marketing e-mails and coordinating with social and mobile media can be a strategic entry point for a range of services.
"Once the large customers get a taste for it," Ovum's Brown said, "it can turn into a very lucrative cash flow stream."
Written by Chris Nolter