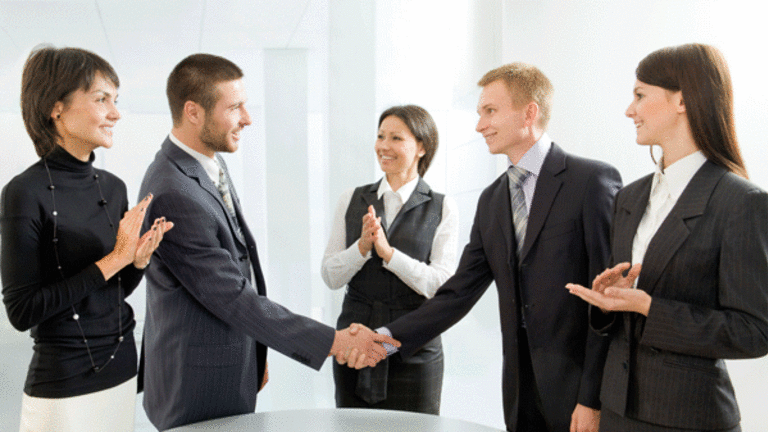 The Deal: Media General Pulls Back After Merger Surge
Media Generalwas slipping on Friday after surging yesterday on news of its merger with New Young Broadcasting.
NEW YORK (
TheDeal
) --
Media General
(MEG) - Get Free Report
, the Warren Buffett-backed television-station owner pulled-back on Friday after surging yesterday on news of its merger with privately-held New Young Broadcasting Holding Co.
Richmond-based Media General was falling 5.2% to $9.25 after soaring 34% yesterday.
The merger stands to ease Media General's overall leverage, giving it more influence in negotiations with pay-TV operators over fees paid to retransmit their signals.
The deal also stands to make Media General more acquisitive as it looks to increase the number of markets where it owns more than one television station. Media General CEO George Mahoney in an investor call said the deal was "a huge de-leveraging event." The companies did not put a price on the transaction.
Nonetheless, Media General will issue New Young's investors 60.2 million shares, which would be worth about $550 million at the company's Thursday stock price. Nashville-based New Young also has nearly $165 million in debt, which would put the company's value at about $715 million. Young will hold 67.5% of the post-merger company.
Media General also declined to put a multiple on the transaction, which will increase its portfolio of TV stations from 18 to 30.
"If you look at the shares that we're paying over and you look at their $77 million worth of Ebitda and you look at the synergies that we've got," Mahoney said, "you can do the math and you'll like the numbers that you'll come up with."
Berkshire Hathaway Inc. holds about 17% of Media General's Class A shares. Buffett's company provided Media General with a term loan that has a $302 million face value and a revolver with no balance that has a $45 million maximum availability.
Gamco Investors Inc., led by CEO Mario Gabelli, owns a 33% stake of Class A shares in the target, according to regulatory filings. As part of the deal, Media General will unwind its dual-class equity structure that divided stock into Class A and Class B shares.
Media General said that it will arrange a $900 million refinancing. The refinancing would pay Buffett a $44 million premium on debt Berkshire holds.The buyer projects that its leverage will drop from 6.5 times Ebitda to 4.3 times Ebitda.
Carl Salas of Moody's Investor Relations said the transaction "is special because you get meaningful synergies from reduced cost of debt."
The company would increase its territory, the analyst added. It also stands to gain leverage in negotiations with cable and satellite companies and reduce other vendor costs. There could be other benefits if it pursues stations in markets where it already operates.
Media General would gain duopolies in Albany, N.Y., and Lansing, Mich. The company already has two stations in Augusta, Ga., and said that it plans to increase the number of markets in which it has multiple outlets.
"With the footprint that we've got one of the first things we'll be looking for going forward are additional duopoly opportunities," Mahoney said. "We're now in a position to do some searching for those kinds of things and we shall."
Media General retained Marcos Torres of RBC Capital Markets LLC and Fried, Frank, Harris, Shriver & Jacobson LLP lawyers Philip Richter, John Sorkin, Donald Carleen, Michael Alter, Gus Atiyah and Michael Levitt.
Stephens Inc. bankers Kerry North, Phyllis Riggins, Ryan Murphy, Dan Parfitt and John Bennett advised the independent members of Media General's board, which received counsel from Gibson, Dunn & Crutcher LLP lawyers Stephen Glover, Alisa Babitz and Renee Strandness.
Stephens also provided Media General's full board with a fairness opinion.Advising New Young were Wells Fargo Securities LLC and Debevoise & Plimpton LLP lawyers Jonathan Levitsky, Peter Furci, Elizabeth Pagel Serebransky, Amy Adams, Kamal Agrawal and Andrew Hirsch.
Written by Chris Nolter in New York