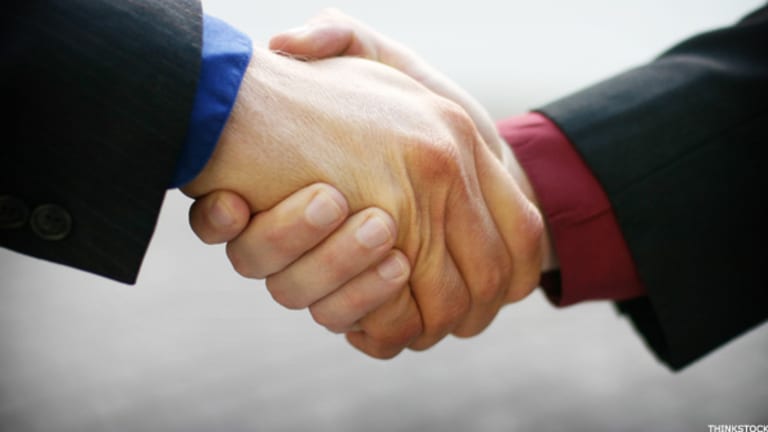 The Deal: Mad Men's Quest For Clout
The combination of ad agencies Publicis and Omnicom has competitors such as WPP asking: Is there room left for a triopoly?
The combination of ad agencies Publicis and Omnicom has competitors such as WPP asking: Is there room left for a triopoly?
NEW YORK (
) -- The Sunday unveiling of
Publicis Omnicom Group
as the world's largest advertising holding company gave Madison Avenue its largest jolt since the Saatchi brothers emerged atop the industry heap by acquiring
Ted Bates Worldwide
more than a quarter of a century ago. But if past is prologue, the agreement to unite Paris-based
Publicis Groupe
and New York-based
Omnicom Group
(OMC) - Get Report
as POG won't be nearly profound as the merger's ripple effects.
Consider that POG, should it be ratified by shareholders and approved by regulators, will turn the once highly fractured U.S. ad industry into a virtual duopoly. POG's $11 billion in domestic ad revenue would single-handedly represent more than a third of the country's $30 billion total and more than twice the amount of its nearest competitor.
That competitor is
WPP
(WPPGY)
, the advertising holding company with what seemed a lock on being the world's largest until POG's unexpected arrival. Publicis and Omnicom together, with a pro forma domestic market share greater than 50%, will no doubt raise regulatory scrutiny. But given advertising's penchant for copying as well as creating, the two will also raise the question: Is there enough room here for a triopoly?
For such competitors as Tokyo-based
Dentsu
, Paris-based
Havas Advertising
and New York-based
Interpublic Group of Companies
(IPG) - Get Report
-- all estimable players before POG potentially elbows them aside -- the answer they're seeking as they frantically call one another about creating a catchup combination is yes. Only they'll have to hurry, or at least two of them will, before WPP rethinks its loss of favored-nation status and attempts to acquire one of them.
This quest for scale will mostly be driven by these advertising holding companies' media operations. As
Pivotal Research Groupm
analyst Brian Wieser noted in a recent update, it wasn't until 2003 that clout became a part of media negotiations. That was when WPP gave a single unit, GroupM, control over volume deals historically managed by individual media departments within WPP's individual agencies.
GroupM soon learned it could cut volume deals even before having a precise reading of its collective clients' media budgets and then parcel out the acquired inventory on an as-needed basis. "This top-down approach to buying allowed GroupM to optimize its negotiating strategies and, arguably, pay less for like-for-like inventory than its competitors," Wieser reported.
That others didn't immediately follow suit can be attributed to a lack of equivalent clout or, sometimes, a lack of internal cooperation. But with the creation of POG, Wieser believes, advertising's two behemoths will both be playing the clout game. And odds are they'll extract price concessions from ad-supported media that their competitors can't.
This, in turn, will take the advertising ecosphere to a new level, just as the Saatchis did years ago by extending an unprecedented M&A spree until it became the industry's leader. That lagging institutions will be eclipsed by the current process is obvious, or should be anyway, on considering what has since happened to the Saatchis' legacy agency: It's buried somewhere in Publicis, soon to be buried deeper as part of POG.
Written by Richard Morgan.