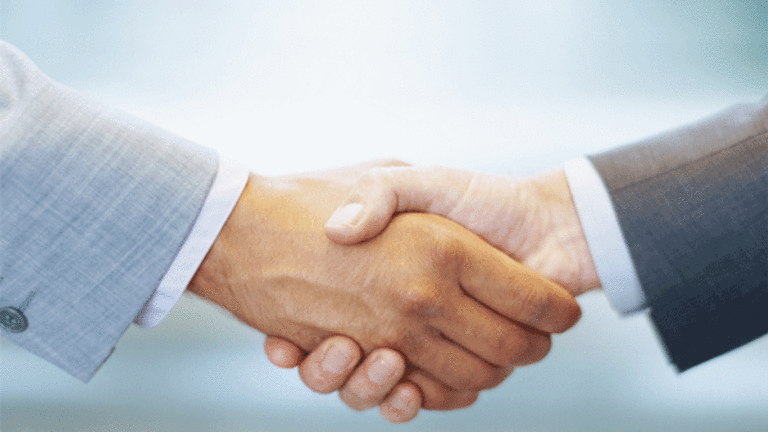 The Deal: Louisiana-Pacific Bides Time in Ainsworth Acquisition
Buyer is believed to have pulled and refiled its antitrust notification in order to stave off an extended investigation of its $1.1 billion deal for Canadian lumber rival.
NEW YORK (TheStreet) ¿¿ Nashville-based Louisiana-Pacific (LPX) is believed to have pulled and refiled its antitrust notification with the U.S. Department of Justice in order to stave off an extended investigation of the company's $1.1B acquisition of Canadian lumber rival Ainsworth Lumber.
The main concern of regulators appears to be possible harm to home builders in the U.S. Pacific Northwest to whom the companies are major suppliers of structural panels used in residential construction. The companies filed pre-merger notification with U.S. officials on September 17 and the waiting period under the Hart-Scott-Rodino Act was to have expired on October 17, absent a second request extending the review.
The companies have not said whether deal was cleared or received a second request and a spokeswoman said Wednesday an update will be provided when the company holds its 3rd quarter earnings call on Nov. 5.
Ainsworth shares have been trading on the Toronto Stock Exchange as if little antitrust risk is expected. Through late afternoon trading Wednesday they stood at C$3.99. The cash and stock deal was valued at C$3.76 when it was announced Sept. 4.
But analysts following the deal said the company wouldn't likely remain close-mouthed if it had a clearer picture of the antitrust situation.
Although Louisiana-Pacific CEO Curtis Stevens said he believed regulators could be convinced that no antitrust conditions are necessary when he spoke with analysts after the offer was announced, the companies did address the possibility that divestitures would be required in their merger agreement.
Under their agreement, the buyer would be required to spin off either Ainsworth's 100 Mile Mill or Louisiana-Pacific's Dawson Creek plant. Both facilities are located in British Columbia.
A key factor in the antitrust review is how broadly the regulators view the affected market. A broader view that geographically includes all of North America and includes both plywood and oriented strandboard (OSB) would make an extended review unlikely. If the DOJ limits the market to a smaller geographic area like the U.S. Pacific Northwest and considers the merger's impact only on OSB, then the likelihood of a long review and divestitures rises substantially.
Stevens told analysts where was no reason not to consider all of North America the geographic market and to consider plywood and OSB as interchangeable products. "Plywood and OSB are what compete in North America for the structural panel market," he said. "From a competition standpoint that is absolutely how the world works."
If Stevens' view prevails with regulators, the merged companies would control between 17% and 19% of the market. Even if OSB is considered alone, the market share would rise to just below regulators' "magic number" of 35%, Stevens said. "So we think were pretty good from that perspective too," he argued.
However, if the market is limited to OSB in the U.S. Pacific Northwest, the outlook is less certain. No OSB capacity exists in the U.S. Pacific Northwest, where production is limited to plywood.
The parties will have three OSB plants in British Columbia that can serve the U.S. Pacific Northwest. One is Ainsworth's 100 Mile Mill in British Columbia (which designates half of its capacity for the Japanese market) and the other two are Louisiana-Pacific's.
Vancouver-based Ainsworth can also serve the region easily from its Grand Prairie Mill in Alberta and is either planning or ramping up production at two other Alberta plants. As for competition, there's only Weyerhauser with an OSB mill in Alberta and Tolko Industries which ships OSB to the Pacific Northwest from its plant in Saskatchewan. Canfor closed a plant in British Columbia and Tolko has closed OSB mills in Alberta.
Although the parties obviously have contemplated divestitures under this scenario, it should be noted that the inclusion of antitrust contingencies in a merger agreement don't necessarily mean parties are resigned to shedding operations.
In August, Georgia-Pacific won unconditional DOJ approval for its $1.5 billion acquisition of Memphis, Tenn.-based Buckeye Technologies despite a merger agreement provision calling for the divestiture of Buckeye's manufacturing facility in Gaston County, N.C. if DOJ insisted. But the companies' lawyers were able to convince the DOJ that other companies could manufacture substitute materials for those manufactured at the Gaston facility, which are used in advanced absorbent products used in feminine hygiene pads, disposable diapers, adult incontinence products, baby wipes, moist towelettes and household cleaning products.
Other recent deals cleared without conditions despite antitrust contingencies in the merger agreements include the Federal Trade Commission's approval in May of Tesoro's $2.5 billion acquisition of BP's Southern California refining and marketing business and Express Scripts' $28 billion deal for Medco Health Solutions.
--Written by Bill McConnell in Washington