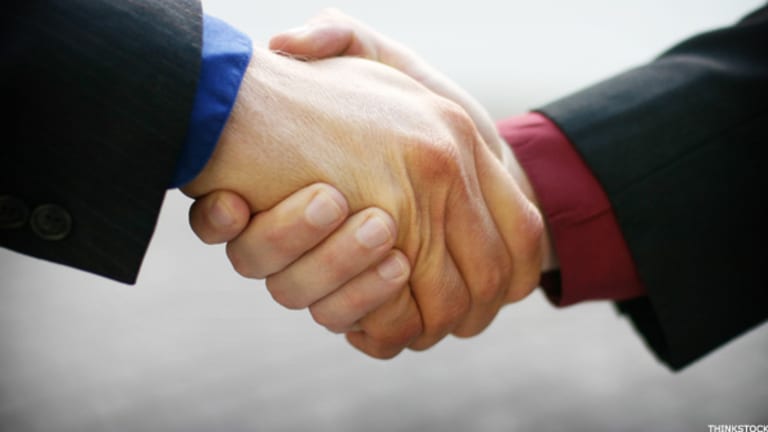 The Deal: Lixil to Pay $4.1B for Germany's Grohe
The Development Bank of Japan backs the Japanese company's purchase of the faucets maker from TPG and Credit Suisse.
BERLIN (
) -- Acquisitive Japanese building materials company
Lixil
on Thursday, Sept. 26, said it had agreed to buy German bathroom fixture maker
Grohe
as Japanese companies continue their international expansion push.
Lixil, backed in the purchase by the Development Bank of Japan, will buy 87.5% of Grohe in a deal that values the target at €3.06 billion ($4.1 billion). The sellers are TPG Capital and Credit Suisse Group's DLJ Merchant Banking Partners LP.
Grohe said it would hold a press conference Thursday in Germany to discuss the transaction.
This is Lixil's second acquisition of a foreign bathroom faucet maker this year. In June, the company agreed to buy
ASD America Holding Corp.
for $542 million from financial investor Sun Capital Partners Inc. ASD is the parent of the American Standard brand.The company also launched a residential solar panel partnership with struggling Japanese electronics company
Sharp
. Sharp has been selling shares to customers to shore up its finances and, as part of the partnership, Lixil agreed to buy 5 billion yen ($50.5 million) in new stock.
TPG and DLJ bought Grohe in 2004 in a secondary buyout from BC Partners Ltd. for €1.5 billion. Cuts at Grohe then led to a legendary rebuke from senior German politician Franz Müntefering, who dubbed financial investors "locusts" who swarm in and suck up profits generated by firing workers.
With weak economies keeping business in Europe soft, the two investors last year backed Grohe's purchase of 72% of Chinese rival
Joyou
in a deal that valued the Frankfurt-listed target at €324 million. The combined business now has about 9,000 employees, half of whom are in Asia.
Grohe has a global market share of 8% and makes kitchen and bathroom faucets, showers and other bathroom fittings. It had sales last year of €1.4 billion and Ebitda of €273 million. It reportedly pays up to €90 million a year in interest on the debt the financial investors saddled it with for the leveraged buyout.
TPG and Credit Suisse earlier this year hired
Goldman Sachs
,
Morgan Stanley
and
Credit Suisse
to ready an initial public offering of the company.
Although the yen has slipped, putting the brakes on international expansion among Japanese companies, it hasn't halted the trend entirely.
Earlier this month,
Suntory Beverage & Food
agreed to pay 1.35 billion pounds ($2.2 billion) for the Lucozade and Ribena drink brands of
GlaxoSmithKline
to move into the U.K.
--Written by Andrew Bulkeley