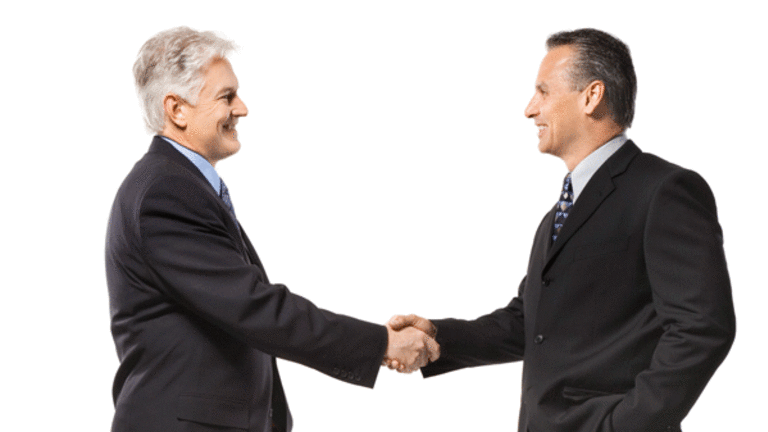 The Deal: KPN Foundation Plans to Block Movil Offer
The shareholder describes Carlos Slim's $9.5 billion offer as a 'threat.'
NEW YORK (
) -- A foundation established to defend the interests of
Royal KPN NV
, on Friday, Aug. 30, chastised would-be suitor
América Móvil
(AMX) - Get America Movil S.A.B. de C.V.n Depository Receipt Series L Report
for launching a ¿7.2 billion ($9.5 billion) hostile offer for the outstanding shares, saying it would block the deal but also calling on the Mexican phone company to enter negotiations.
The foundation said it forced KPN to issue it new shares equivalent to the target's existing share capital minus one share, allowing it to vote down the unwanted approach.
"Based on all the information obtained from stakeholders, the foundation has concluded that the situation that has now arisen in relation to KPN constitutes a threat," the foundation said.
Investors clearly feared a demise of the deal, pushing KPN shares down 5.4%, or ¿0.124, to ¿2.166 in early Amsterdam trading.
The foundation is formally known as Stichting Preferente Aandelen B KPN, or Foundation Preference Shares B KPN. It said it was safeguarding not only the company and its employees, but also "Dutch society more generally."
América Móvil is controlled by billionaire Carlos Slim and this summer launched an unsolicited offer for KPN after last year buying a 29.8% stake as part of a European push. The bid came just days after KPN agreed to sell its German
E-Plus
unit to América Móvil nemesis
Telefónica
of Spain for ¿8.1 billion.
The timing seemed to show América Móvil was disappointed with the planned E-Plus sale. However, the Mexican phone company this week agreed to support the deal in exchange for a sweetened bid, which is now worth ¿8.55 billion.
América Móvil said Friday it would be willing to withdraw the approach if it couldn't convince the foundation of its good intentions. The Mexican phone company also parried the foundation's criticisms, saying it had not only been in talks with KPN brass, but had actively helped KPN in the year and a half since it became the Dutch company's biggest shareholder.
"As a long-term investor we believe we can help KPN focus more on its infrastructure investments for the benefit of its customers, its employees and its shareholders. We believe we can help make it into a better company," América Móvil said.
The Mexican phone company this week said it had all the financing in place for the takeover and would soon ask for permission from Dutch regulators to launch the offer.
KPN itself has yet to comment on the approach.
--Written by By Andrew Bulkeley