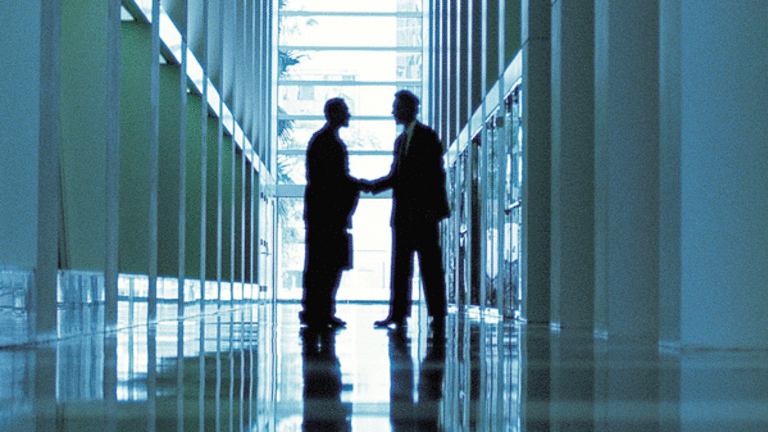 The Deal: Koch Industries Buys Molex for $7.2B
The offer is a 31% premium to the Lisle, Ill.-based target's Friday close price and 42% higher than company's class A shares.
The offer is a 31% premium to the Lisle, Ill.-based target's Friday close price and 42% higher than company's class A shares.
NEW YORK (
) --
Koch Industries
said Monday, Sept. 9, it has a deal in place to acquire electronic component and wiring manufacturer
Molex
(MOLX)
in a deal valued at $7.2 billion.
Terms of the deal call for holders of Lisle, Ill.-based Molex's shares to receive $38.50 a share, a premium of 31% to the Friday close on Molex's widely traded shares and a premium of 42% when including the company's more closely held class A shares.
As part of the deal, certain Molex executive officers and members of the Krehbiel family, a major holder, have agreed to vote shares totaling 32% of the common stock in favor of the transaction.
Molex, which was formed 75 years ago as a maker of moldable plastics, today is a major manufacturer of fiber optic cable and other transmission lines. Post-deal Molex would become a standalone subsidiary of Koch and continue to be led by current management from its existing Illinois base.
Company co-Chairman Fred Krehbiel called the deal "a difficult decision" but said that the deal is the best move for Molex.
"Our shareholders will receive a significant premium and compelling value for their holdings," Krehbiel said. "The transaction is expected to provide substantial opportunities for our worldwide employees, many of whom have spent much of their working lives at Molex and are responsible for the company's long term success."
Wichita, Kan-based Koch is a $115 billion-sales privately-held conglomerate with interests in refining, forestry, chemicals, ranching and manufacturing. This is the company's largest deal since its $21 billion purchase of
Georgia-Pacific
in 2006.
Company Chairman and CEO Charles Koch in a statement said that buying Molex "provides a significant new platform for growth" at Koch.
"Molex has become a global leader by focusing on product innovation and value creation, driven by its talented leadership and employees," Koch said. "We look forward to jointly applying the capabilities of our two companies to help take both to the next level."
William Blair & Co. and BDT & Co. are serving as financial advisers to Molex, with Goldman, Sachs & Co. providing a fairness opinion and other financial advice and Dentons acting as legal adviser. Koch is being advised by attorneys with Latham & Watkins LLP.
--Written by Lou Whiteman